The Importance Of Cooking From Scratch According To Shereen Pavlides - Exclusive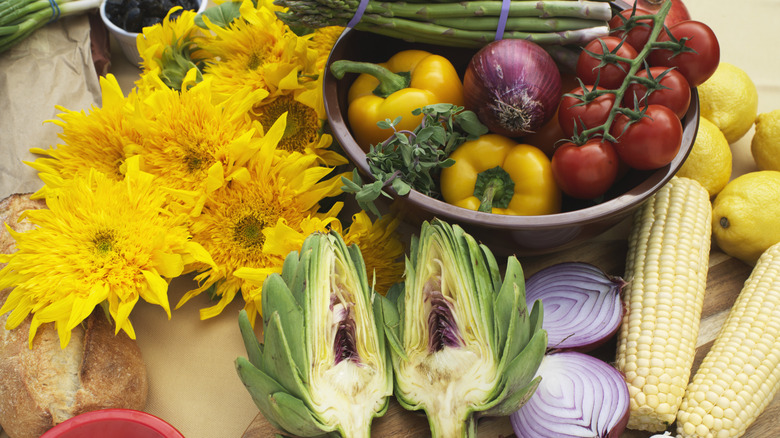 Jupiterimages/Getty Images
We may receive a commission on purchases made from links.
If you've caught Shereen Pavlides on TikTok recently, then you've likely noticed that most of her tutorials and tip recommendations will encourage you to cook your favorite dishes from scratch. Pavlides' first cookbook, "Cooking with Shereen From Scratch," even features the tagline "because you can," because Pavlides really does think that, yes, even you can cook from scratch.
Cooking from scratch, Pavlides told Mashed in an exclusive interview, is easier than most home cooks think, so long as you start with fresh, high-quality ingredients. However, there are more reasons why she's encouraging you to ditch the pre-made, store-bought shortcuts in favor of doing things yourself. 
She said, "It makes you feel good, and [when] someone feel[s] good and build[s] confidence in the kitchen, I truly believe that pours into all the other things they do in their life." And if you're still not sure you really can cook from scratch or if you really have the time to cook from scratch, Pavlides has an example that might make you think otherwise.
Feeling like a rock star in the kitchen
Cooking from scratch to most people, Pavlides says, seems like a lot of work, but it's really not. "Here's a little example," she explained. "Last night, it was just my husband and [me] ... and I made a roasted chicken and I made my homemade pumpkin bisque. I make chicken stock from scratch, and I have it frozen. It's in my freezer in the quart-sized containers. I took one out and let it thaw. I literally came home and I got everything done. My prep for each was maybe 10 or 15 minutes. Then, there's simmering or roasting in the oven. I threw my pumpkin in there to roast and then I just toss it in the pot. Everything took maybe an hour ... It's just that little bit of effort — to have the stock in the freezer and roasting the pumpkin. You cut it, you gut it, and you throw it in the oven. It's easy."
Her pumpkin bisque, Pavlides says, is an example of how good-quality, fresh ingredients can make all the difference when it comes to successful cooking from scratch. "My pumpkin bisque doesn't have a lot of ingredients in it, but each ingredient counts, and when you're tasting it, it's mind-blowing," she told Mashed. "[When] people [know they] can do that, and they scale what they're doing way back in terms of their menu and hosting, it makes them feel like a rock star in their own kitchen."
Check out Shereen Pavlides' new cookbook "Cooking with Shereen: Rockstar Dinners" and follow Pavlides on TikTok at www.tiktok.com/@cookingwithshereen.