Foodies Told Mashed The Best Type Of Pasta For Pasta Salad - Exclusive Survey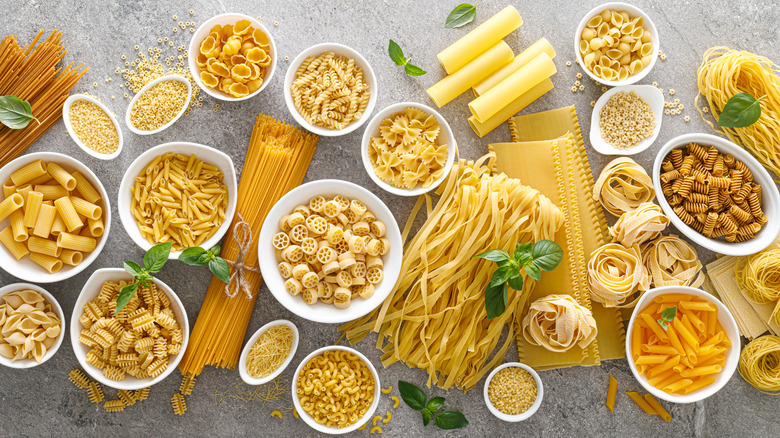 Sea Wave/Shutterstock
Pasta salad has long been a favorite summer dish. Gracing picnic baskets, Fourth of July spreads, and family barbecues, you can almost guarantee that warm weather get-togethers will feature this beloved noodle-filled offering. Fans of pasta salads, however, will be happy to hear that this dish is as comfortable on your Thanksgiving or Christmas table as it is beside a plate of burgers or dogs. Simply swap out your traditional summer veggies for fall ones and, voila, you have the perfect accompaniment for your holiday fare. 
And if you'd like to up your pasta salad game, there are plenty of helpful tips that you can try out any time of year. First off, you must salt your pasta water. Why? San Francisco chef Clare Langan told Today that you should make your cooking water taste like the sea in order to bring out your pasta's flavor. Next, always aim to cook your pasta al dente. Your pasta will absorb the salad dressing and you don't want it to become mushy; therefore, firm noodles are the way to go. And, finally, pasta maker Barilla offers that once you drain the pasta, you can cool it by putting it on a baking sheet and sprinkling olive oil over it so it won't stick.
This leaves one important question. What pasta shape should you use? The results from a recent Mashed survey concur with the opinions of experts. 
A Mashed survey gave twisty rotini the most nods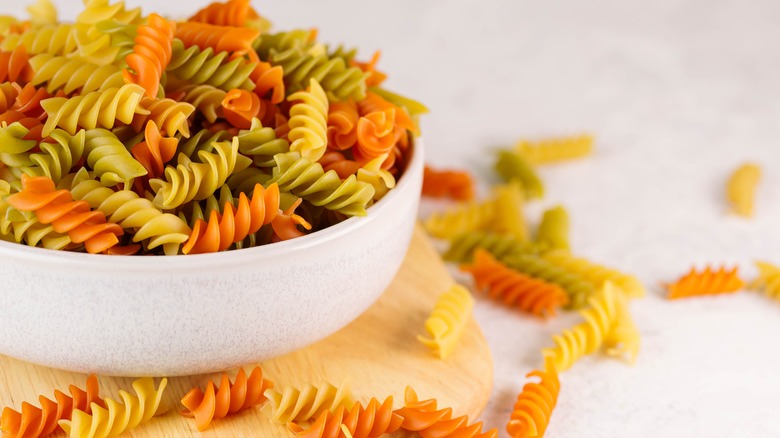 Nadezhda K/Shutterstock
Mashed recently surveyed 604 people, asking them what type of pasta is the best choice for pasta salad. Respondents named rotini their number one choice, giving this corkscrew-like pasta 28.48% of the votes. The second choice was penne, with 25% giving it their seal of approval, while the humble elbow noodle (AKA macaroni) came in a close third with 22.35%. Orzo and farfalle took the next spots, and, ironically, the fusilli noodle (also bearing a corkscrew physique) came in last with just 5.3% choosing it. So, what do the experts recommend? 
When HuffPost asked a group of professional chefs which pasta shapes were best for creating a pasta salad, they agreed that rotini is an excellent choice. In fact, they asserted that any "short, twisty" pasta works best, including rotini, cavatappi, and fusilli. Yes, the bottom-place finisher in Mashed's survey received its redemption. Why are these the best choices? Chef Pat Pascarella told the outlet that "all the curves catch the dressing," better enabling the pasta to entrap the flavor of the sauce and fixings. Echoing this advice, Clare Langan told Today that short pastas like the esteemed rotini (and macaroni, farfalle, and gemelli) have a size that is similar to other pasta salad mix-ins (like chopped veggies), making them a great choice. Clearly, these Mashed survey respondents know their pastas.