Tia Mowry's Cookie Monster Whole Wheat Pancake Recipe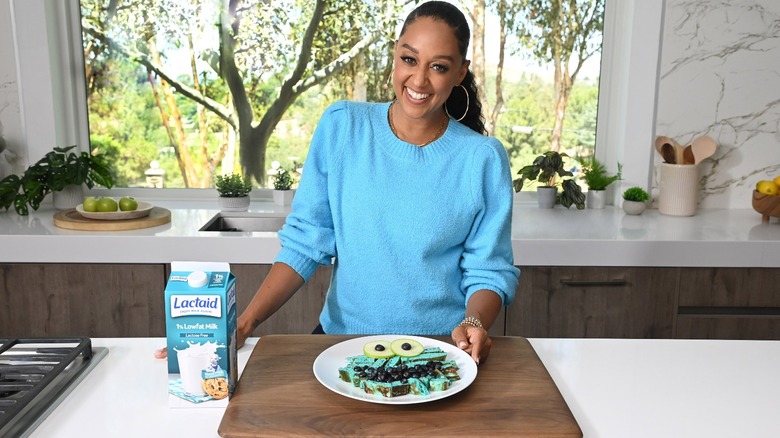 LACTAID
Pancake Saturdays are a timeless tradition in any household. The myth that breakfast is the most important meal of the day is pretty much right. According to Medical News Today, eating every morning can lower your risk for several health issues, including heart disease, high blood pressure, and diabetes. Breakfast can help you reach your nutrition goals, as pancakes are a great example of a versatile meal that can incorporate your physical needs.
Pancakes offer phosphorus and calcium that boosts bone strength (per Livestrong). So safe to say, if you are craving pancakes for breakfast every once and a while, it's perfectly okay to treat yourself. Don't worry if you don't have a recipe on hand though; Tia Mowry has you covered. In an exclusive interview with Mashed, the "Sister, Sister" actress opened up about her partnership with LACTAID and Sesame Street to create lactose-free pancakes that she — and the kids — can enjoy. In very Sesame Street fashion, Mowry's recipe is inspired by none other than Cookie Monster, for a fun twist on a breakfast staple.
Learn more about LACTAID on its website and keep up with Tia Mowry's latest projects on her Instagram page.
Tia Mowry's Cookie Monster Whole Wheat Pancake Recipe
These lactose-free pancakes, courtesy of Tia Mowry and LACTAID, take the form of a certain beloved (and blue) resident of Sesame Street.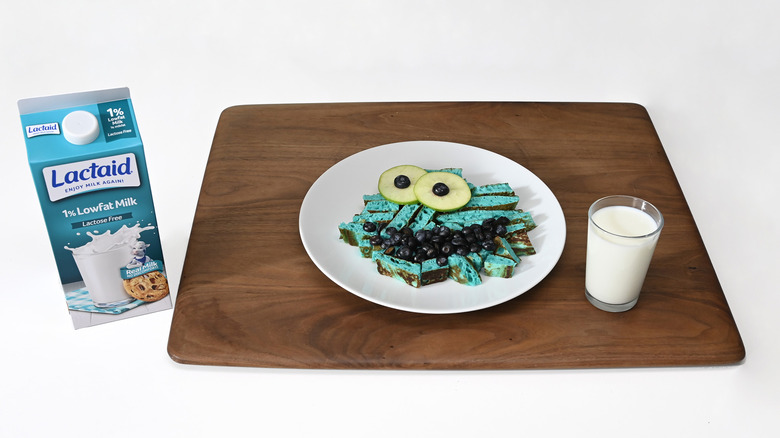 Ingredients
For the pancake batter
2 cups LACTAID 1% Lowfat Milk
2 tablespoons lemon juice (or apple cider vinegar)
2 cups whole wheat flour
3 tablespoons granulated sugar
3 teaspoons baking powder
¼ teaspoon kosher salt
2 eggs
3 tablespoons vegetable oil
3 drops (or more) FDA-approved blue gel food coloring
For cooking and assembly
½ teaspoon vegetable oil
1 small Granny Smith apple, thinly sliced into circles
1 cup blueberries, halved
Directions
In a large bowl, add LACTAID 1% lowfat milk and lemon juice. Stir and let sit for 5 minutes.
In another bowl, whisk together the whole wheat flour, sugar, baking powder, and salt.
After the milk has slightly thickened or curdled, add the eggs and 3 tablespoons vegetable oil. Whisk until fully combined. Pour into dry ingredients and add food coloring. Stir until they come together. Don't over mix; lumps are okay here.
In a nonstick skillet on medium-high heat, grease the pan with ½ teaspoons vegetable oil. Wait until the pan is hot.
Slowly drop ½ cup of pancake batter onto the pan. Cook for a few minutes. When tiny little bubbles form on the edges of the pancake, flip, turn down the heat, and cook for a couple minutes on the other side.
Turn heat back up to medium-high and repeat with remaining batter and same process, making sure to lightly grease the skillet with vegetable oil after each one.
To assemble, cut the pancakes into strips. Lay the strips on a plate overlapping, and, in a circle, to mimic Cookie Monster's fur. Place thinly sliced apple rounds on the top of the pancake to look like Cookie Monster's eyes. Halve a blueberry and place halves on the apple slices — the left slightly higher than the other and closer to the edge — for Cookie Monster's pupils. Place the remaining sliced blueberries to form a mouth on the lower third of the pancake.
Serve and enjoy!
Nutrition
| | |
| --- | --- |
| Calories per Serving | 266 |
| Total Fat | 9.2 g |
| Saturated Fat | 1.4 g |
| Trans Fat | 0.1 g |
| Cholesterol | 49.2 mg |
| | |
| --- | --- |
| Total Carbohydrates | 40.2 g |
| Dietary Fiber | 4.8 g |
| Total Sugars | 13.3 g |
| Sodium | 272.1 mg |
| Protein | 8.7 g |