Why Is It So Hard To Find Out Where Popeyes Serves Breakfast?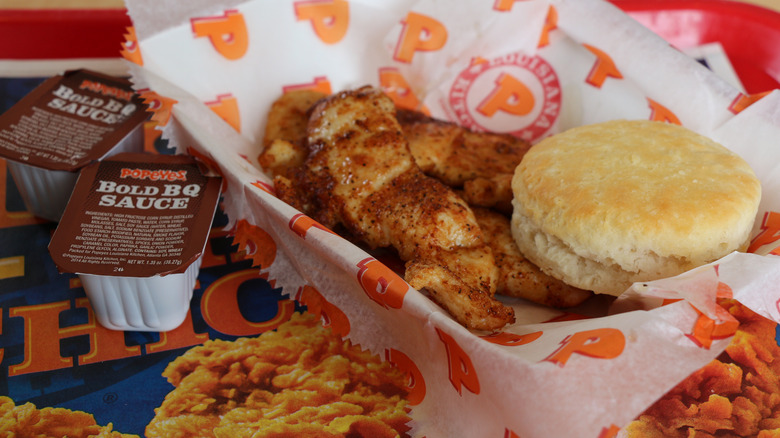 Deutschlandreform/Shutterstock
McDonald's, Burger King, Wendy's, and Popeyes. What does each of these fast-food restaurants have in common? Perhaps it's that each of them has tried their hand at making the best chicken sandwich on the market. But what you probably didn't know is that these restaurants share another common factor — breakfast.
Of course, you may already be familiar with McDonald's Egg McMuffin, Burger King's croissant sandwich, and Wendy's own assortment of breakfast-themed burgers and entrees. And with Popeyes, you're probably more familiar with their chicken tenders and biscuits than with their breakfast sandwiches. Surprisingly, the fried chicken chain has also experimented with a breakfast menu quite a few times, first starting in North Carolina in 2013 (via Nation's Restaurant News). If Popeyes' Full Menu is to be believed, the contents of the breakfast menu include everything from sandwiches made with the chain's famous biscuits to "country-fried" steak, grits, and of course, chicken since it is still a Popeyes, after all.
However, you might not have seen your local Popeyes selling grits, hash browns or, biscuit sandwiches on their menu. That's because, unlike McDonald's or Wendy's, Popeyes' breakfast menu isn't available nationwide and is only present at a few select locations. 
You can usually find Popeyes breakfast at airports
If you've ever been to an airport terminal, you'd know that there's usually a collection of fast-food outlets in the food court, serving up anything from pizza to sandwiches. Popeyes has a few locations located in airports across the country, and it's at these select restaurants that you'll usually find their elusive breakfast menu, per the Huffington Post. One Popeyes outpost located in the Raleigh-Durham International Airport, for example, invites customers to enjoy an early morning breakfast of buttermilk biscuit sandwiches, while one location in the Dallas-Fort Worth International Airport opens bright and early at 7 a.m. 
But why exactly doesn't Popeyes serve breakfast everywhere? And if they could serve it in airports, what stops them from serving it across the country? Wouldn't making a breakfast sandwich nationwide put Popeyes ahead of its competitors? Perhaps the reason is that Popeyes doesn't really need a breakfast menu, to begin with. The fast-food chain is already well-known for its chicken, biscuits, and Cajun sides as it is. So why try to change what's not broken? One Twitter user demanded that Popeyes make a breakfast sandwich if they weren't "cowards," only for the chain to simply state: "Any sandwich is a breakfast sandwich if you have the courage."
Of course, given that we're living in the age of the 2020s, where anything can happen, it's still entirely possible that Popeyes could one day make their breakfast menu available in all of its locations.