The Hell's Kitchen Cocktail That Comes With A Note From Gordon Ramsay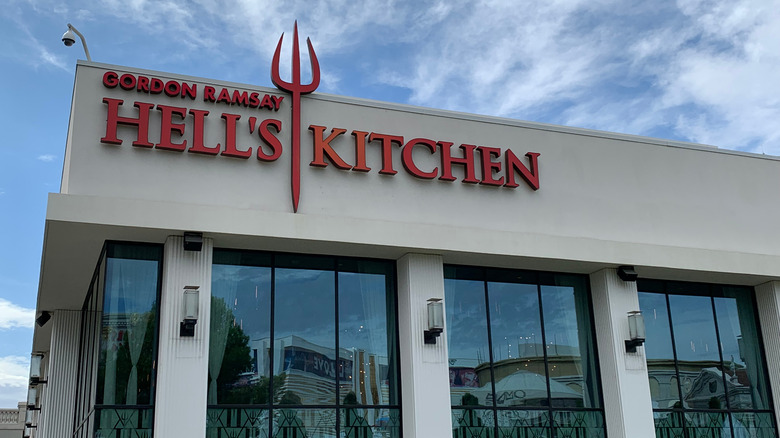 JJava Designs/Shutterstock
Fans of the popular cooking show "Hell's Kitchen" have a reason to be excited every year, as their favorite show is regularly returning for yet another season of cut-throat, dog-eat-dog competition in the world of fine dining. Season 21 of this famous show is dubbed "Battle of the Ages" and features 20-something-year-olds on the red team and 40-something-year-old chefs on the blue team. "Hell's Kitchen US," which has been on our TV screens since May 30, 2005, is hosted by Chef Gordon Ramsay, and whether you love or hate the man, he's proven to be very successful at what he does best (via Gold Derby). 
Nowadays, only in Las Vegas, Ramsay has five of his restaurants, and the sixth one is on the way. There's Gordon Ramsay Steak, Gordon Ramsay Fish & Chips, Gordon Ramsay Pub & Grill, Gordon Ramsay Burger, and, of course, Gordon Ramsay Hell's Kitchen. In Hell's Kitchen, you can expect to find some of Ramsay's well-known signature dishes, such as the succulent Beef Wellington and the chef's famous pan-seared scallops (per Oak and Rowan). And if you're in the mood for something liquid and boozy, there's a good selection of cocktails, and one of them even comes with a personalized note from Ramsay himself.
Gordon Ramsay's cocktail comes with a humorous note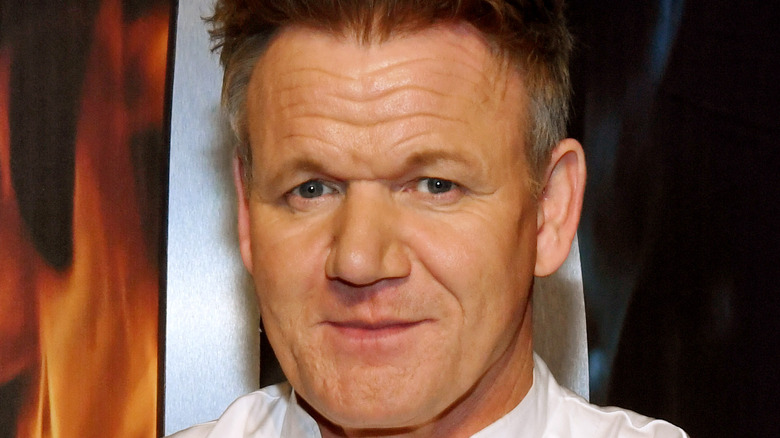 Ethan Miller/Getty Images
If you manage to get a seat at Gordon Ramsay's Hell's Kitchen restaurant in Las Vegas, at the end of the dinner, you'll probably want to wash it all down with a cocktail or two. Please don't get too excited for classics such as Manhattan, Whiskey Sour, or Negroni because you won't find them on the menu, but there are other cocktails you can order. There's the Smoke on the Blvd cocktail, with its smoky theatrics, the Rum Donkey, with its torched passion fruit, and Fear & Loathing, a tribute to Hunter S. Thompson made with mezcal, Luxardo, and blood-orange juice (via Eater). 
One of the most exciting cocktails on the list is called Notes from Gordon, and for $20.95, you can enjoy this mixture of Plymouth dry gin, green tea, lemongrass, peach, and lemon. The cocktail comes with a message from Ramsay so that you can wonder if it will be an insult, a term of endearment, or a funny joke before the server brings it over to your table. The chef's message comes in a rolled-up paper decorated with a Union Jack flag and says, "You've put so much ginger in this, it's a Weasley! -Gordon Ramsay." 
A joke at the end of the night is always welcome, and if you go to Vegas, dining in "Hell's Kitchen" will surely be an experience that will stay with you for a while (per The Takeout).