The Untold Truth Of The Hell's Kitchen Restaurant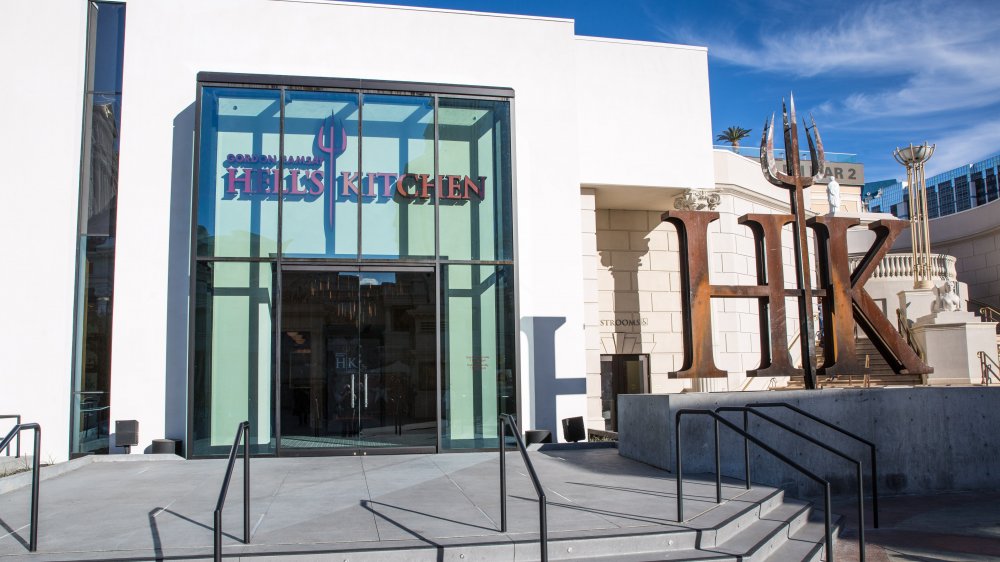 George Rose/Getty Images
For 18 seasons, chef Gordon Ramsay has been barking at a cast of subpar sous chefs and prep cooks in the reality TV cooking challenge known as Hell's Kitchen. Watching the aspiring chefs fumble through a series of chef-mandated challenges has proven entertaining, but the real draw of the show is getting to watch Ramsay bark his signature snarky insults at contestants.
Since its opening in 2018, the Hell's Kitchen restaurant at Caesar's Palace on the strip in Las Vegas has given Ramsay fans a chance to get a taste of the high stakes dining experience. The massive dining room seats 300 people and is modeled after the set of the show. PopSugar points out that a massive open kitchen features cooks in red and blue chefs' coats, alluding to the red and blue teams that compete on the show, and pitchforks in the dining room hammer home the hellish motif.
A menu featuring Ramsay-inspired classics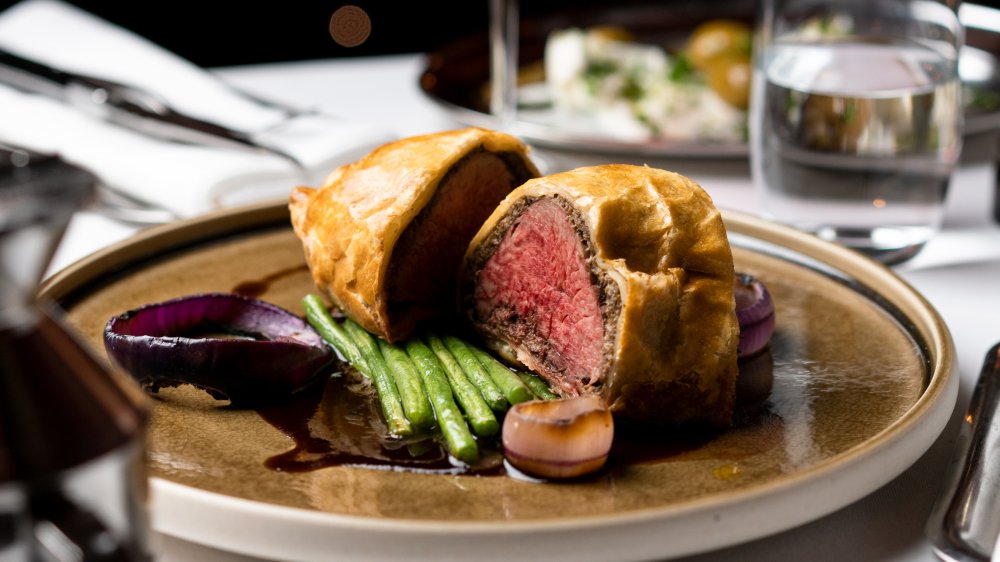 Shutterstock
Hell's Kitchen has been a Vegas success story since day one. In an interview with Los Angeles Times back in 2018, the chef proudly notes that 12,000 people booked tables within 10 days of the restaurant's opening. 
And although Ramsay himself isn't always on hand to berate his kitchen staff, a life-sized image of the chef graces a screen by the entrance welcoming guests to the restaurant (via Caesars.com). Portraits of past winners line the walls and in typical Vegas fashion, Hell's Kitchen merchandise is available for purchase.
While there are no onsite eliminations going on during dinner service, diners are offered a menu featuring Ramsay-inspired classics that have been featured on many seasons of Hell's Kitchen. According to Las Vegas magazine, the well-trained kitchen staff don't bumble signature dishes like pan seared scallops with bacon lardons and pickled apple, pastry-wrapped beef Wellington over potato puree with a red wine demi-glace, and a sticky toffee pudding with speculoos ice cream.
The well-trained kitchen staff don't bumble signature dishes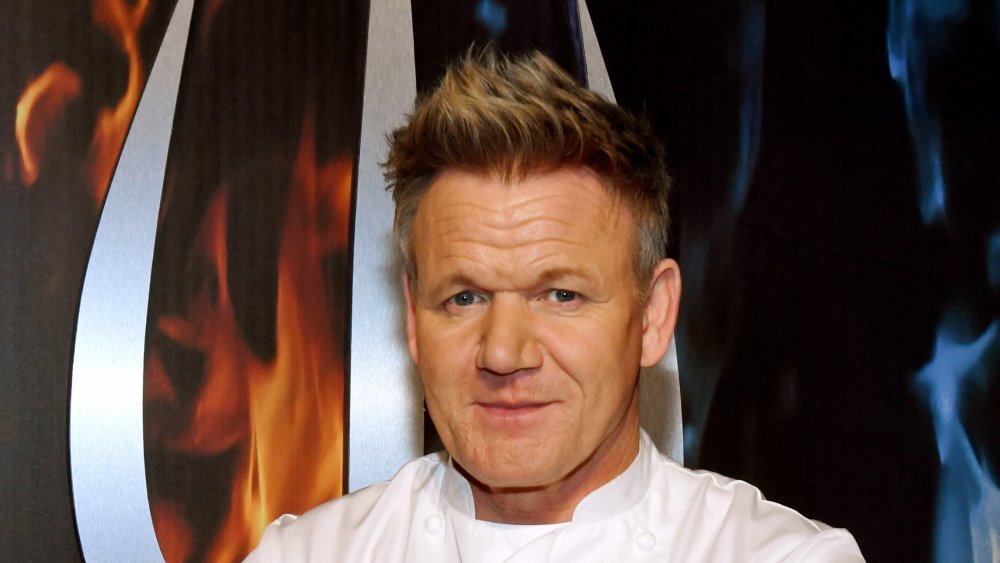 Ethan Miller/Getty Images
Contrary to the insult-hurling nature of Ramsay's TV kitchen, the vibe at the Vegas outpost is relatively low key with the majority of chefs and sous focused on refined plates of risotto and scallops. However, if you're dead set on getting a Hell's Kitchen level take down, PopSugar advises ordering the Notes from Gordon cocktail. Every one of these gin-based tipples comes complete with a British flag emblazoned scroll printed with a signature Ramsay burn. The theme carries through a smokey riff on a Boulevard finished with an orange peel branded with the HK logo and a pitchfork.

Gold Derby notes that the dining room of the Hell's Kitchen restaurant is going to be seeing a lot more action when filming of the television show resumes for its 19th season. Instead of shooting on a sound stage in Los Angeles, the next two seasons will be filmed at Ramsay's flagship in Vegas.