The Most Satisfying Bake Destruction On GBBO, According To TikTok
"Bake Off: The Professionals" is the GBBO spin-off we needed. Instead of amateur bakers, the contestants are professional pastry chefs, and they work at some of the best hotels, restaurants, and bakeries in the U.K. The stakes are the same as "The Great British Bake Off" — the bakers compete for the title of crème de la crème and an engraved silver serving platter, but the vibe of the show is more intense than our favorite slow-paced comfort show.
The show is hosted by Liam Charles (remember him from his GBBO days?) and Stacey Solomon and judged by Benoit Blin and Cherish Finden. It highlights the skill and finesse needed to produce some of the finest, most delicate items found in pâtisserie windows (via The Telegraph). Challenges include fraisiers, towering sculptures made of sugar or profiteroles, and themed showstoppers. Because the bakers are professionals, the judges are very exacting and hold the bakers to a much higher standard than on GBBO — no detail is missed.
Collapsing sugar work is heartbreaking, yet satisfying to watch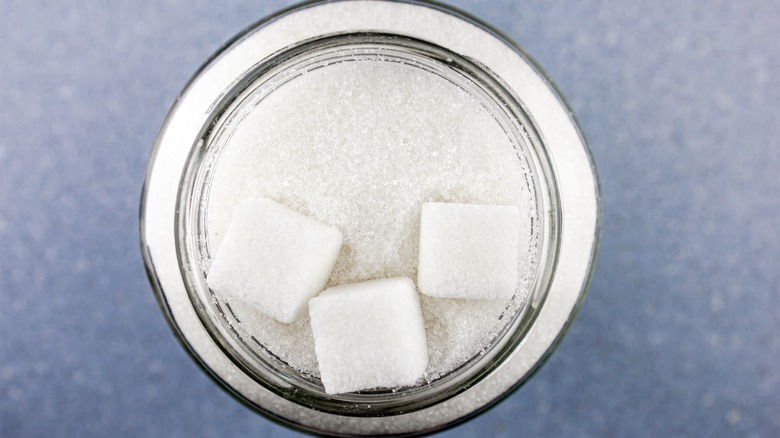 BINK0NTAN/Shutterstock
Professional bakers aren't immune to massive disasters when it comes to their final products. Adding to the pressure of a perfect bake are the time constraints, hosts, and cameras everywhere, which lead to mistakes. One spectacular failure has rattled TikTok in a big way. 
The bake in question is from the first episode of Season 5. The chefs were challenged to reimagine a treacle tart and incorporate it into an edible tower that must stand 70 centimeters (27.5 inches) tall. Chefs had an hour the night before to prepare and another four hours to complete the challenge (via Channel 4).
The team is a pair of best friends who work at Eight Club London, head pastry chef Emanuele Giammarco and Mariola Nowak. They created a towering structure made entirely out of sugar and decorated it with their deconstructed treacle tarts. When the judges spoke to the team about their ambitious build, they warned them that when sugar goes down, "it goes down in millions of pieces." Rushed for time at the end of the bake, that's exactly what happened to the team's sugar tower.
The video has amassed 1.5 million likes on TikTok, and while it is devastating to watch the structure crumble to powder, some users were so enthralled one commented, "This is so satisfying to watch. Post it in reverse!!!" Another said, "I gasped then rewatched it then gasped again." Others debated who exactly was to blame for the collapse.