Aldi's Gluten-Free Holiday Donuts Are Back And Instagram Can't Wait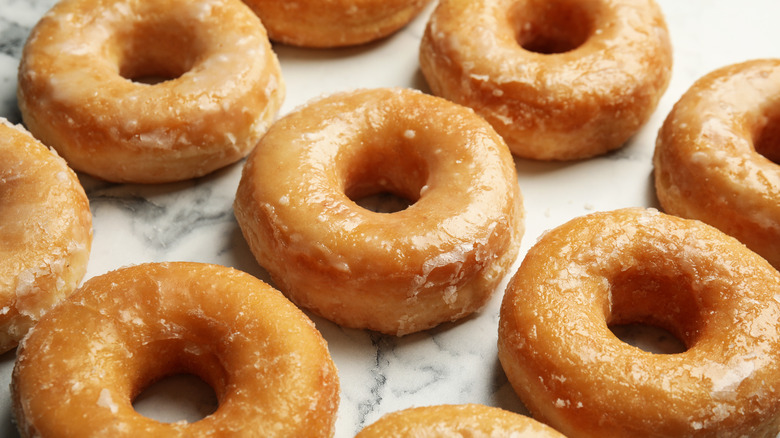 New Africa/Shutterstock
With all of the Christmas cookies, yule logs, and gingerbread treats coming to stores this time of year, it might seem like the gluten-free crowd would face a tough scene: a grocery store full of tempting sweets, but none they can actually eat. However, Aldi has long been at the forefront of stocking gluten-free options. According to a press release from the multi-billion dollar chain, Aldi became the first grocery store to carry an in-house brand of gluten-free foods. The brand, liveGfree, offers a range of products, including bread loaves, pasta, baking mixes, and even frozen crispy chicken.
Beyond Celiac reports that approximately 3.2 million Americans have celiac disease, yet only half of the population reports "knowing anything about celiac disease and/or gluten sensitivity." But for those affected, it can be difficult to find accessible and affordable products to match their diets. Gluten-free products often come with a hefty price tag, according to the Canadian Journal of Dietetic Practice and Research, and are almost 250% more expensive than their gluten-containing counterparts on average. Aldi, meanwhile, claims its customers save 50% when buying from liveGfree rather than other brands. That's presumably why GF shoppers are so excited to hear that the chain has re-released its seasonal gluten-free holiday donuts — or they just really like cranberry, pumpkin, and gingerbread desserts.
All three flavors are back
Shoppers are in love with Aldi's gluten-free chocolate donuts, which grace the shelves all year alongside a glazed option. According to a review from Gluten-Free Baking, these year-round donuts are bigger than they look on the box and consist of a "very light and airy" texture, making them "not too dry, not too moist." In the winter season, though, Aldi is known to release special holiday flavors of these beloved gluten-free donuts. On Instagram, @alditheamazing recently announced the return of liveGfree's frozen cranberry, gingerbread, and pumpkin flavors for the winter season.
In the comments, fans expressed their excitement over the desserts, tagging their friends and writing things like, "Soooo good," and "I had gingerbread last year. Amazing!!!" Another user suggested that people will be hoarding them by the cart-ful: "I still have 10 boxes frozen from last year," they said. The Instagram account Aldi Gluten Free, which shares fan-based recommendations of the grocery store's GF products, also heralded the arrival of the holiday donuts, declaring that fans should now be able to find them in their local stores.