The Gluten-Free Aldi Dessert Instagram Is In Love With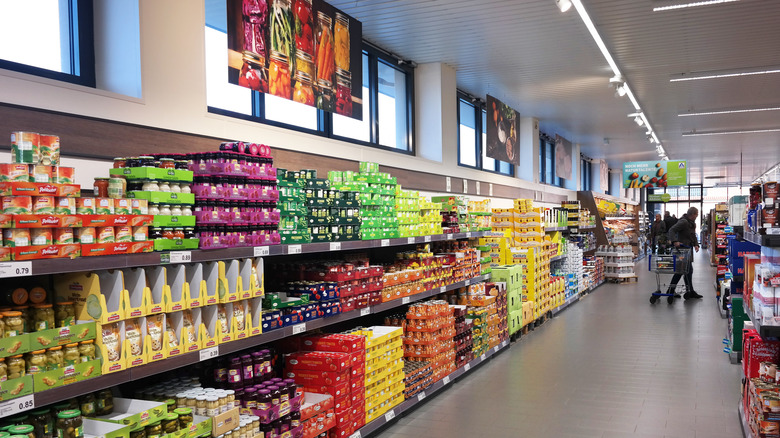 defotoberg/Shutterstock
According to a press release from Aldi, it was the first grocery store to offer an in-house brand of gluten-free foods. The line is called liveGfree and it was first introduced as a "Special Buy," then added to the shelves permanently in 2014 after rave reviews from customers (via PR Newswire). According to Hopkins Medicine, over 2 million Americans have been diagnosed with celiac disease, and others may be living with the disease and not know it. Since celiac disease and gluten sensitivities are becoming more well-known, 25% of Americans eliminate gluten from their diet (via Nebraska Today).
This can be an expensive process because according to Canadian Journal of Dietetic Practice and Research, gluten-free products come with a price tag that is almost 250% more costly on average. On the other hand, products in Aldi's LiveGfree line can save customers up to 50% compared to other stores (via PR Newswire). Per Aldi, the in-house gluten-free brand has 17 products ranging from General Tso's chicken to pancake mix. While desserts may usually be an especially tough area for gluten-free customers to navigate, the grocer has a few different options that customers rave about especially this sweet treat that the company recently posted on Instagram.
Aldi fans are raving about the gluten-free chocolate frosted donuts
Donuts are one of those sweet treats that evoke nostalgia and are pretty much universally loved. If someone shows up at the office with some, they're everyone's best friend for at least a couple of hours. It may be common to find gluten-free options at donut shops nowadays, but it may be more difficult to find some at the grocery store. AT Aldi, however, gluten-free shoppers can savor glazed or chocolate donuts from the freezer section.
The discount grocery store posted about this "Aldi Find" on Instagram and fans were itching to get their hands on some gluten-free donuts if they hadn't already. "LITERALLY JUST GOT HOME WITH 2 BOXES," commented one Aldi fan. "No, no, no! You're not supposed to advertise the gluten free donuts, those are my secret (shush emoji)," said another Aldi shopper. "How lucky to have such a wonderful variety of gluten free food at a normal price," commented another fan. Gluten-Free Baking reviewed the donuts on their blog and said that they were bigger than they looked on the box and described the texture as "very light and airy, not too dry, not too moist."