TikTok Is Freaking Out Over Trader Joe's Sweet Cannoli Dip And Gingerbread Ice Cream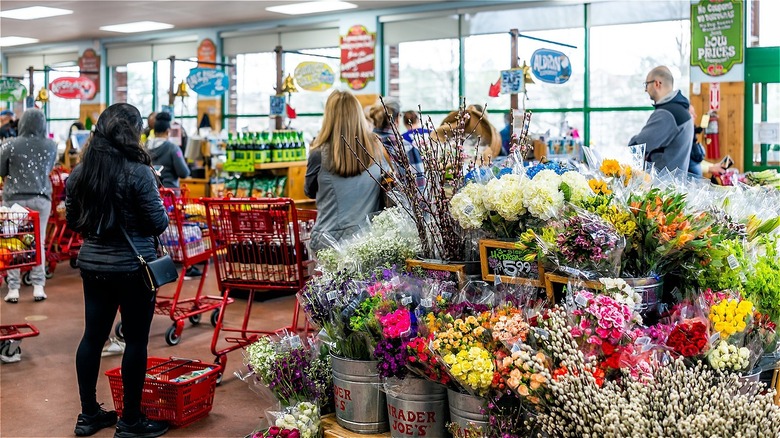 Kristi Blokhin/Shutterstock
You might not expect tons of overlap between TikTokers and Trader Joe's shoppers. After all, according to Numerator, the most common TJ's customer is a Caucasian woman between the ages of 41 and 57 who makes more than $80K a year, while Wallaroo reports that almost 80% of TikTokers in the United States are around 16 to 34 years old. However, TikTok and Trader Joe's don't have mutually exclusive fandoms, and as such, there have been many instances over the years where we've seen the two worlds collide. We're not sure about you, but we're pretty thankful for that because if they didn't, we'd be missing out on some seriously popular eats, like that viral avocado "toast" featuring a TJ's breakfast fave.
This week, TikTok user @kelseysfoodreviews shared another Trader Joe's-inspired TikTok that has many shoppers on the social media platform once again buzzing with joy. In a post shared earlier today, the TikToker can be seen coating the rim of an ice cream cone with the chain's new sweet cannoli dip, which they then garnish with festive holiday sprinkles before putting a scoop of TJ's new gingerbread ice cream on top. The final creation is one that easily has the potential to rival the grocer's fan-favorite Hold The Cone mini ice cream cones – though it's the individual components that have most TikTokers freaking out.
TJ's shoppers have plenty of ideas for its new sweet cannoli dip
There's already a hefty number of Trader Joe's desserts that could be in your kitchen right now, and thanks to the grocer's recent seasonal arrivals, that list just got a little bit longer. Amongst the newbies are a gingerbread ice cream and a sweet cannoli dip, the latter of which TJ's shoppers on TikTok are particularly excited about after seeing TikToker @kelseysfoodreviews' latest creation using the product.
"SWEET CANNOLI DIP WHAAAAAAT I know I can make it easily but I have to try this," user @jedaiixander commented on the post. "I can't have that in my house. I would eat the whole thing with a spoon," admitted @perfectlylin. Others suggested pairing it with pretzels or using it to rim the glass for a martini, while Trader Joe's shoppers on Reddit offered a few more ideas. "This dip is so good! We've been eating it with sliced apples and the praline pecans," u/pyky69 said in a recent thread about the new TJ's find. "So good with pomegranate pistachio crips," shared another fan.
There wasn't quite as much love for the gingerbread ice cream in the comments section of @kelseysfoodreiews' post. However, considering that the TikToker featured it in their latest creation – and the fact that Reddit user u/pumpkinspicebebecita declared it their "favorite flavor yet" – it seems that some people are wild about it.