Trader Joe's Fans Are Obsessed With These Pistachio Pomegranate Crisps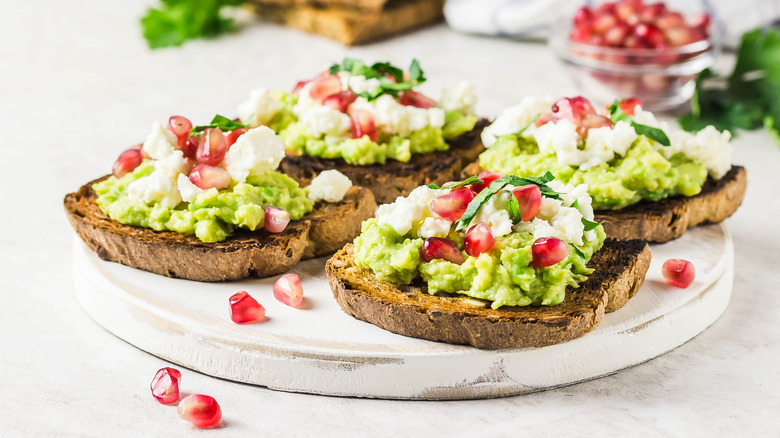 Irina Rostokina/Shutterstock
Who doesn't love a good snack? While an ornate meal or a fancy dinner out can certainly be an enjoyable experience, sometimes settling in on a comfortable couch and relaxing with some tasty snacks just hits the spot. If you are on the hunt for the best crackers, chips, and crisps to kick your snack game up a notch, Trader Joe's is the place to go. The grocery chain has a wide variety of delectable options at reasonable prices, and now they have brought one of their most popular snacks back to shelves, just in time for the holidays. 
Trader Joe's crispy, flavorful twice-baked pistachio pomegranate crisps have long been a favorite, and many shoppers have been excited to hear about their long-awaited return. Made with green pistachios, tart pieces of apple pomegranate cranberry, flax seeds, pumpkin seeds, sea salt, lemon extract, and cane sugar, this popular treat delivers robust, complex flavor with only 90 calories per serving, according to Fooducate. But that's not the main reason fans love this product. Many shoppers just can't stop raving about the great taste in these sweet and savory crisps.
Trader Joe's festive crisps pair well with a variety of holiday dips and toppings
The popular Trader Joe's Instagram account @traderjoeslist was so excited to see these crisps back on store shelves, they just had to share the news with their followers, in all caps. "THEY'RE BACK...PISTACHIO POMEGRANATE CRISPS," they posted, adding, "They are light with the perfect ratio of crunch to texture and they are the best compliment to your cheese boards! I highly recommend getting these!" The account's followers were quick to join in on the excitement, and quite a few couldn't resist sharing their favorite toppings and dips to pair with these crisps.
"These are by far my fave!!! I eat them with the garlic dip," suggested @meli_mel003, while Instagrammer @kimberlydiane_ recommended, "These pair so well with the blue cheese roasted pecan dip." And another follower raved, "I had these with the lemon ricotta cheese, DELISH!!" Others suggested a wide variety of accompaniments like Brie cheese, cranberry goat cheese, or even just plain cream cheese — but these crisps are also equally delicious when eaten on their own. "I ate an entire box by myself last night," one person admitted. So, no matter what you like to pair with your crackers or put on your charcuterie board, it seems you can't go wrong adding these pistachio pomegranate crisps to your snack rotation, especially this holiday season.