Aldi Is Secretly Giving Away $500 Gift Cards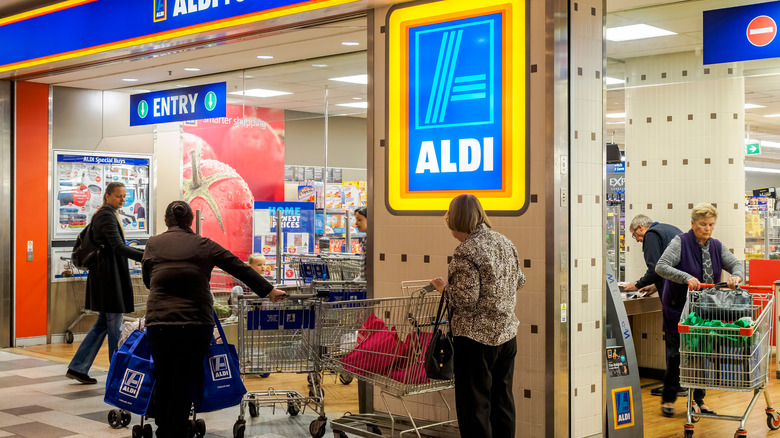 Dr. Victor Wong/Shutterstock
Have you ever seen the 1971 film "Willy Wonka and The Chocolate Factory" before? If you have, you can probably remember that the plot revolves around the eccentric candy factory owner, Willy Wonka, hiding "golden tickets" in random chocolate bars all across the world. Whoever finds the golden tickets will receive fabulous prizes, including a trip to Wonka's fantastical candy emporium. While the film is obviously fantasy, discount grocery chain Aldi is doing something very similar this holiday season — except there will unfortunately be no magical tours of the Aldi headquarters for the lucky winners.
As the Christmas season draws ever closer, Aldi certainly hasn't wasted any time getting ready for the upcoming holiday rush. Thrillist tells us that the chain has already rolled out a timeline of what sort of treats and goodies will be available at your local Aldi, ranging from charcuterie boards, shortbread cookies, sour ales, and German mousse cakes. The grocery store even released its 2022 holiday ad, which has talking cartoon carrots reenacting the plot of "Home Alone" (via YouTube). But Aldi, ever in the gift-giving spirit, has decided that loading folks up with discounted holiday snacks and drinks isn't enough to kick off Christmas. Instead, the chain is going to give some lucky customers a chance to win gift cards ranging up to $500 just by shopping at their local store.
The gift cards are hidden in random grocery orders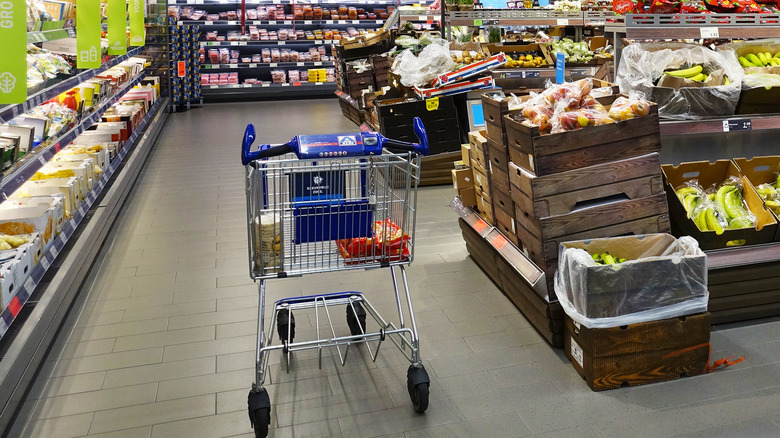 defotoberg/Shutterstock
Just as Willy Wonka slipped golden tickets into random Wonka bars, Aldi is hiding gift cards with a price of $25 to $500 in random grocery orders across the country. As Thrillist tells us, customers who order their groceries through Aldi's curbside pickup may discover a friendly holiday gnome hidden in their bags, clutching the free gift card. Again, when or where you find the gift card-carrying gnome is totally random. All you need to do is place an order for curbside pickup and you may be lucky enough to find it.
Aldi gift cards are actually rather new, having been introduced in 2021 in the United Kingdom (via The Daily Mail). The gift cards, which could go up to £500, could be used on any item in the store, ranging from groceries to clothing to home accessories. While Aldi does explain that Aldi gift cards can not be used to purchase anything that is not sold by Aldi, the gift card is still pretty useful — especially if it's free. 
This isn't the first time Aldi was known for doing something outrageous with gift cards, considering that the company actually gave its employees an astounding $2.4 million in gift cards in November of 2020. While you won't $2.4 million in your next grocery order from Aldi, who knows? Maybe you'll find a little something extra hidden in one of your bags.