Trader Joe's Fans Are Freaking Out Over Its Returning Truffle Oil Duo Kit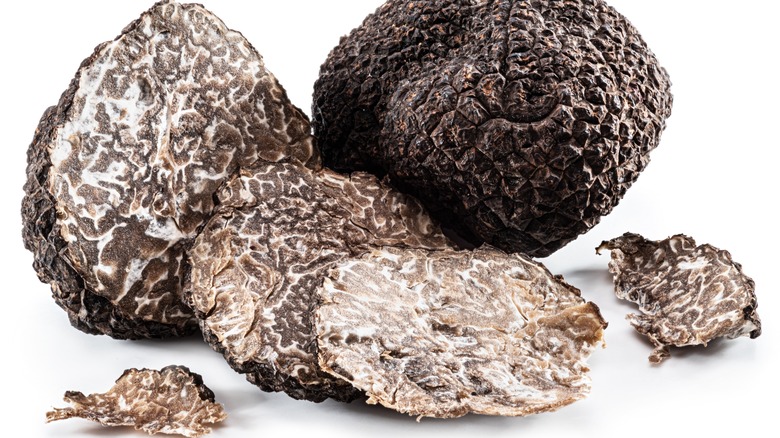 Valentyn Volkov/Shutterstock
What better time than the holiday season to embrace extravagance and luxury ingredients? One of the more controversial fancy ingredients is truffle oil. According to Eataly, truffle oil is olive oil that has been infused with truffles. While a truffle is sometimes confused with a mushroom, it's technically edible spores that grow on a fungus belonging to the Tuberaceae family and is an entirely different species (per Allrecipes). Truffles are grown underground, while mushrooms are grown above ground. Both black and white truffles are highly prized in the culinary community, with white truffles selling for up to $4,000 per pound and black truffles selling for up to $800 per pound (per Martha Stewart). For those wanting to enjoy the flavors of truffles without shelling out top dollar, truffle oil is a less expensive and tasty option.
Truffle oil is a controversial ingredient, with celebrity chef Alton Brown saying that truffle oil sucks. While you can find truffle oil that is infused with real truffles, the most common variety you'll find today does not contain real truffles. Eataly reported that many of the truffle oils found in stores get the truffle flavor from synthetic 2,4-dithiapentane, which is a chemical compound designed to mimic the taste of truffle. 
There are plenty of fans of truffle oil, however, especially when it is used correctly to flavor sauces or savory dishes. For those wanting to dabble in the world of truffle oil, Trader Joe's is bringing back its seasonal truffle oil kit for the holidays.
Try both white and black truffle oil
Instagram account, @traderjoeslist, posted a photo of the store's Truffle Oil Duo. The kit was released for the first time in 2021 and was only available for a limited time, so fans were excited to see it return in 2022. The kit contains two miniature bottles of truffle oil, one black, and one white. The bottles are only 2 ounces, making them the perfect gift for those wanting to try them. Like several of the items at Trader Joe's, the truffle oil duo is made in Italy and infused with real white and black truffles.
What makes Trader Joe's oil unique is that it is a finishing oil, rather than a cooking oil. This oil is recommended to be lightly poured onto a steak or a finished pasta dish (per Trader Joe's). 
Fans were quick to comment on the post with tips and tricks for using the truffle oil. One user wrote, "Best tip: Put on popcorn," while another wrote, " I use it in homemade salad dressings!" 
The truffle oil kit sells for $9.99 and is already selling rapidly. Trader Joe's Instagram account recommends that people stock up quickly before the items sell out. 
For those who are curious about truffles but aren't ready to try truffle oil, Trader Joe's offers several truffle items, like its artisanal truffle cheese. But truffles in any form are sure to make the holiday season feel a bit more special.