Starbucks' Latest Cold Brew Is Aged Like Whiskey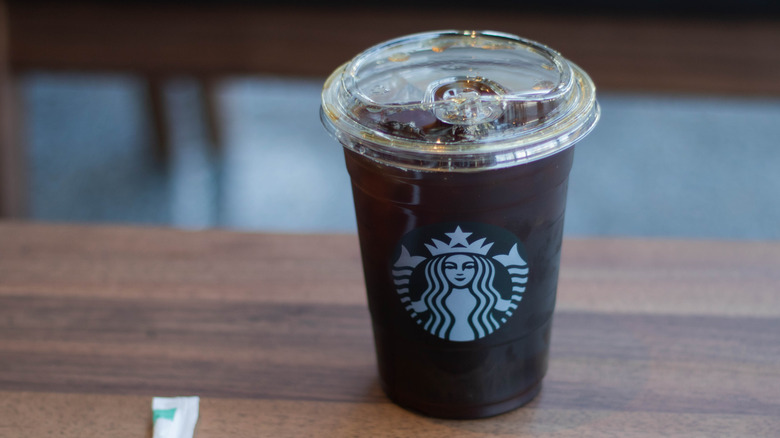 Mert G/Shutterstock
There are all different levels of Starbucks drinkers. There's the casual customer, who goes every so often and probably enjoys a pumpkin spice latte every season. Then there's the devoted rewards member, who knows the barista by name and has their specific order perfected right down to the last drop of syrup. And then there's the super fan, who not only knows Starbucks' secret menu hacks, but who also has been to — maybe multiple times — the coveted Starbucks Reserve.
If you didn't know, Starbucks Reserve is "a selection of the rarest, most extraordinary coffees Starbucks has to offer" (per Starbucks). While you can get the full experience at a number of Reserve Roasteries and coffee bars around the world, you can also find Starbucks Reserve coffee in certain stores, too. But the roasteries and bars have the most extravagant and unique offerings. Recently on Instagram, Starbucks revealed the newest drink coming to its Reserve lineup: Irish Cream Whiskey Barrel-Aged Cold Brew. Here's what you need to know about the seasonal beverage, including where you can try it for yourself.
It's a seasonal drink with a twist
If you're looking for an icy cold beverage to get you in the Christmas spirit, the Starbucks Irish Cream Whiskey Barrel-Aged Cold Brew has arrived just in time for the 2022 holiday season. According to the Starbucks Reserve menu, the new seasonal sip consists of "Whiskey Barrel-Aged Cold Brew coffee with Irish Cream syrup, topped with toasted white chocolate cold foam and a dusting of dark chocolate." But don't worry, there's no alcohol to be found in this drink, despite the name. The cold brew is described as "spirit-free" and is made with sweetened vanilla bean syrup for added flavor, according to the menu. 
You can order the Irish Cream Whiskey Barrel-Aged Cold Brew at any of the Starbucks Reserve Roastery locations across the United States. It'll cost you though, the Washington D.C. roastery menu shows that the price starts at $12.50 for a 12-ounce cup. While that might be sticker shock, it's not the first time that the whiskey-inspired cold brew coffee has been on the Starbucks Reserve menu. Apparently it was previously available in 2017 at select stores (per Starbucks).