Here's What Happened To Southern Culture Artisan Foods After Shark Tank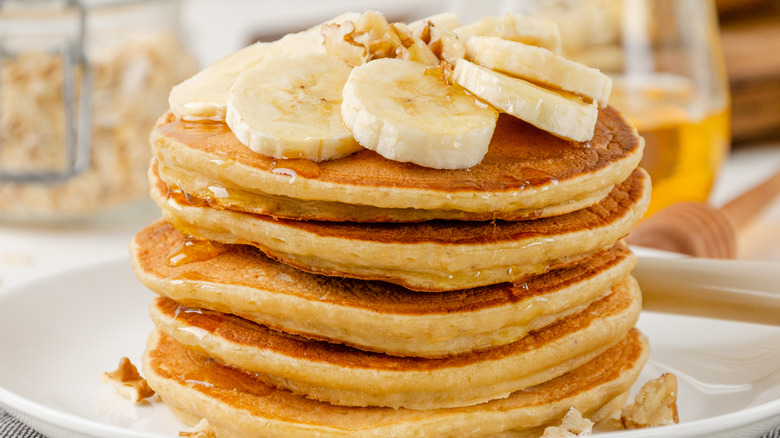 irina2511/Shutterstock
A few things almost always come to mind when thinking of the ideal breakfast setup: a jiggly sunny side up, a fresh glass of orange juice, steaming hot coffee, and most certainly, a maple syrup-topped stack of pancakes. According to statistics gathered by National Today, pancakes are the third most popular breakfast item in the U.S. after eggs and bacon, and nearly 59% of those surveyed said that they happened to love pancakes.
When asked about the most popular flavors of pancakes, however, the answers were the usual buttermilk, blueberry, chocolate chip, banana, and plain pancakes. Unsatisfied by the lack of striking flavors in the pancake department, a budding entrepreneur Erica Barrett walked into season five of "Shark Tank" hoping to change these boring old flavors of pancakes (via Shark Tank Blog).
Barrett's pancake mix business aimed to give one of America's favorite breakfast items a creative makeover with flavors that were inspired by Southern foods in particular: banana pudding, bourbon salted pecan, and peach cobbler to name a few. Considering the fact that National Today's statistics found that 32.5% of America's pancakes were consumed by Southerners, it seemed that Barrett was probably onto a winner with her Southern Culture Artisan Foods business.
A Shark Tank deal that fell through
When Barrett appeared on "Shark Tank," she had already scaled the up business from local events and food trade shows that brought over $80,000 in sales, to being stocked in stores across the U.S. as well as on Amazon (via Shark Tank Blog). Southern Culture Artisan Foods at the time had already made half a million worth of sales and Barrett had gone full time in her pancakes mix business.
Moreover, the sharks also seemed to be loving her pancake mix flavors — what's not to love about pancakes that taste like bourbon salted pecans after all — and Southern Culture Artisan Foods had expanded into syrups, bacon rubs, and items for all sorts of breakfast needs. While Barrett had made a profit of $62,000 in the first year alone and was already in stores like Nordstrom, TJMaxx, and Whole Foods with a sizeable six to seven-dollar profit margin, the sharks weren't convinced.
Mark Cuban, Robert Herjavec, and Daymond John were quick to back out, leaving Kevin O'Leary and Barbara Corcoran still on the table. Mr. Wonderful made a royalty offer alongside the $100,000 that Barrett was seeking, and Corcoran offered her the investment without royalty but in exchange for 40% equity, 15% more than Barrett was willing to give. Although Barrett was seen taking Corcoran's deal for a 38% stake in her company after tough negotiations, The Atlanta Journal-Constitution reports that the deal fell through after the show.
Erica Barrett tried her luck at another reality show
Despite not finalizing the deal with Corcoran, Southern Culture Artisan Foods seemed to be doing well, especially after the publicity it got from the episode's screening. After the episode aired in 2014, Shark Tank Blog reports that Southern Culture Artisan Foods was already in 3,000 stores across the country, and Barrett aimed to increase that to 4,000 stores in the next year. The entrepreneur was also planning to expand her pancake and waffle mix business to include grits and fried chicken mixes.
Somewhere along the way, however, Barrett seems to have run into a bit of trouble. According to The Atlanta Journal-Constitution, Barrett appeared on CNBC's show "The Profit" hosted by Marcus Lemonis in 2018. The entrepreneur had woes with her husband who was critical and unsupportive of her business decisions, and Southern Culture Artisan Foods was swimming in a whopping 500,000-dollar debt with cash flow issues. Lemonis decided to invest $75,000 in the debt-ridden business in exchange for equity and planned to help Southern Culture Artisan Foods get back on its feet.
While there doesn't seem to be any news about what happened next, Southern Culture Artisan Foods's Instagram page was on a hiatus from 2019 to 2021, and now posts sporadically with information that's mostly about sales on their website. Barrett has also released a cookbook and has since opened her own restaurant called SOCU Southern Kitchen and Oyster Bar in Mobile and Birmingham, Alabama.