Trader Joe's Fans Are Running To Grab Its Returning Candy Cane Green Tea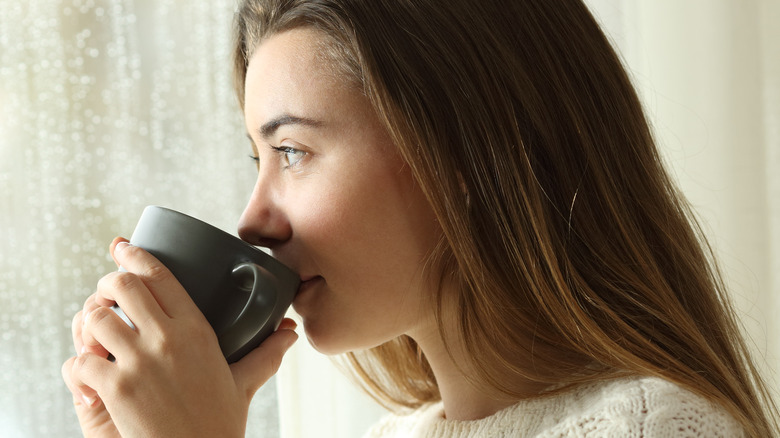 Antonio Guillem/Shutterstock
There's no such thing as too much holiday spirit, right? With only a few weeks left until December 25, people are covering their homes with twinkling lights and poinsettias, playing Christmas albums on a loop, and guzzling down Starbucks' Peppermint Mochas. While the Peppermint Mocha may be Starbucks' flagship festive drink this time of year (according to Starbucks Stories & News, it's been on the menu for 20 years), don't sleep on the holiday drinks from Starbucks' secret menu you can order year-round.
Tis' the season for being a little extra around the holidays, whether you want to host a cookie swap or a gift exchange. One of the best ways to get into the holiday spirit is to enjoy seasonal food and beverages on offer. Aldi just put hot cocoa Pillsbury rolls on shelves, while Trader Joe's put a twist on its 2022 Holiday Jingle Jangle (a snack box filled with chocolate-covered pretzels, popcorn, cookie pieces, and mini candies). Meanwhile, TJ's has also unveiled its candy cane green tea for the season, and customers are already stocking up on this coveted product.
Trader Joe's candy cane green tea is being referred to as the best cold remedy ever
User @traderjoeslist took to Instagram to alert fellow Trader Joe's lovers about the return of the candy cane green tea. "A holiday favorite amongst tea drinkers," @traderjoeslist captioned the post. "Tasting notes layered atop the green tea are cinnamon, vanilla and of course peppermint! It's only here for the season so stock up while you can! TJ's customers are doing just that. One user wrote, "I bought five boxes so I wouldn't run out too quickly." This green tea is also decaffeinated, making it a great option for those who enjoy winding down with a steaming cup of tea at the end of a long day.
Other users took to the comment section to either rave about the product or express their excitement about trying it for the first time. One user wrote, "This is hands down the best cold remedy ever," while another wrote, "I'll have to look for this. Sounds so good."
If you like adding milk or creamer to your tea, one user shared a pro tip in the comment section. "It's even better with a little Chobani Peppermint Mocha Creamer." You can also pair the tea with one of Coffee Mate's holiday creamers, which include Toll House Brown Butter Chocolate Chip Cookie Flavored Creamer and Peppermint Mocha Oat Milk Coffee Creamer, per Brand Eating.