Aldi Just Put Hot Cocoa Pillsbury Rolls On Shelves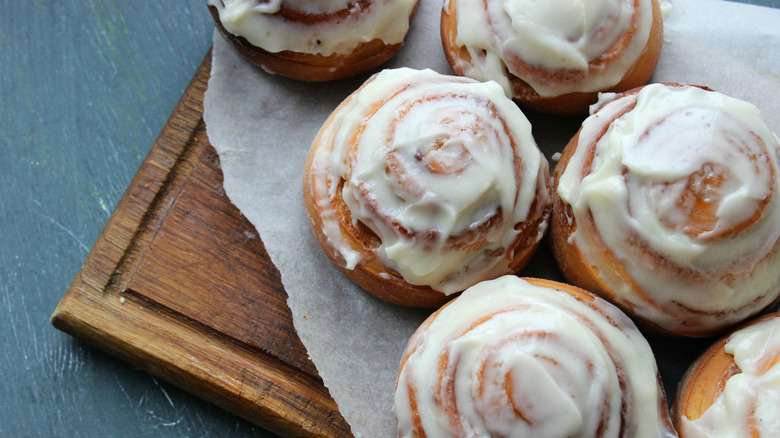 Ermolenko Aleksandra/Shutterstock
Aldi is a great store to stock up on unique food items that can't be found at any old run-of-the-mill grocery chain. Some of the tried and true classics, like its Friendly Farms Whole Milk Greek Yogurt and Simply Nature Organic Peanut Butter often appear on "best items" lists (per Cooking Light). While Aldi has great finds year-round, the seasonal items are where the store really steps up its game.
To ring in the winter holidays, Aldi released its seasonal coffee creamers in flavors like white chocolate peppermint bark and sugar cookie. For those who'd like a festive adult beverage while ringing in the season, Aldi is selling cranberry hard cider and cherry mulled wine. For those cold nights when you want to curl up by the fire and enjoy a cheesy Hallmark movie, you'll definitely need something warm to drink as well as a tasty snack. Aldi offers up a wide variety of pre-made hot chocolates and even melting snowman hot cocoa bombs. As far as something to snack on, the options are endless. Popcorn is the most obvious choice for a movie night, but what if you want something sweet? Luckily, Aldi has you covered no matter what your taste buds are craving, including a fun spin on the classic cinnamon roll.
Eat your hot chocolate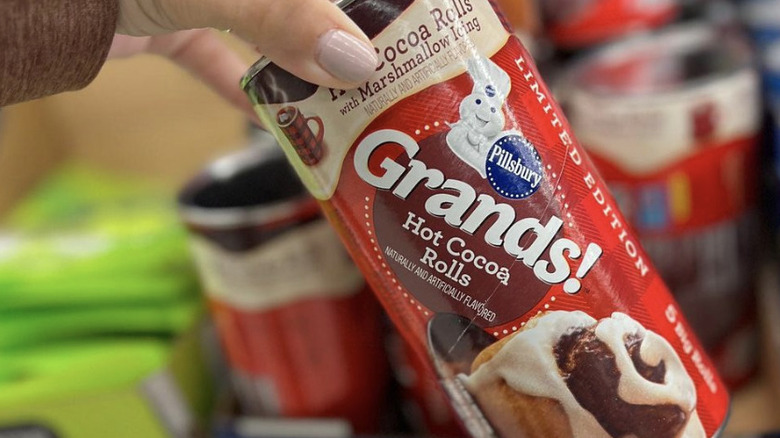 The Instagram account, @ohheyaldi shared Aldi's newest seasonal products to hit the shelves, which showcased Pillsbury Grands Hot Cocoa Rolls. These rolls are a riff on the classic cinnamon roll, but instead of cinnamon, the rolls are filled with a chocolate mix. Marshmallow icing also replaces the original cream cheese frosting. Fans were quick to comment on the post, asking if the rolls were any good. One user responded, "Made them this weekend and they were delicious!" The large rolls come in a pack of 5, which is the perfect amount for sharing or keeping to yourself.
The last time the hot cocoa rolls made an appearance at Aldi was in 2020. The limited edition rolls were not around long and didn't even make it to every Aldi location. If you're one of the lucky ones who can find the rolls this time around, it may be worth it to stock up. If you can't find the rolls, Aldi has plenty of other holiday desserts, like dark chocolate peppermint bark, or mini cheesecake bites (per She Knows).