Instagram Is Celebrating GBBO Winner Rahul Mandal's Wedding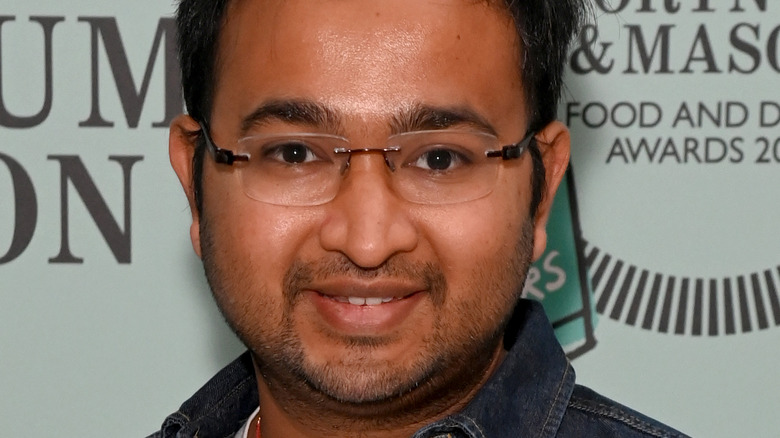 David M. Benett/Getty Images
Rahul Mandal has been up to quite a bit since winning the 2018 season of "The Great British Bake Off," besides continuing to create amazing and awe-inspiring cakes, pies, and cookies, of course (via Instagram). In October, Mandal released a baking cookbook entitled "Showstopping Cakes: Mastering the Art and Science of Baking" (via Instagram) and has even hosted a bookstore discussion with fellow GBBO'ers and authors Giuseppe Dell'Anno and Peter Sawkins (via Instagram).
Despite his recent accomplishments in the baking and publishing world, Mandal surprised many of his social media followers on Instagram this past week when he shared he had something new to celebrate: his upcoming marriage! The baker took to the platform to share a quick video featuring him smiling and wearing a white, flowered traditional shirt and mala, a garland made from flowers, around his neck (via Independent). People reports the wedding took place in Kolkata, India.
Rahul Mandal asked followers for blessings and good wishes
In an initial Instagram post, Rahul Mandal announced his wedding would be happening in the next few days, writing, "We both are very excited, and a little nervous ... I know you all will have a lot of questions. And me and my wife will answer them all. If you want to know anything about her, we will also be very happy to answer it too." Mandal did share one tradition that would be missing: a cake. "Everyone is far too nervous to do a cake for me," he wrote.
Over the past few days, Mandal has shared snippets of both the preparation for his traditional Bengali wedding and of the wedding itself in the form of Instagram stories, and friend chef Sam Way shared some videos of the food preparation and traditions like smearing turmeric paste on Mandal's face. Post-wedding, Mandal shared another video of the ceremony, which he captioned in part, "Thank you so much for all your lovely wishes. Me and my wife Shreya both want to extend our heartfelt gratitude to all of you."
Fans and fellow GBBO'ers alike took to the comments to share their congratulations for the couple. @giuseppecooks wrote, "Rahul, these scenes seem to be out of a fairytale! I'm very happy for you. May this be just the first day of a lifetime of happiness!" while user @lyndseysponder shared, "This is lovely. Thank you for sharing your culture with the world!"