Marry Me Chicken, Explained
The name says it all, Marry Me Chicken, a dish so good, anyone you serve it to will want to put a ring on it. But does it really work? And what exactly is this dish, besides the third most Googled recipe of 2022 (per Google Trends)? While the way to anyone's heart may or may not be through their stomach, we doubt that any dish, no matter how good, can guarantee a proposal.
The story is that this delightful dish originated with the Delish editorial staff, according to Allrecipes. While the dominant narrative seems to be that the dish gets its name from being so good that your partner will want to lock you down in holy matrimony after one bite, Delallo has another possible origin for the name. The food importers (and makers of key ingredient sundried tomatoes) say it comes from how well the flavors marry in the luscious sauce. Only the editors at Delish know for sure. While it may not really guarantee a proposal, this super flavorful dinner idea is sure to impress that special someone or make a delicious meal for one, with surprisingly little effort for a big return.
Marry Me Chicken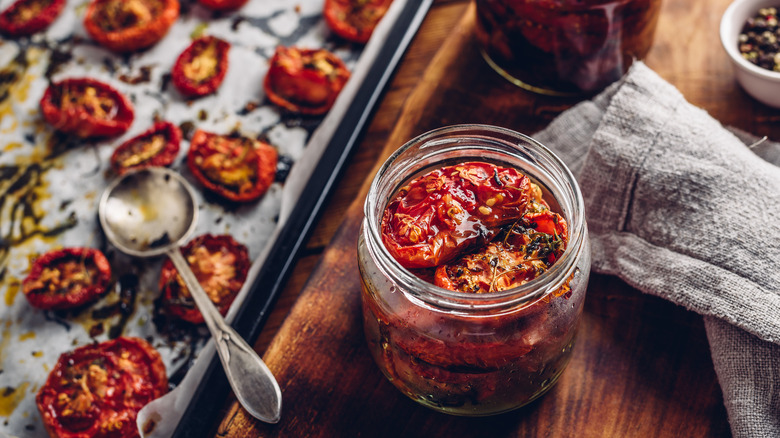 Seva_blsv/Shutterstock
You'll find many recipes for Marry Me Chicken on the web, each a little different. But all seem to take about 30 minutes to prepare and can even be made using just one pan.
To start, heat olive oil in an oven-safe skillet. Add your chicken (some recipes call for cutlets, others for thighs) and heat until browned on both sides, or about four minutes per side (per The Spruce Eats & Delish). Move your chicken to a plate and pour off half the fat from your skillet. Over medium heat, add garlic, thyme, and red pepper flakes. Cook for about one minute, then stir in equal amounts of heavy cream and chopped sun-dried tomatoes. Also, stir in grated parmesan at this time. Raise to a simmer and return your chicken to the sauce, then pop it all in the oven at 375°. Bake at 375° until chicken is thoroughly cooked, or 17 to 20 minutes. The juices should run clear when a knife pierces the chicken. Garnish with fresh basil and you're done.
For even more flavor, you can add chicken broth or a bouillon cube along with the heavy cream (per Food Network). Serve over pasta or with a simple side that won't steal focus like white rice or smashed potatoes.