Garlic Smashed Potatoes Recipe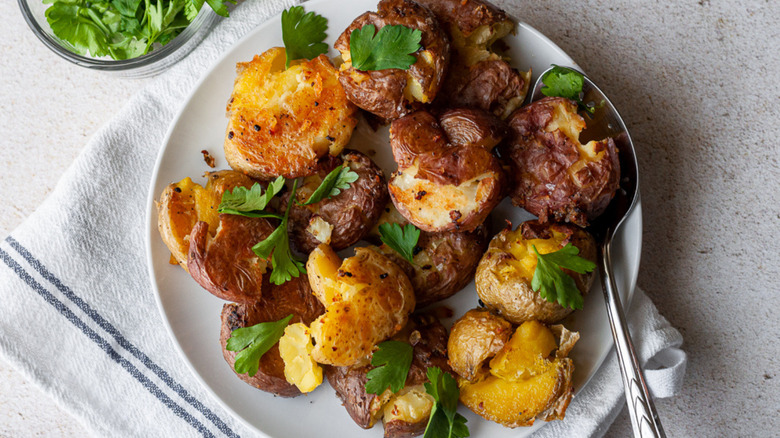 Christina Musgrave/Mashed
There are plenty of ways to make potatoes — you know, the best starch on Planet Earth — but one of the best ways to fix them up is by making smashed potatoes. Yes, not mashed, but smashed. This delicious recipe may not be as famous as french fries, mashed potatoes, or scalloped potatoes, but it's every bit as good, if not even better. The great part about smashed potatoes is that they have a crispy outside, but a soft inside, giving you the perfect contrast of textures in every bite. This recipe requires just 10 minutes of prep time and 40 minutes of cook time, making it a no-brainer dish to serve with your main course.
Recipe developer Christina Musgrave came up with this dish that looks and tastes fantastic. "This recipe is a crowd-pleaser! This is great for feeding a crowd because everyone loves roasted, crispy potatoes. [While entertaining], I like serving this as a side dish," she shares.
Gather the ingredients for garlic smashed potatoes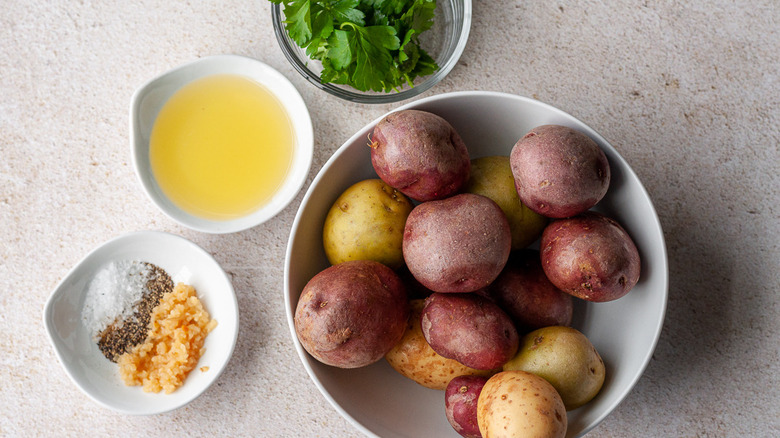 Christina Musgrave/Mashed
Now that you know you want to make these tasty smashed potatoes, you'll need to head to the store and grab all of the necessary ingredients for these garlic smashed potatoes. The star and first ingredient is baby potatoes. In addition, you'll need olive oil and garlic ... because what recipe is complete without these tasty staples? Then, be sure to pop by the spice aisle to pick up some salt and pepper. Since these items are pretty standard, you may have them at home already.
Last but not least, you'll need to have a few tablespoons of chopped Italian parsley. Once you've gathered everything together, it's time to get cooking!
Preheat the oven and boil the potatoes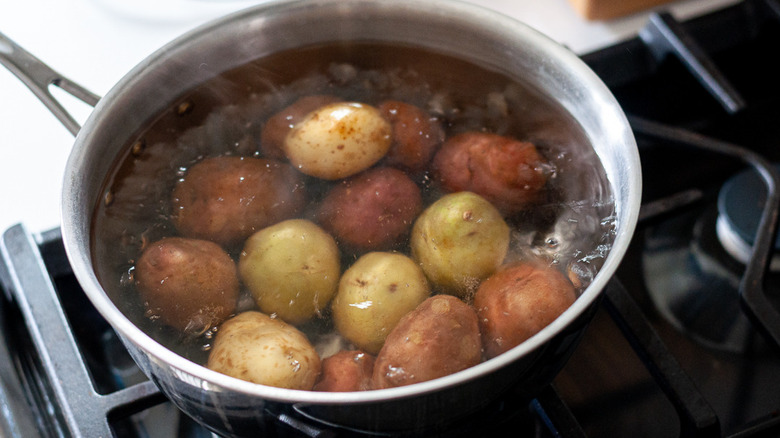 Christina Musgrave/Mashed
Since you'll need to use an oven for this recipe, the first thing you should do is preheat it. Go ahead and crank up the heat to 400 F, so it gets nice and hot. As it's heating, you can do the rest of the prep work.
Grab a large pot and fill it with salted water. Then, throw in the potatoes. As a reminder, you should have washed the potatoes ahead of time. Allow the water to come to a boil, then cook the potatoes until they're tender, for about 15 minutes. "Pierce with a fork to check for doneness," Musgrave suggests.
Drain the potatoes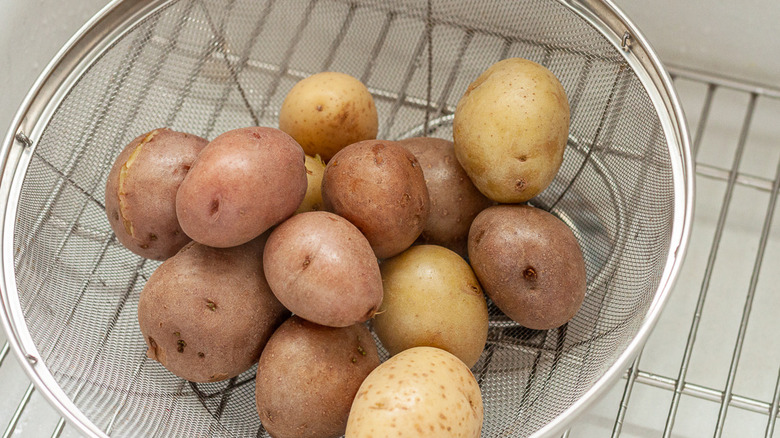 Christina Musgrave/Mashed
Once you confirm the potatoes are tender, carefully remove the pot from the stove. Using a colander or something similar, drain the water from the potatoes and let the potatoes rest for about 5 minutes. Since you want the potatoes to dry pretty well, you can just leave them in the colander. "Leaving [them] in the colander is fine; the steam will continue to escape while in the colander," Musgrave says.
You don't need to set a timer for this step. Simply touch the potatoes to make sure they're reasonably dry before moving on to the next step.
Combine the potatoes, olive oil, and remaining ingredients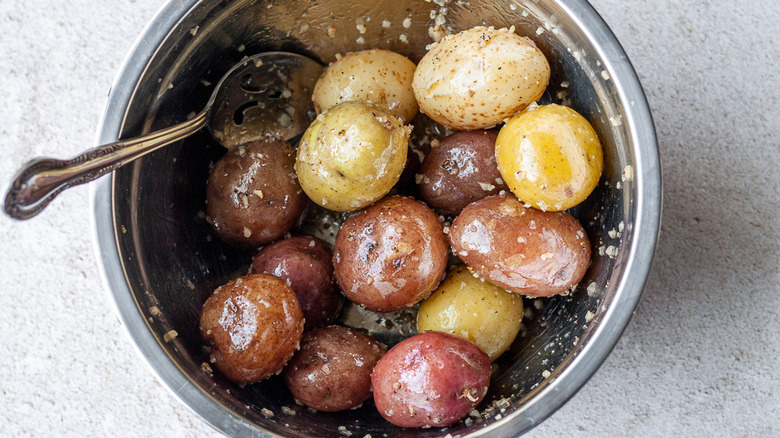 Christina Musgrave/Mashed
Once the potatoes are dry, grab a bowl and toss them in. Next, drizzle the olive oil over the potatoes, followed by two cloves worth of minced garlic. Garlic and potatoes go together like peanut butter and jelly! At this time, you can also add the salt and pepper. Give the bowl a few good shakes or stirs to coat each potato with the seasonings.
When the seasonings are well-distributed, prep a baking sheet by lining it with tin foil. This will prevent the potatoes from sticking to the pan, making cleanup a lot easier.
Smash the potatoes and bake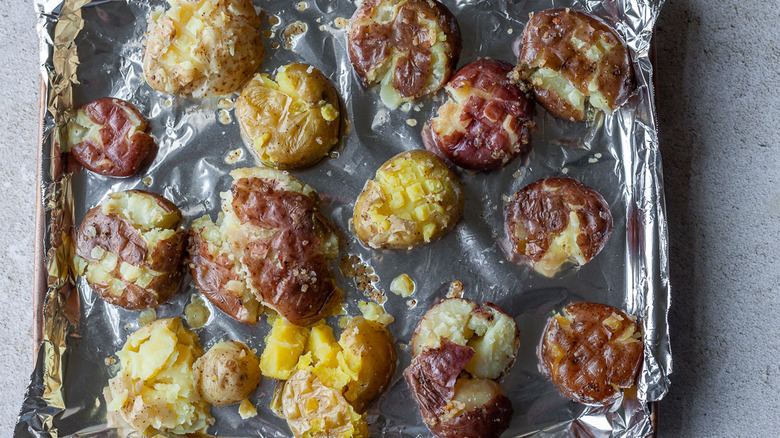 Christina Musgrave/Mashed
Now that you've coated the potatoes in the olive oil, garlic, and salt and pepper, place them on your lined baking sheet, just a few inches apart. Then, use a potato masher to smash each potato. Repeat the process with the remaining potatoes before popping them in the oven. Set your timer for 25 minutes and bake until the potatoes start to crisp up.
"You're looking for a golden brown color with crispy edges," Musgrave shares. After the timer goes off, take the potatoes out of the oven and get ready to enjoy them.
Serve and enjoy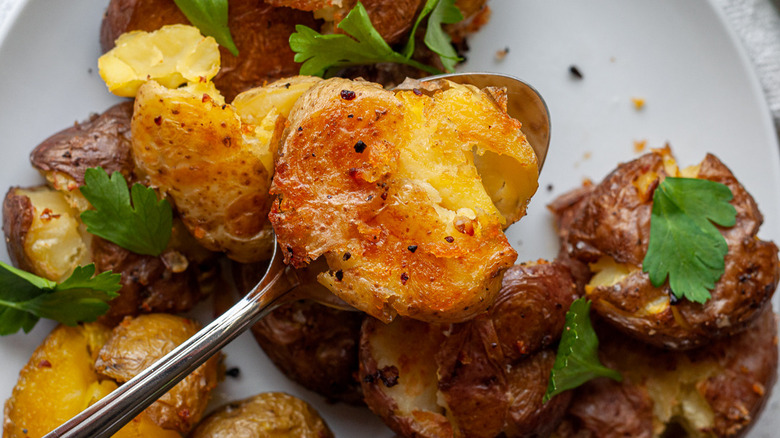 Christina Musgrave/Mashed
The last thing you need to do is top the smashed potatoes with a few tablespoons of chopped Italian parsley. If parsley isn't your thing, you can always skip this step. 
Now, you can finally enjoy all of your hard work and effort. "These are great with fried chicken, roasted chicken, or with a cheeseburger or chicken sandwich," Musgrave suggests. 
And the good news is, if you don't finish them right away, you can store them to enjoy as leftovers. "Store [the smashed potatoes] in an airtight container in the refrigerator for up to 4 days. [They're] best reheated in the oven or fried up in a pan with oil," Musgrave says.
We hope they hit the spot! 
Garlic Smashed Potatoes Recipe
Switch out your French fries for a new take on crispy spuds with this tasty garlic smashed potatoes recipe. It's bound to be a new favorite!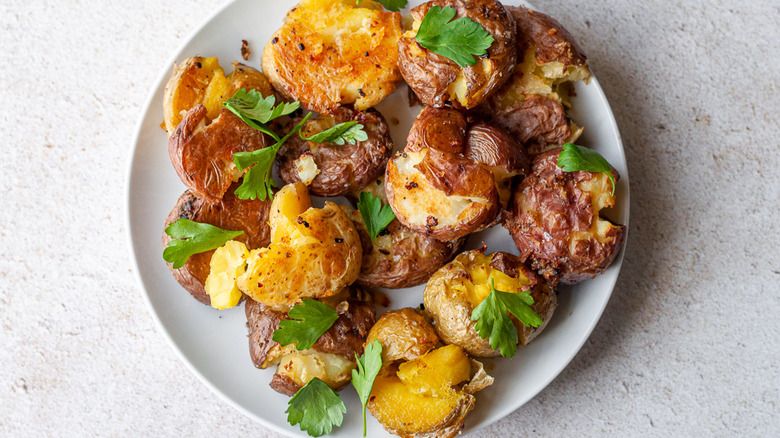 Ingredients
2 lb baby potatoes
3 tablespoons olive oil
2 cloves garlic, minced
½ teaspoon salt
½ teaspoon black pepper
2 tablespoons chopped Italian parsley
Directions
Preheat oven to 400 F.
Boil 2 pounds of potatoes in a pot of salted, boiling water. Cook until tender, about 15 minutes.
Drain potatoes and let rest for 5 minutes until dry.
Combine cooked potatoes, 3 tablespoons olive oil, 2 cloves minced garlic, ½ teaspoon salt, and ½ teaspoon pepper in a bowl. Place on a lined baking sheet.
Use a potato masher to mash each potato.
Bake for 25 minutes, until golden.
Top smashed potatoes with 2 tablespoons chopped Italian parsley and serve.
Nutrition
| | |
| --- | --- |
| Calories per Serving | 268 |
| Total Fat | 10.4 g |
| Saturated Fat | 1.5 g |
| Trans Fat | 0.0 g |
| Cholesterol | 0.0 mg |
| | |
| --- | --- |
| Total Carbohydrates | 40.5 g |
| Dietary Fiber | 5.2 g |
| Total Sugars | 1.8 g |
| Sodium | 305.9 mg |
| Protein | 4.8 g |