Here's What Soccer Stars Eat In A Day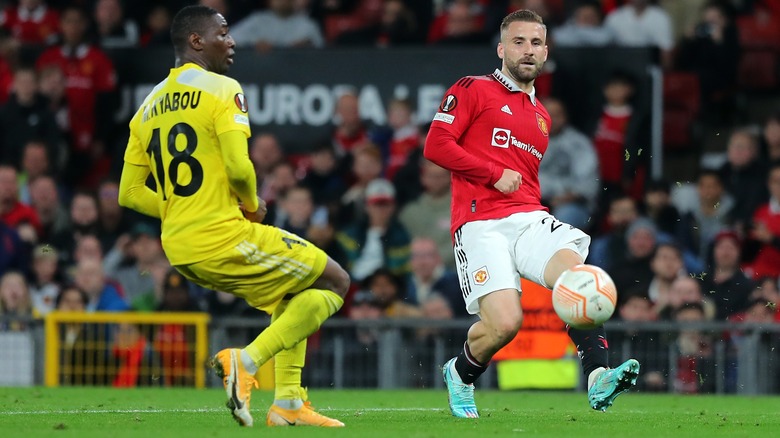 Stefan Constantin 22/Shutterstock
Oh, to be a famous athlete. They're attractive. They're strong and fit. They're millionaires with mansions, maids, and personal trainers. And let's not forget, they can eat a lot more calories than non-athletes since they're so active. And the more active you are, the more food you need because food is fuel. It's always fun to learn just how many calories certain athletes consume on a daily basis and to see what foods contribute to those calories.
The International Olympic Committee states that Michael Phelps, winner of 28 Olympic medals, was eating 8 to 10,000 calories a day at one point since he was burning about 1,000 an hour during training. According to CelebAnswers, LeBron James consumes up to 5,000 calories a day throughout the NBA season and during training.
But what about athletes who play professional soccer, a sport that involves nothing but running, kicking, and more running? In fact, ITG Next claims soccer players run about 7 miles per game, which is more than what some people walk in a day. So, what do soccer stars really eat in one day to keep up with their intense training routines?
Their meals focus on protein and carbs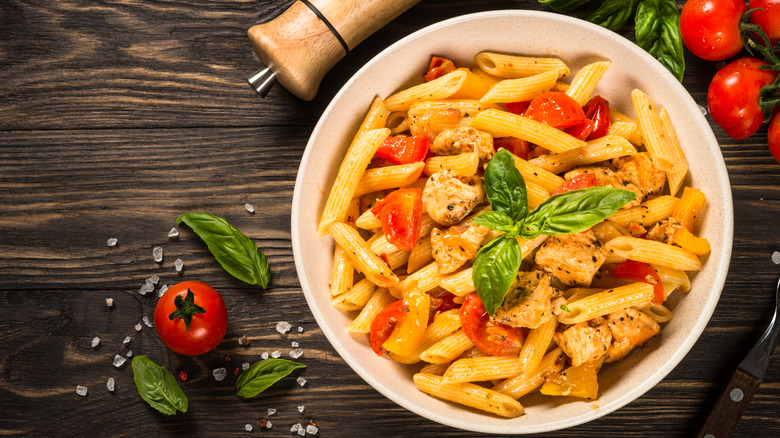 nadianb/Shutterstock
Independent sat down with private chef Jonny Marsh, who cooks for Manchester City Football Club, to learn more about what he cooks for some of the "most-talented footballers." On his Instagram, Marsh shared his parmesan and basil-topped tomato pomodoro pasta recipe, which he prepared for Manchester United left-back Luke Shaw. A "pre-game classic," the pasta consists of 20 egg yolks, flour, onions, garlic, plum tomatoes, salt, and sugar. For John Terry — a former center-back — he cooked vegan chili con carne, and for Birmingham City striker Troy Deeney, Marsh prepared Thai green curry.
Livestrong also provides some insight into sample meals of professional soccer players. During his days as a forward, Diego Forlan Corazzo would eat brown bread, yogurt, a ham and cheese omelet for a high-protein breakfast and pasta or rice with chicken for lunch. For dinner, he enjoyed a plate of fresh fish and steamed veggies, with the occasional dessert.
On game days, former forward and midfielder Wayne Rooney would eat a banana and a bowl of "sugary cereal" for breakfast and cereal bars as a mid-morning snack. The International Association Football Federation claims that restricting carbohydrates before a match is one of the biggest mistakes players make, and that elite soccer players should eat "cereal, pancakes, baked beans, and toast or yogurt before a match." Of course, meals vary from player to player, but generally, there's a significant emphasis on meals with more carbs and protein.