The Best High-Protein Breakfasts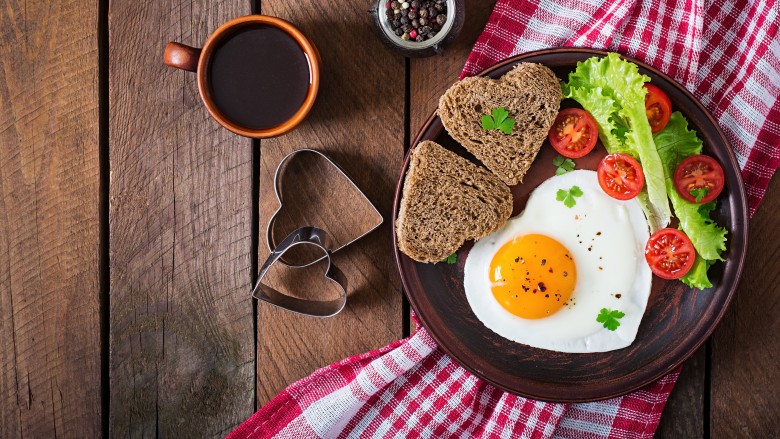 Shutterstock
Breakfast. It happens at Tiffany's and all day at IHOP, and it's a wonderful excuse to drink your weight in mimosas. John Gunther said that "all happiness depends on a leisurely breakfast." Adelle Davis said to "eat breakfast like a king, lunch like a prince and dinner like a pauper," and Alfred Armand Montapert suggested you "expect problems and eat them for breakfast." With respect to Alfred, a paltry breakfast of problems is likely to give you indigestion. I think we can do better.
A meal often rushed, hectic, and devoured in the fog of fatigue, breakfast doesn't always get the adulation it deserves, but legions of paleo devotees and those looking to curb their hunger are using breakfast to deliver a punch of protein. Studies have shown that those who consumed 35 grams of protein at breakfast were less likely to cave in to cravings and experienced lower levels of ghrelin (the hunger-moderating hormone) throughout the day. In the name of the most important meal of the day, I have rounded up some of the best high-protein breakfasts to add to your repertoire.
Breakfast bites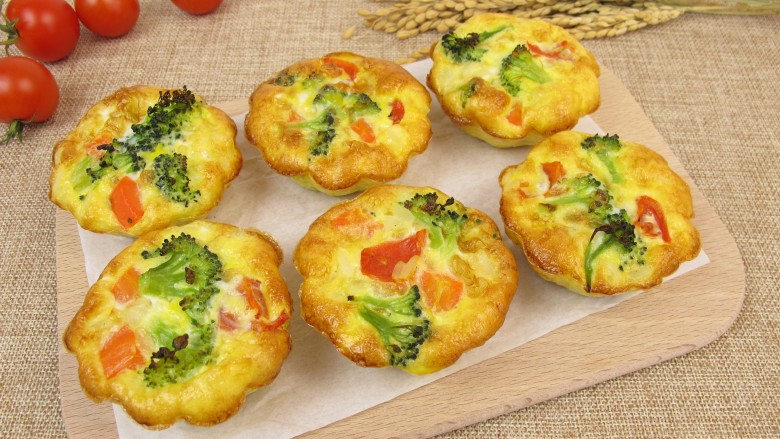 Shutterstock
A straightforward and delicious way to enjoy a high-protein breakfast is to whip up a batch of breakfast bites using your trusty muffin tin. These adorable bite-sized pseudo-muffins look and taste like the happy fusion of a quiche and a frittata.
Simply spray your muffin tin with cooking oil and whip a mixture of six to nine eggs to pour into each muffin cup. Bake at 375 degrees for about 20 minutes. The egg will rise to hold any additional ingredients, and you won't need a fork or knife to enjoy this. Simply grab and go!
Breakfast bites can be doctored any way that suits your taste. You can add chopped chicken, cheese, chopped veggies, your favorite herbs, or sausage. You can wrap them in a generous slice of bacon, and you might even press a layer of tater tots to the bottom of each muffin cup for a crispy potato base.
As a bonus, the resulting mini pseudo-quiches are portable and wonderful to serve if you have a large group at your table, whether you're trying to placate your family members or a troupe of IRS auditors. (IRS placation not guaranteed.) They can easily be frozen and then wrapped in paper towels to microwave for those of you who are running late for the bus, which is something that never happens in my family because we are always so organized and winning at life. *Nose grows 12 inches.*
Breakfast bowls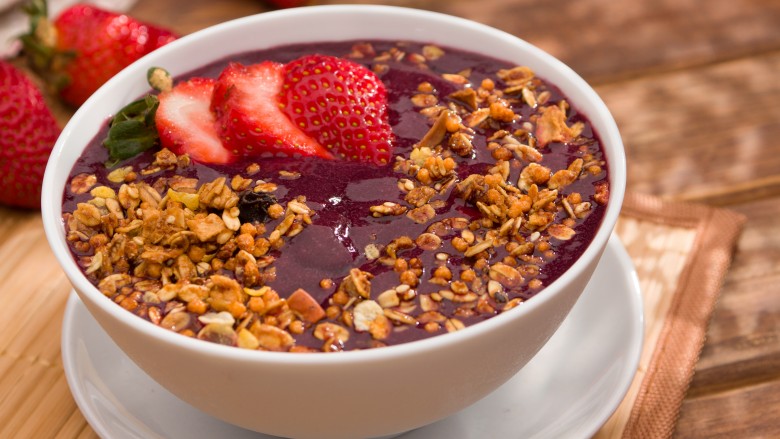 Shutterstock
When you are crunched for time in the morning, versatility is key. The breakfast bowl might be as varied as it gets. Breakfast bowls offer an escape from the monotony of the cereal box and the toaster strudel by allowing you to get creative with incorporating healthy ingredients into a single bowl. Some bowls are part of the superfood trend, like the açaí bowl. Açaí is a dark purple berry from South America that is prized for its anecdotal (but not scientifically proven) health benefits. It also just tastes good.
Once the açaí puree (which can be purchased at Amazon if you have no immediate plans to travel to the actual Amazon) is blended with ice, banana, and a milk alternative, it becomes the smoothie-like base for the açaí breakfast bowl, onto which you can lump the toppings of your choice. Perhaps some protein-packed peanut butter, oats, coconut, berries, more bananas, a whole salmon, or more protein powder? Just kidding about the salmon — I wanted to see if you were paying attention.
But the açaí bowl isn't the only game in town. Protein-packed breakfast bowls can also be savory with a base of eggs, yogurt, chia pudding, avocado, quinoa, or even ground beef. Simply pick a base and add as many complementary toppings as your little heart desires.
Three-ingredient pancakes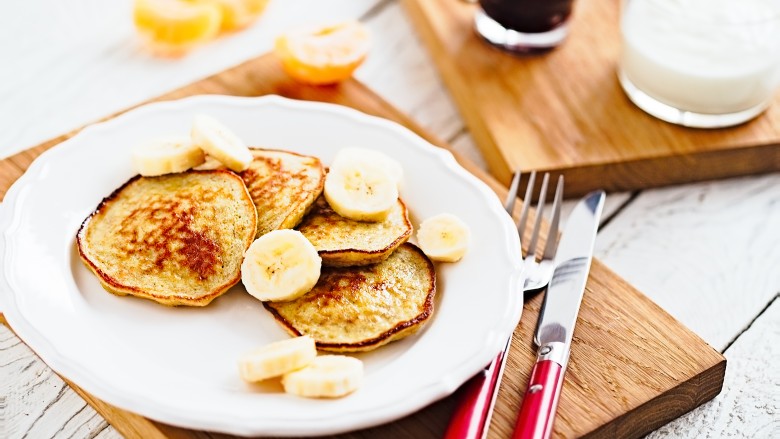 Shutterstock
My sister makes these for her 15-month-old and we eat them like they're going out of style. (I'm not above stealing from my tiny nephew's plate; a girl's gotta eat.) I like them for their simplicity and their very mild banana flavor. These are wonderful when rubbed with a little warm Irish butter and a drizzle of maple syrup, but plain is good, too. The eggs and banana both provide protein, but if you need larger biceps, feel free to add in the protein powder of your choice.
Blend 2 eggs, 1 banana, and ¼ teaspoon pumpkin spice or cinnamon together to create your pancake batter. Dollop batter blobs onto a nonstick griddle or skillet and cook as you would regular pancake batter, but enjoy feeling superior and virtuous because of the healthy choice you made this morning.
Shakshuka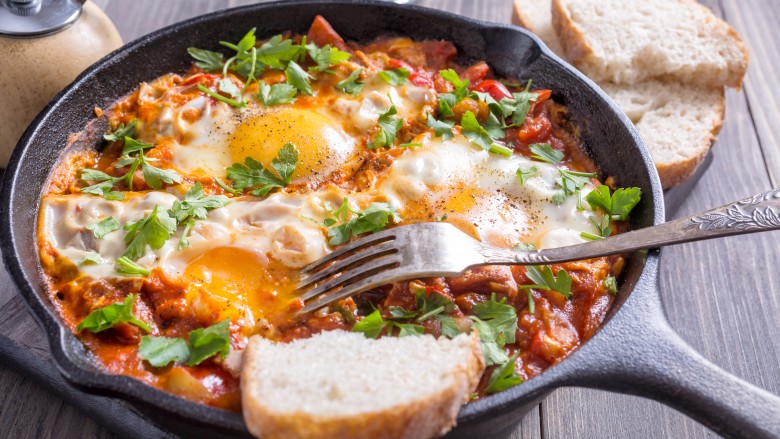 Shutterstock
Shakshuka is a dish of poached eggs, tomatoes, and a sprinkling of warm spices that is popular across North Africa and the Middle East. While there are plenty of variations of it, most of them are enriched by the bite of sweet paprika, cayenne, and za'atar, a divine Middle Eastern spice medley. The Israeli version incorporates a snow of feta on top, while in Egypt it is sold as street food, a sort of scrambled filling for a pita pocket or flatbread. Whether Moroccan, Iraqi, Yemeni, or Jordanian, the dish is warm, comforting, and richly aromatic from its kick of cumin. This dish pairs nicely with protein-promising chickpeas, bread to sop up the juices, or your morning 20-shot latte. Since it's so versatile and as hearty as you like, it can also be whipped up for a weeknight dinner. I find it to be a particularly pretty dish whose bright colors — yellow yolks, red tomatoes, green peppers — pop from the confines of a dark cast-iron skillet.
Parfait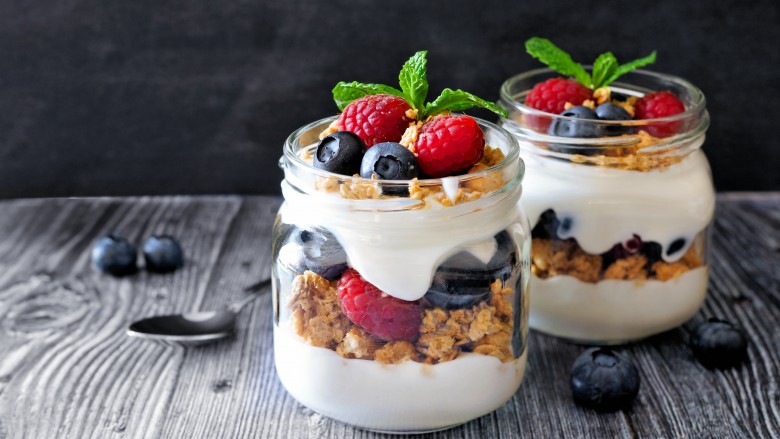 Shutterstock
A parfait is a wonderful and whimsical way of adding protein to your morning routine. Traditionally, a parfait (meaning "perfect" in French) is a layered dessert of rich, frozen custard and fruit capped with a froth of whipped cream served in a very fancy glass for showoffy purposes. The breakfast rendition of a parfait pillages its layering practice, but instead of custard, protein-packed Greek yogurt is layered with fruit and granola or oats for a healthy repast that won't have you in a food coma by 10 a.m.
Here's a simple and elegant yogurt parfait recipe from the Food Network to get you started. Once you've got that down, you can experiment and customize it to your heart's content.
Avocado toast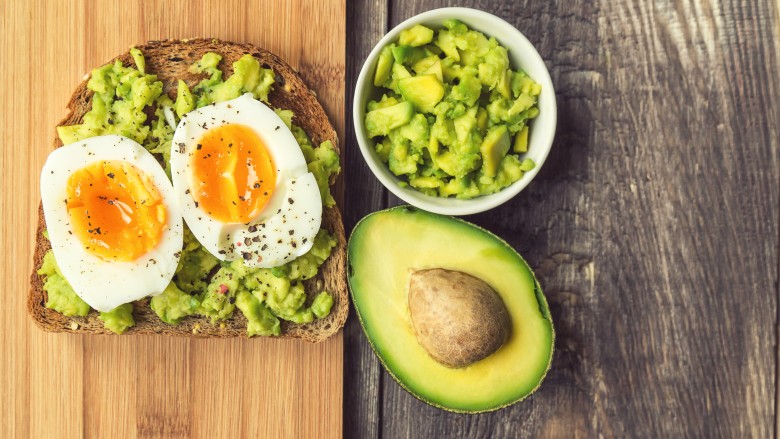 Shutterstock
Avocado toast gets a lot of flak for being the new "it" girl and for costing the approximate amount of a Tesla Model X at most restaurants. Not just a delicacy for the "real" housewives of Beverly Hills, it can be replicated at home for plenty of protein and a health-promoting hit of monounsaturated fat.
Making avocado toast is as simple as swiping your chosen toasted bread with a little butter, then spreading your sliced avocado over the top of it to your desired level of mash. Everyone has the five minutes it takes to whip this one up, but the real beauty is in its versatility. You can speckle it with pepper flakes, sesame oil, or sriracha. You can pack more protein onto it by plopping a poached egg on its green surface, peppering it with almonds or walnuts, layering it with smoked salmon, or even mixing some chopped chicken with avocado and a little Greek yogurt (which clocks in at around 17 grams of protein per 6 ounces) in lieu of mayonnaise for an oleic acid-filled alternative to chicken salad.
If carbs have offended you and you're avoiding them, you can even make your own bread. I make a loaf of this from time to time to switch things up and because I crave its nutty flavor.
Preheat oven to 325 degrees. Whip together 1 cup almond butter and 4 eggs until smooth. Blend in the 1 teaspoon baking soda and a pinch of salt. Pour the batter in a parchment-lined 8-by-4 loaf tin and bake in the oven for about 10 minutes or until an inserted toothpick comes out clean. Once you've cut slices and toasted them, you'll want to top them with your avocado and place them directly into your mouth for maximum breakfast pleasure.
Baked eggs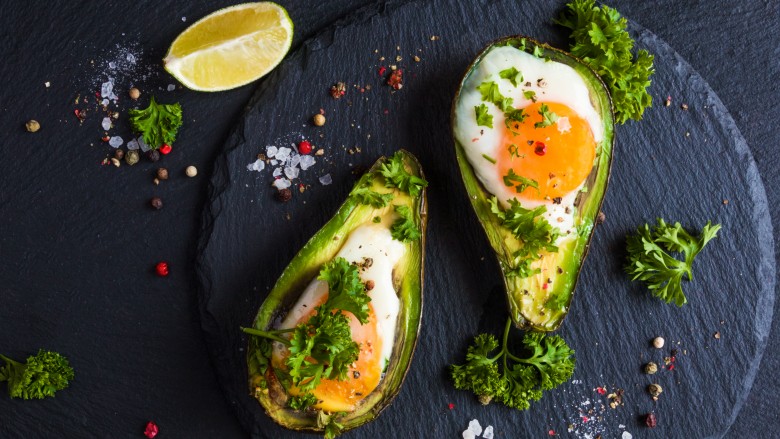 Shutterstock
Baking your eggs is a tad more time consuming than scrambling them, frying them or hurling them at your neighbor for "forgetting" to pick up after his dog again. But it's worth it. When baked in the oven, the eggs emerge transformed into something between a hard-boiled egg and a poached egg — delicious, steamy, and begging for the starring role in your breakfast sandwich. Baking them solo is as simple as spraying down your trusty muffin tin, cracking an egg into the muffin tray cups, and baking them in a 350-degree oven for about 17 minutes. But we can do better!
How about slicing an avocado in half and filling each half with a whisked egg? How about seasoning them generously and then popping them in a 425-degree oven for about 15 minutes until the eggs have set perfectly and are asking you to devour them? Sound good? Portobello mushroom caps can be substituted for avocado halves and even elevated with tomato sauce and a sprinkling of cheese. Pizza for breakfast? Sign me up!
Overnight protein oats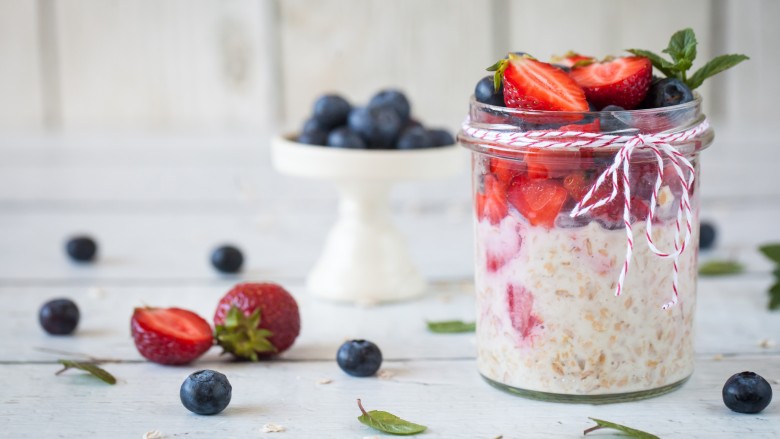 Shutterstock
To "overnight" your raw oats is simply to pour them into a lidded jar with the liquid of your choice and encourage them to absorb the moisture over the course of one night, giving yourself ample time to sing the entire Hamilton soundtrack during your morning shower. There are plenty of ways to compile your overnight oats, but a basic recipe might include your raw oats, some Greek yogurt, almond or coconut milk, chia seeds or flax meal, vanilla extract, a pinch of salt, and a natural sweetener like honey or maple syrup. The ingredients would be whisked together, spooned into a jar with a secure lid with a child/adult lock and left in the refrigerator overnight to marinate magically.
To make these gluten free, make sure to use oats of the gluten-free variety. To make it vegan, use a plant-based milk and yogurt for the moisture. To keep out the added sugar, lose the maple syrup or honey and fold in some fruit instead.
Smoothies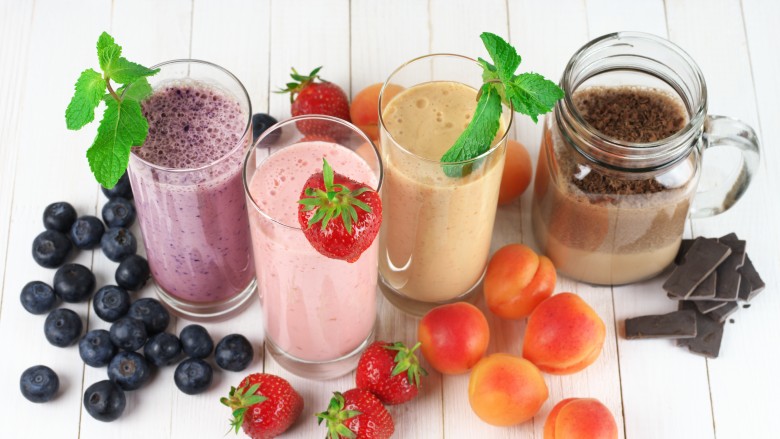 Shutterstock
The smoothie had to get a mention, didn't it? It's such an efficient way to pack in a lot of nutrients and effectively trick your family members into eating things they can't see because they've been pulverized by your blender. Whether you lace yours with caffeine, cream, dustings of cacao, or spoonfuls of peanut butter, make sure to put the liquid in first to go easy on your blender. Because you love your blender. There's no excuse for smoothie boredom with these eclectic recipes for high-protein homemade smoothies.
A word to the wise: watch how much sugar has sneaked its way into your morning smoothies. It's all too easy to inadvertently create an adult milkshake and set yourself up for a mid-morning sugar crash. Wherever possible, try to avoid added sugar. Stick to Greek yogurt over sugary brands, and use coconut water or almond milk over sugary fruit juice to thin the smoothie to the desired consistency.
A great tip to maximize the usage of your beloved muffin tin is to blend your smoothie ingredients ahead of time, pour them into the muffin tin cups and freeze them. That way, you can just grab a frozen smoothie cup, chuck it in your blender, and add the requisite liquids. Good to go!