What The US Women's Soccer Team Really Eats In A Day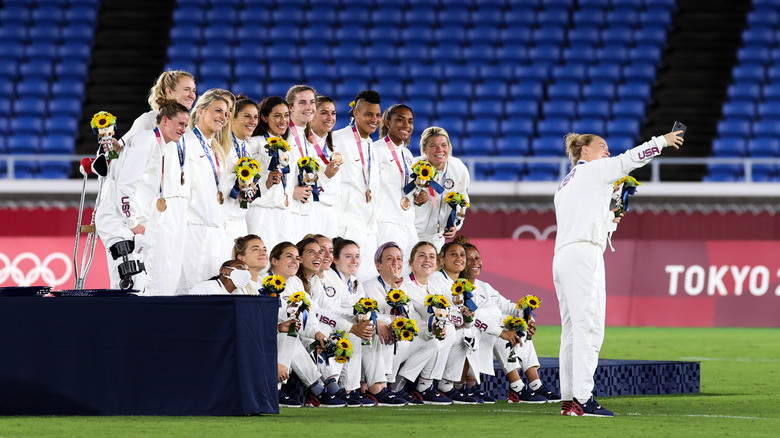 Zhizhao Wu/Getty Images
We all love the U.S. Women's Soccer team and celebrate their huge successes. Most recently, the team brought home a bronze medal for their efforts at the 2020 Tokyo Olympics, but has also been dominating the world of soccer since their win at the 2019 World Cup (via NPR). The team continues to be a source of pride and inspiration for fans, while showing that they are among the most talented athletes on the planet.
As every athlete knows, diet and the way we fuel our bodies are of key importance to physical success. At the professional athlete level, building a good foundation for training and physical performance becomes even more vital. This makes us wonder, for a team of athletes so successful and on top of their physical game, what is that foundation made of? What does the team eat on a typical day while training or playing as Olympic athletes?
What's on the menu?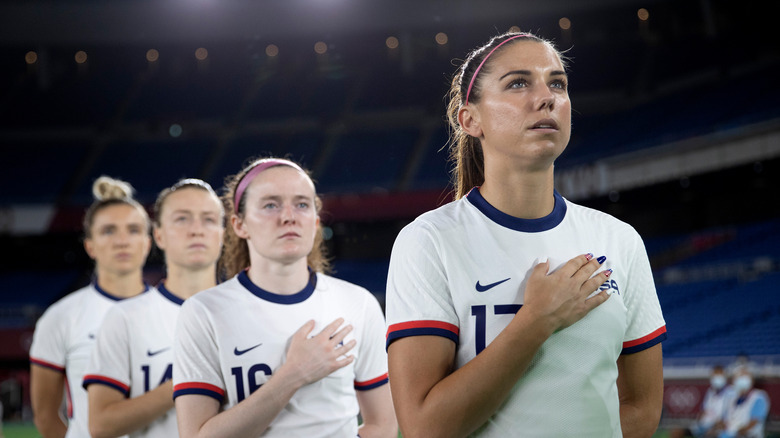 Laurence Griffiths/Getty Images
The daily food intake of the team emphasizes the nutritional needs of a high-performing athlete, while also keeping the team happy and satisfied. Delish spoke about the players' daily diet with Chef Teren Green, who plans and makes all the meals for the U.S. Women's Soccer Team, and Lindsay Langford, the sports dietician who accounts for the athletes' nutritional needs.
For breakfast, the team keeps it traditional with scrambled eggs and a potato-based side, pancakes, or oatmeal carbohydrate for energy with turkey bacon, sausage, and cereal. Lunch is typically a build-it-yourself bar with different options, so the players can meet their own tastes. Different lunches include tacos with different meats and tortilla options and DIY Greek gyros.
Dinner is the heaviest meal, with a similar serving concept as lunch but with more hearty and filling dishes like chicken breast, steak, and lots of carbs and veggies. Chef Teren makes special dishes like healthy mac and cheese, cheesy broccoli, flatbread pizzas, and baked chicken wings for post-game dinners to give the players all the protein and omega-3 fatty acids their bodies need.
One player, Alex Morgan, is strictly vegan and has her meals carefully planned and cooked by Chef Teren himself to meet her specific needs.
Snacks are an important part of the diet as well, with simple foods like PB&J sandwiches, roasted fava beans, and energy bars for a quick burst of energy while on the go.