Aldi Cold Water Lobster Tails Have Arrived In The Frozen Section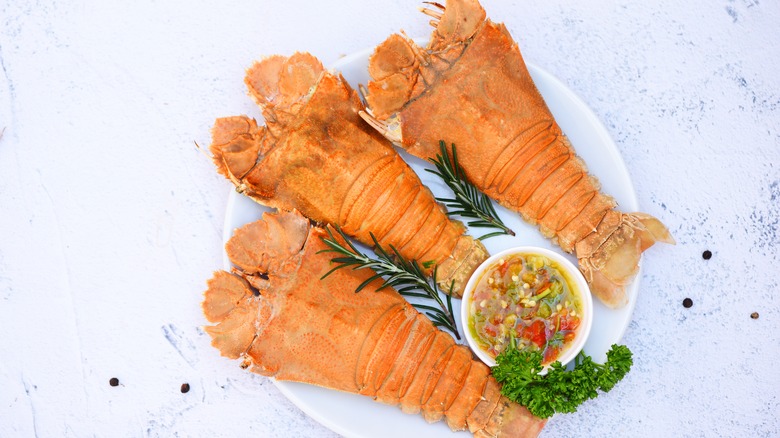 Bigc Studio/Shutterstock
Lobster has undoubtedly evolved to be one of America's, especially the Northeast's, favorite and most luxurious foods. It has come a long way since the 1600s, when an overabundance of the crustacean lended to being served to the poor and slaves. Native Americans even used it for fertilizer (via NowThis News on YouTube). Now, people across the country relish in a meaty lobster, whether it be served whole and steamed — get those crackers ready! — stuffed, in the form of a lobster roll, as lobster bisque ... you get the picture. No matter which way you shape or cook it, lobster is as yummy as it is popular.
But lobster has become harder to come by in the past few years. BestLife noted that the lobster cooler started looking a little barer in the spring of 2021, with the shortage causing the price to increase. This past spring, Washingtonian reported that a variety of factors, including the timing of the Maine lobster catch and Canadian lobster season as well as a labor shortage, had contributed to the decline in lobster availability in stores and restaurants. Luckily, there's no shortage at Aldi, where cold water lobster tails have just hit the frozen foods section. That means you'll be able to satisfy your lobster craving after a quick spin to the store.
Dive (or drive) on over to Aldi to catch this limited-time lobster deal
Instagram user @adventuresinaldi reports that Specially Selected branded wild caught cold water lobster tails are currently in the freezer section at their local Aldi. Two four-ounce lobster tails come in the package and the Instagrammer priced them at $13.99, which is confirmed by Aldi's website – but which also notes that prices may vary by location. "Lobster tails this week at Aldi!! I haven't had them from here before, but we grabbed them to have in the freezer for sometime in the near future!" @adventuresinaldi commented alongside a pic of the packaged product.
Other excited customers also chimed in, such as @livelovecarla who commented, "Yes I got mine to cook for Xmas eve," and @kiayhim who wrote, "They're really good! I look forward to them every year. Granted they're smaller now than in recent years but still a deal."
While Reddit had some questions and hesitations last winter when Aldi sold whole boxed lobsters, most users are all for trying out these frozen cold water lobster tails. Redditor u/itsmeatandcheeses shared that they made lobster bisque with the tails, noting "they were fantastic" while u/noungning chimed in, "You've convinced me to go to Aldi tomorrow before the weekend!"