McDonald's Peppermint Mocha Is Back At Select Locations For The Holidays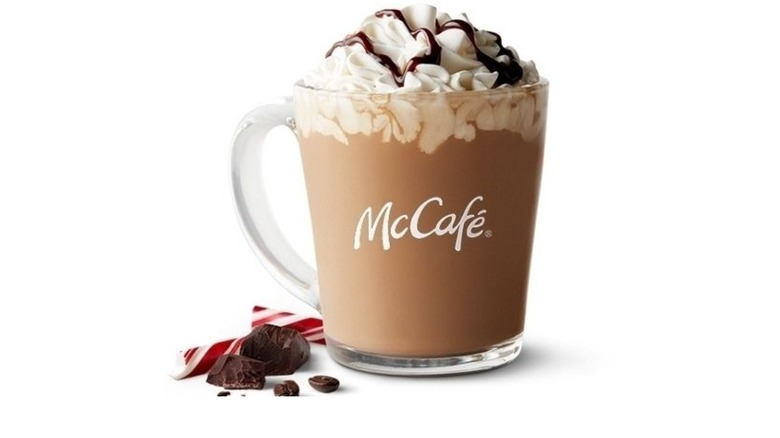 McDonald's
While it may be best known for its classic cheeseburgers, Happy Meals, and Egg McMuffins (RIP, all-day breakfast), McDonald's has branched out over the years into other menu items, including beverages beyond fountain drinks. To pair with its popular breakfast, McDonald's started serving coffee in the United States as part of its McCafe launch in 2009, and has since developed quite the line-up of java-themed drinks. Along with regular brewed McDonald's coffee, you can order fancier espresso beverages, including macchiatos, lattes, Americanos, and iced mochas. You can even get a caramel frappe similar to what you'd find at Starbucks.
Similar to Starbucks, McDonald's also releases holiday drinks every so often. According to Chew Boom, McDonald's may have just brought back one of the seasonal favorite sips on the McCafe menu: the Peppermint Mocha. The food news site reports that the chocolate mint beverage has been spotted at a few McDonald's locations in the U.S. — but you'll have to act fast.
Customers love the McDonald's peppermint mocha drink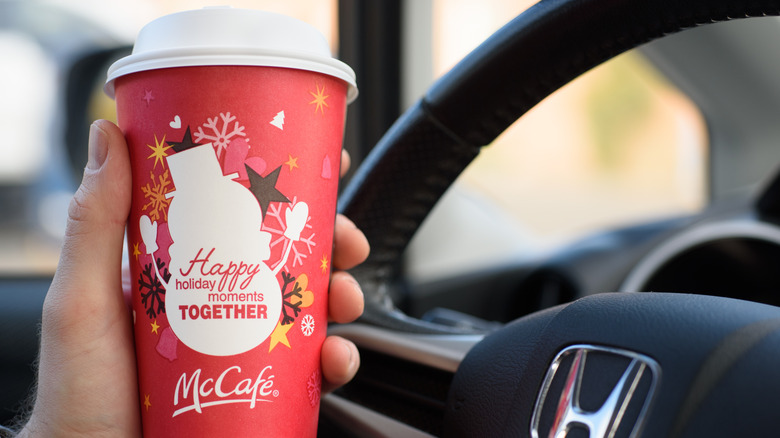 Kyli Petersen/Shutterstock
If you want to get your hands on the McDonald's Peppermint Mocha this winter, Chew Boom says the drink will only be available for a limited time during the 2022 holiday season. The seasonal beverage is currently listed on the McCafe menu on McDonald's website, and consists of espresso, steamed milk, and peppermint chocolate syrup, and is topped with a dollop of whipped cream and a drizzle of chocolate. The small size clocks in at 290 calories and 39 grams of sugar.
Many people who have tried the McDonald's Peppermint Mocha are big fans, and have begged for it to return to menus in years past. PopSugar reviewed the seasonal drink, calling it the perfect beverage for the holidays with the right amount of sweetness and mint. Insider even said that the McDonald's drink is better than a Starbucks Peppermint Mocha, thanks to its pleasant taste and price point compared to the iconic coffee chain.