Keke Palmer's Favorite Snacks To Pair With Doritos Dips - Exclusive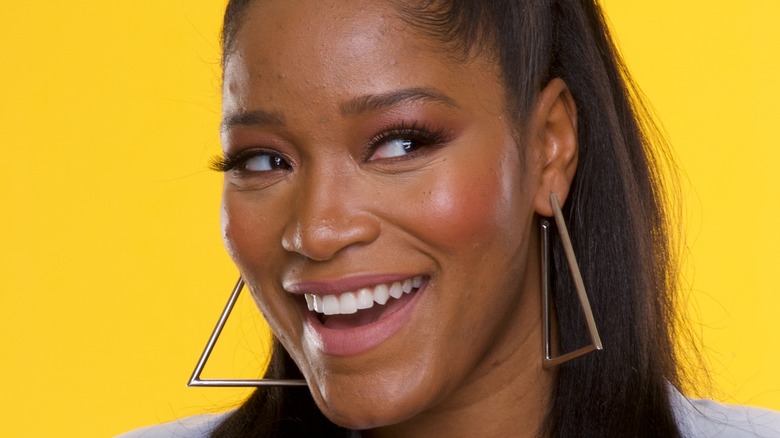 Doritos
Keke Palmer has been a beloved TV and movie star since childhood, and she was the youngest-ever talk show host at 20. These days, the star is breaking into the audio world with her podcast, "Baby, This Is Keke Palmer," and just launched her own content channel, Key TV. Most recently, Palmer debuted her baby bump while hosting the winter premiere of "Saturday Night Live."
Along with everything else the star has in the works, Keke Palmer told our sister site, The List, in an exclusive interview all about her exciting collaboration with Doritos. "I loved Doritos, first of all," she shared about her childhood. "Doritos is something that we all grew up with, and if you didn't, I feel so bad for you, because they're a household name of a brand." 
The actress also dished on her favorite memories of eating Doritos. "They're around for every barbecue, family trip, car ride, whatever," she said. So when it came time to talk about the brand-new launch of Doritos Dips, Palmer had plenty of fresh ideas for the perfect snacking combos, and she most definitely embodied Big Dip Energy.
She's all about bold flavors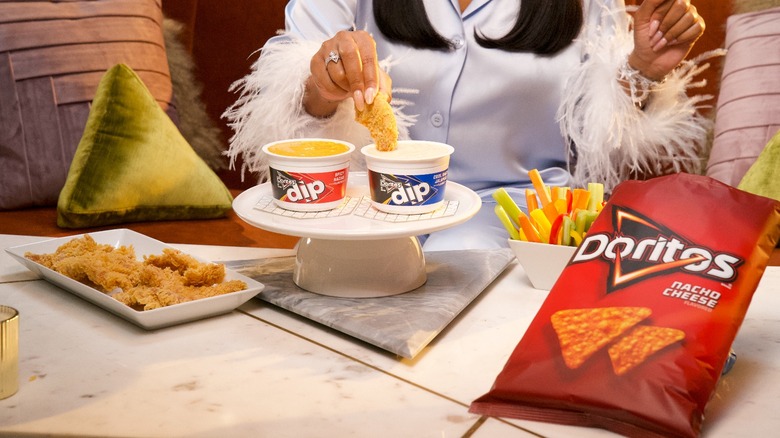 Doritos
Keke Palmer teamed up with Doritos just in time to get in on their brand-new dips. She explained, "When I heard that they're coming out with these Doritos and taking dipping to another level with some Big Dip Energy, I felt like, oh my gosh, this is a perfect mashup, because I know a little something about bold flavors."
The star is certainly famous for her own bold personality and the vivacious energy she's brought to being interviewed on the 2021 Met Gala red carpet, her meme-making Vanity Fair lie-detector test, and telling Steve Harvey exactly how she feels about Rose from "Titanic." Her bubbly personality and hosting skills have carried over to her own Disney+ cooking competition show, "Foodtastic," which premiered in 2021, so Palmer's got plenty of food experience to apply to Doritos Dips.
"I was excited to introduce a cool ranch jalapeño, their new dip, as well as their other new dip, spicy nacho," the star told The List. "I was really excited to be able to join the team and be able to usher in this next generation of Doritos love, and see what [everyone] can dip into this new dip." But what does Keke Palmer snack on with her Doritos Dips?
Keke Palmer is a creative snacker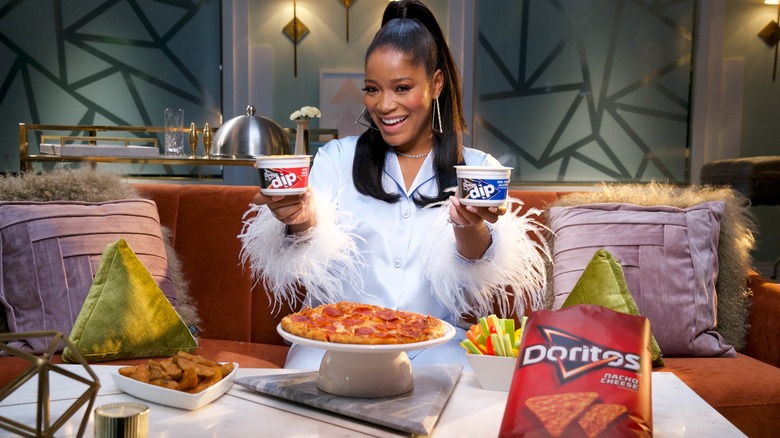 Doritos
Keke Palmer has plenty of ideas about how she'll be snacking, and the mom-to-be shared her excitement for Doritos Dips' iconic range. "From pizza to wings to veggies, it's all the options, all the things," she told The List. She elaborated, "When I'm trying to be healthy, I'll do a little pita, a little bit of veggie type of scenario. When I'm going all the way in with the snacking, I'm thinking some wings, some pizza."
The star also promoted the Big Dip Energy Kit, which went to lucky winners of Doritos' sweepstakes who commented their snack pairing suggestions on the brand's post. Palmer shared, "I'm very excited for people to tell me what they'll dip [into] it because I want them to get creative and give me some ideas. ... I'm excited for them to give me some ideas on how to upgrade my food." Of course, the star also had her own inspiration for dip-able goodies. "Even French fries," she added to her must-try list. "I just thought about French fries too."