Reddit Is Comparing Aldi's Chocolate Bars To Kinder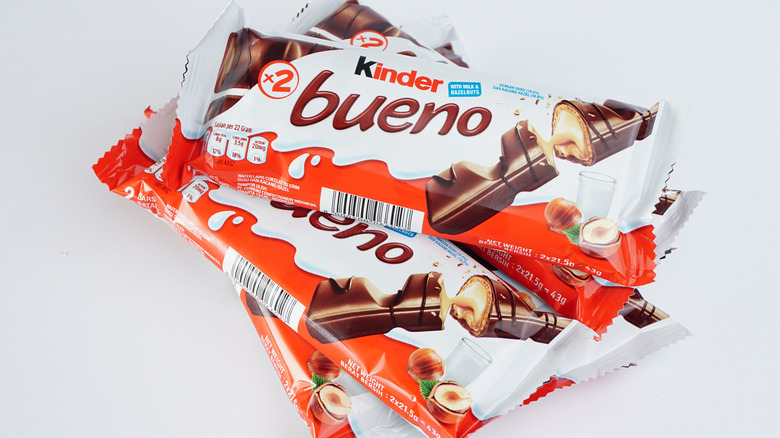 Hello Abdullah/Shutterstock
We may receive a commission on purchases made from links.
While Americans might first think of Hershey's or Godiva when they think of chocolate, one of the most popular candy bar brands in Europe is Kinder. In fact, according to Confectionery News, Kinder was the most searched chocolate bar in all of 2022. The chocolate company, which began in 1968 in Italy, has steadily gained popularity in the United States as well. One of its best-known products is the Kinder Bueno bar, which consists of a crispy wafer layered with hazelnut filling that's covered in milk chocolate and drizzled with dark chocolate.
The one downside to Kinder bars, however, is that they can be pricier than your average chocolate bar. Fortunately, one Redditor may have just found a more affordable option at budget grocery store Aldi that tastes just as good. In a recent Reddit thread, one Aldi shopper revealed that the retailer's Choceur chocolate bars are almost exactly the same as Kinder in terms of flavor. Here's what others are saying about the Aldi find.
The Aldi chocolate bars are a decent alternative
If you like Kinder bars but don't like the higher cost that comes with gourmet chocolate, you may consider trying buying chocolate from Aldi, specifically the store's Choceur brand. "Choceur Chocolate bars tastes nearly identical to Kinder and probably half the price," the original poster on Reddit wrote. They're not the first ones to identify the similarity between Choceur and Kinder. Previously, The Daily Mail reported on the candy, citing a TikToker named Merna who said, "I think it's like a little secret that Aldi has the best chocolate ever and this is a dupe for [Kinder] Bueno – yum!"
Other Aldi shoppers seem equally pleased with the Choceur chocolate bars. "I have very easily determined that the Choceur brand chocolates are the best I have ever tried. Move over Hershey's, Dove, Ghirardelli and even Godiva. None of these brands can even come close to the rich, creamy flavor of Choceur's," one person raved in their Amazon review. While the original Reddit post referenced the milk chocolate bar, Choceur also makes bars in assorted other flavors, including hazelnut, salted pretzel, and caramel.