The Culinary School Secret To Perfectly Reheated Mashed Potatoes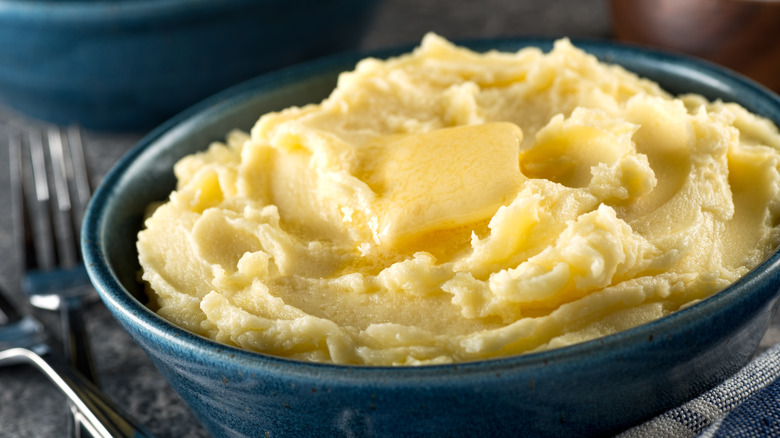 Fudio/Getty Images
Comfort foods come in all, shapes, sizes, and nationalities and are based on personal tastes and cultural cuisines. From cold pizza to chocolate ice cream to macaroni and cheese to biscuits and gravy, comfort foods provide us with, well, a deep sense of comfort. One particular nosh known for sparking feelings of coziness and nostalgia is starchy, velvety smooth, and mega-savory. We're talking about mashed potatoes, people. Whether you like your taters with bacon, garlic, cheese, chives, wasabi powder à la Guy Fieri, or just by their plain selves, mashed potatoes deliver. As Nora Ephron wrote in "Heartburn," "Nothing like mashed potatoes when you're feeling blue."
Widely considered a classic Thanksgiving side dish, mashed potatoes are also likely to be eaten as leftovers. Next-day eats are arguably just as delicious as the primary meal, but they can sometimes be a bit tricky to rustle up to their original state. When it comes to reheating mashed potatoes, though, there are various tried and true methods, including microwaving, over the stovetop, and in the oven. Many culinary professionals, however, use a technique they swear by.
Reheat mashed potatoes with heavy cream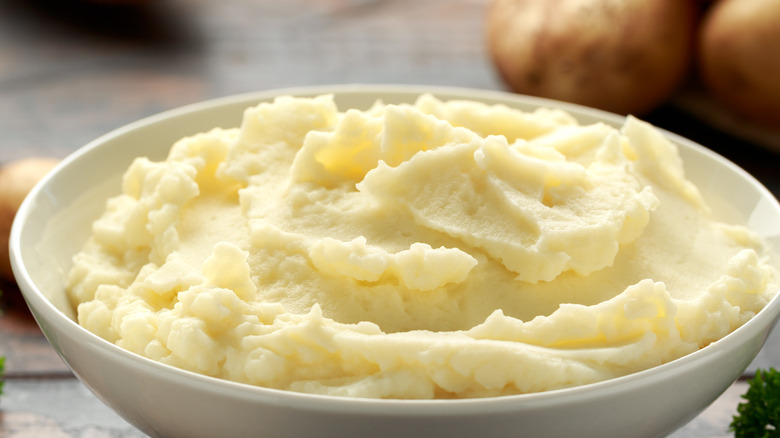 DronG/Shutterstock
No matter your mood, spuds in pretty much any form can make any occasion brighter. The next time you prepare mashed potatoes and anticipate scarfing them down for days on end, be sure to have a vessel of heavy cream handy. Take it from a pro who whipped up huge batches of pomme purée. Rachel Dolfi, a writer for The Kitchn, shared her go-to method for reheating leftover mashed potatoes — a page she ripped out from her culinary school experience.
When the mashed potatoes are ready to be transferred back into the fridge, scoop them into a microwave-safe bowl or ceramic dish and pour a liberal amount of heavy cream directly on top, making sure to cover the entire flattened surface area. Cover them with a sheet of aluminum foil and pop them into the refrigerator. Then, when you're ready to indulge in mashed potatoes once again, heat them up in the oven, still covered, at 300 degrees for about an hour. Voila! Perfectly reheated mashed potatoes.
You can also take off the foil, blanket the bowl or dish with a wet paper towel, and microwave it for a minute at a time. However, Southern Living warns that microwaving mashed potatoes, while fast and effective, runs the risk of drying them out.
If you follow a vegan diet, there are thankfully a number of heavy cream substitutes you can leverage, such as coconut cream, cashew cream, or nondairy milk and oil, as Something Swanky suggests.