Moe's Vs. Chipotle: Who Makes A Better Burrito?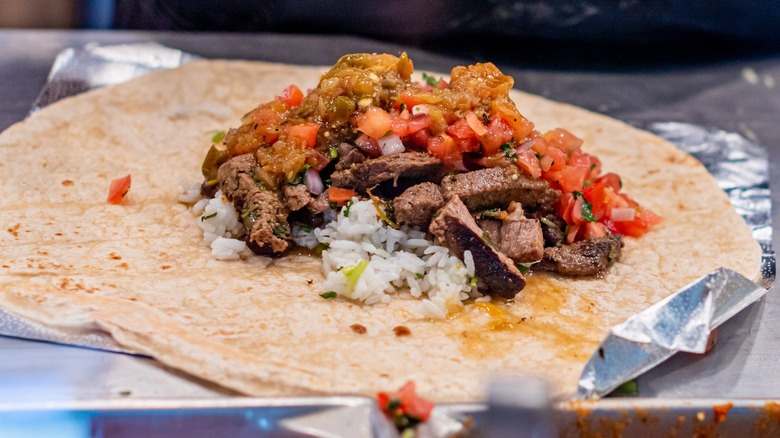 Laura Grier/Mashed
Who's got a better burrito: Chipotle or Moe's Southwest Grill? It's a hotly debated national conversation, and while it might not stoke passions quite like Coke vs. Pepsi or Ford vs. Chevy, people definitely have their opinions. Some say Chipotle's lack of free tortilla chips is unforgivable. Some say Moe's is really only good if you have a long layover at the Atlanta airport. And pretty much everyone agrees paying extra for guac is an affront to our freedom.
Still, with an item as complex and varied as a burrito, picking the better one is a much tougher call than, say, picking a better burger between Shake Shack and In N' Out. You've got everything from tortillas to meats, rice, beans, salsas, and guacamoles to size up. And with that many factors, determining a winner takes an extensive breakdown. We took this monstrous responsibility upon ourselves and visited Moe's and Chipotle to settle once and for all who makes the better burrito.
The burrito choices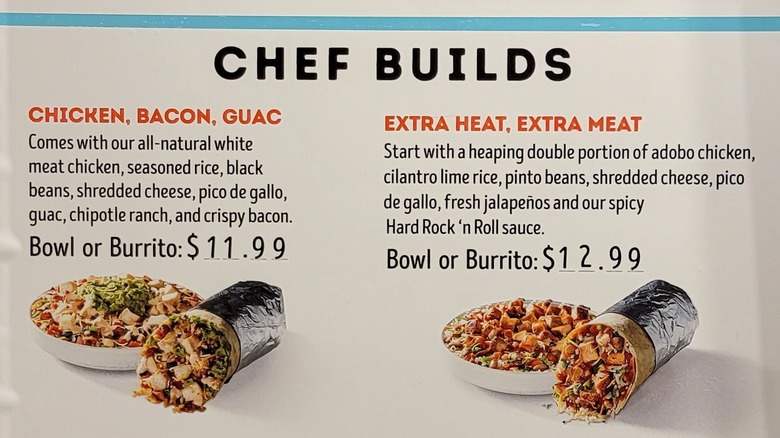 Matt Meltzer/Mashed
For a while there, it seemed like there were annuity plans calling themselves "The Chipotle of Life Insurance." That's because Chipotle was the first to crack the Millennial code of wanting customizable choices in everything, so everywhere from pizza joints to falafel shops began modeling themselves after the fast-casual giant. Chipotle is all about letting its guests order whatever they want, which means while its burrito combination possibilities are almost endless (or, at least, over 655,000 according to Business Insider), they don't offer much in the way of pre-set creations.
Moe's, on the other hand, has an entire menu of chef-built burritos. They once bore names like the Joey Bag o' Donuts and the Billy Barou. Now Moe's has a new line of specialty burritos, including the notorious Homewrecker, filled with your choice of protein, rice, beans, shredded cheese, shredded lettuce, pico de gallo, sour cream, and guac. The guac, we might add, doesn't cost extra. Of course, if you want to make your own burrito, Moe's lets you do that, too. But for the indecisive person who's facing such an overwhelming number of choices, it's nice to have some suggestions.
Advantage: Moe's, which gives us the best of both worlds.
The meats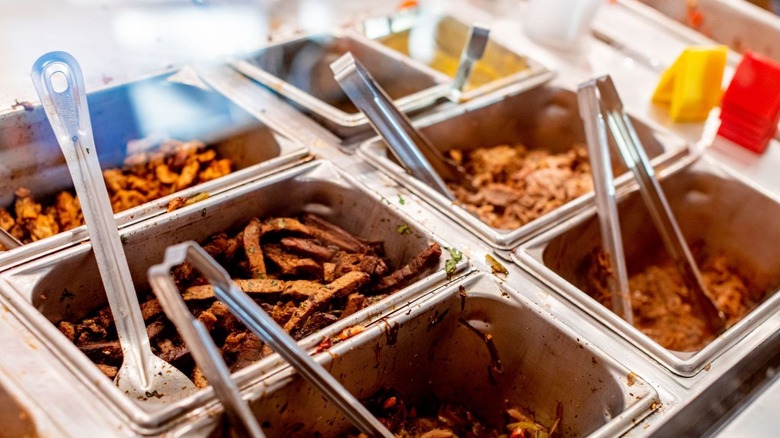 Laura Grier/Mashed
Meats at both Moe's Southwest Grill and Chipotle are well seasoned, offering citrusy, peppery, tomato-stewed notes without being overwhelming. At Chipotle, the steak is always a surefire bet, offering well-done sirloin with a smoky, charred finish. The chicken can be a little bit gristly and greasy, though, as Chipotle uses chicken thigh and darker meats. If you're into cleaner-tasting chicken, it's not the best and can taste like pure fat if you get a bad piece. Chipotle makes up for it with its savory barbacoa, which could stand on its own as a restaurant dish. It also has a rotating selection of grilled steaks, which on the day we went in was a delicious garlic guajillo.
Moe's wins hands-down in the chicken department, using clean, white meat chicken that never tastes oily or greasy. For chicken lovers, it's an easy pick. The steak is a push, as the grilled sirloin at Moe's is almost indistinguishable from Chipotle's. The adobo chicken has a little more flavor, but it also leans greasy as it's not all white meat. The ground beef is a nice nod for people who live for taco night at home, but it is a waste if you're dining out.
Advantage: Chipotle, though Moe's chicken is abundantly better.
The rice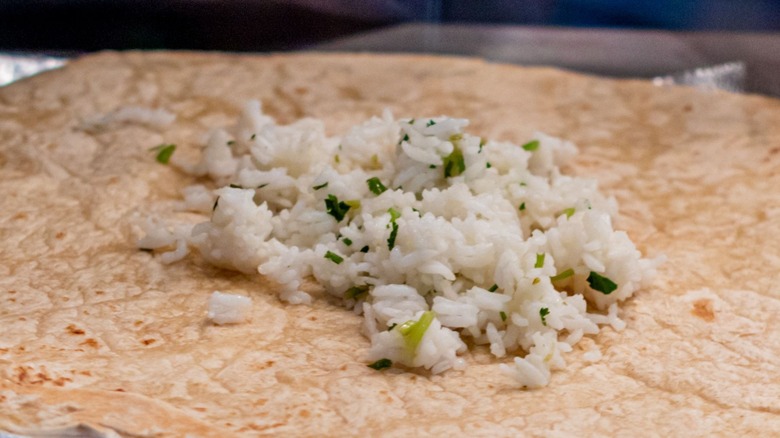 Laura Grier/Mashed
Chipotle's Cilantro Lime Rice is the stuff of legends — a white, fluffy bed of carbohydrates that some people obsess over. It's one of those restaurant items that's so famous that copycat recipes abound online. Though when you try it at home, it's never quite as good as when you enjoy it seated at a stainless steel table. Chipotle has added brown rice to the mix in recent years. Though it has some cilantro flecks, that's about where the similarities stop. And while it might be a little healthier, the fall-off in flavor is immense as the stuff just tastes like, well, brown rice.
Moe's rice is a little closer to what you'd find in Tex-Mex or Southwestern restaurants, with pepper and tomato notes dominating the flavor profile. It tastes a little like the stuff Mom used to make out of the Zatarain's box, provided Mom wasn't really all that good at cooking and never added enough water. Moe's, for whatever reason, always serves its signature rice a little al dente, which makes it far less addictive than Chioptle's Cilantro Lime Rice. In response, Moe's has added cilantro lime to its rice lineup, but much like when you try and make it at home, Moe's just isn't the same.
Advantage: Chipotle.
The beans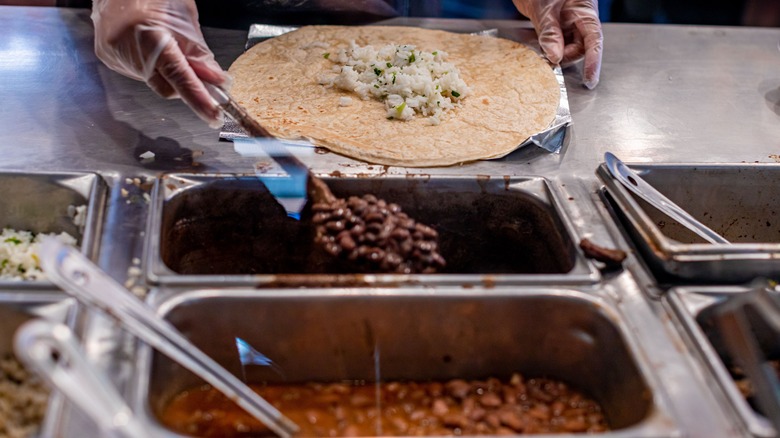 Laura Grier/Mashed
Beans are, well, beans, and unless you're getting them out of your abuela's kitchen or eating them off a wood shack floor Steinbeck-style, they all kind of fall into the same range. According to Chipotle's website, the chain serves five different varieties of black beans — Condor, Blackhawk, Domino, Valentine, and Black Magic. Exactly zero people who've ever eaten at a Chipotle can tell you which one you're eating. Chipotle also serves pinto beans, which are fine, but kind of like the LA Clippers of Chipotle beans.
Moe's similarly offers black and pinto beans, but it doesn't advertise the specific types of black beans available on the burrito line. That's probably because it knows nobody cares and chooses to use its ad budget in other ways. The black beans taste like classic black beans, strong in cumin, garlic, and oregano though they are slightly less watery than Chipotle's. That might seem like a small detail, but you'll realize the difference when your burrito isn't a sopping, wet mess halfway through lunch.
Advantage: Moe's, for the cleaner eating experience.
The veggies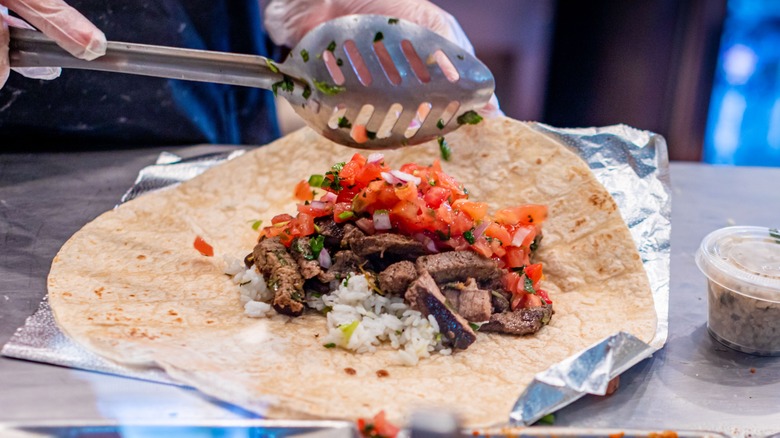 Laura Grier/Mashed
Chipotle doesn't just have veggies on its menu as an afterthought for non-meat eaters. The chain puts as much effort into crafting its sautéed fajita veggies as it does its marinated meats, and the peppers still have a distinct crunch despite sitting on a buffet line for ... who knows how long. The flavor is as good as you'd get at a decent Mexican restaurant. And the pico de gallo, corn salsa, and lettuce all taste fresh.
Moe's offers some veggie options, but they just don't really hold up to the rest of the menu. Sure, you can get grilled veggies, minced cilantro, onions, olives, cucumbers, and shredded lettuce on your burrito. But all of it tastes a little canned (aside from the cilantro). The pico can skew mushy, and the lettuce is iceberg, shredded hearts, or romaine. Regardless, it doesn't add much to the experience other than a slight crunch and water. Veggie lovers, see if there's a Saladworks near your neighborhood Moe's because its produce ain't the best.
Advantage: Chipotle.
The salsas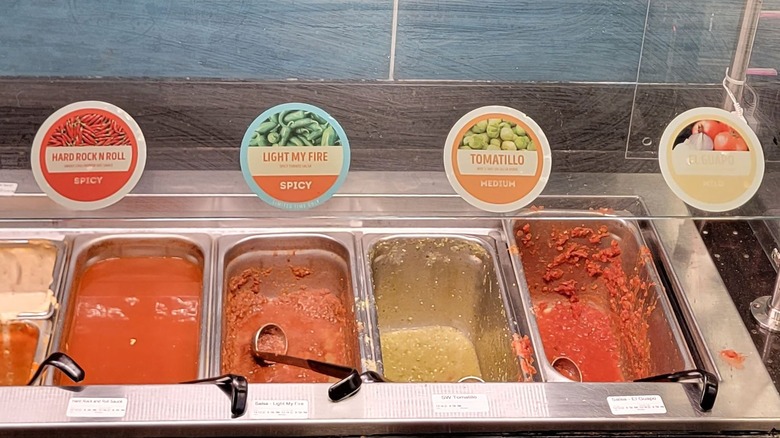 Matt Meltzer/Mashed
In terms of pure variety, Moe's is the salsa winner hands down, offering four salsas and four dressings as well as its signature pico de gallo to add into your burrito. The salsas are also available at a self-service bar inside the dining room, so if you want more salsa than what's inside your burrito, you don't have to pay extra. The best of the bunch is El Guapo, a rich, thick salsa ideal for dipping chips. It can sometimes overpower a burrito's flavor, so if you want something a little more subtle, go for the Light My Fire or the Hard Rock N Roll. The former is a spicier, smoother take on El Guapo's smoky tomato flavor. The Hard Rock N Roll is more like a vinegar hot sauce with a hint of BBQ.
Chipotle's salsas are fantastic, if limited. The hot is a spicy, lava-looking sauce that adds a noticeable kick to your burrito. The mild is more like a pureed pico de gallo, rich in cilantro and tomato with just enough heft that it doesn't leave your burrito soggy. The pico de gallo tastes like it was just chopped in the back and could hold up to any restaurant offering. And though it lacks in variety and availability, Chipotle's salsas are universally better.
Advantage: Chipotle.
The tortillas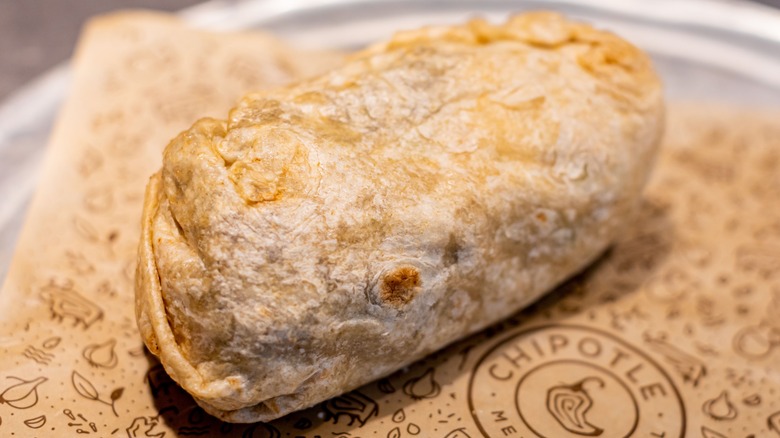 Laura Grier/Mashed
Neither Chipotle nor Moe's Southwest Grill offers much in the way of variety with their tortillas, opting for the classic, gigantic flour numbers we've been using for years (though Moe's does have a whole-grain option, too). While some other wrap-based chains offer tortillas based in everything from spinach to sun-dried tomatoes, these fast-casual stalwarts have said, "Nah, we know what works." So if you go in expecting a collection of colorful tortillas varying in flavors and levels of gluten, well, you probably also go into donut shops and ask for bagels.
One might think that tortillas are more or less created equal. And on the surface, yes, the flour tortillas at Moe's and Chipotle are pretty hard to differentiate. The real difference, however, comes once you start eating. If you dare unwrap a Chipotle burrito, you know at least half of it will end up on your hands, in your lap, or on the floor of your car if you're an addictive multitasker. That's because these tortillas disintegrate like they're made of confectioner's sugar long before you're finished. Moe's tortillas, however, hold up, even when filled with all the juicy goodness of the Homewrecker. And for that kind of durability, it gets an easy W.
Advantage: Moe's.
The sizes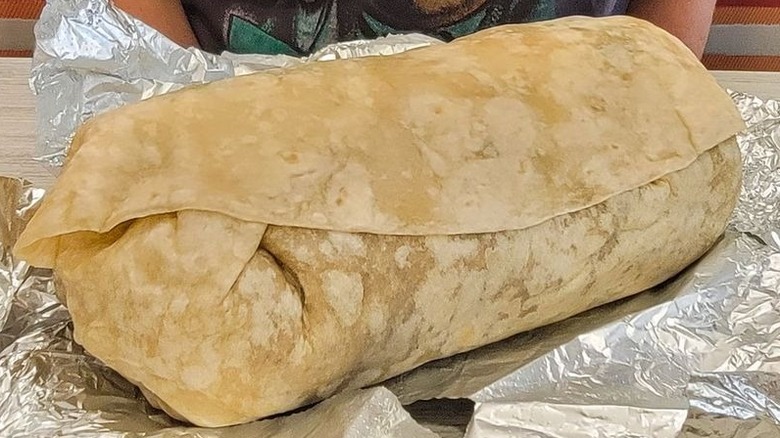 Matt Meltzer/Mashed
Size is pretty relative in the world of build-your-own burritos. Unless you're getting the exact same stuff prepared by the exact same burrista, your experience will vary. Sometimes you get a guy who smoked his lunch and forgets how many scoops of rice he put in your burrito. Sometimes you get someone who thinks the carne asada bill comes out of their paycheck. That said, on our respective visits Moe's was a little more generous in its scoops and offered a larger product overall.
The Homewrecker, however, is a monster creation, and finishing one of them is a challenge even for a 200-pound male who hadn't eaten all day. Chipotle doesn't offer such gargantuan options, so if you want a gut-busting burrito you either have to order everything behind the bar, or shell out for double meat. You can ask for extra rice, and typically you won't be charged. But is that really adding all that much to your meal other than some simple carbs that'll show up around your waistline later? Not really.
Advantage: Moe's.
What comes with Moe's and Chipotle's burritos?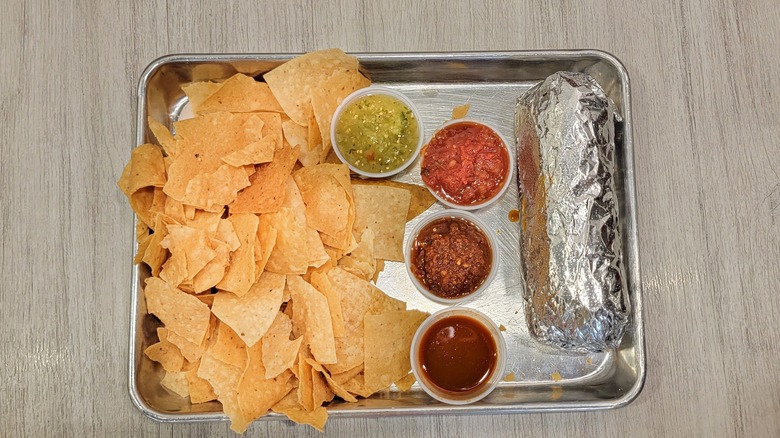 Matt Meltzer/Mashed
Though Chipotle has developed a massive cult following over the years and, according to Restaurant Business, is second only to Taco Bell as the largest Mexican chain in America based on sales, its biggest knock is that the menu items are served a la carte. That is to say, the 11-ish bucks you shell out for your burrito gets you nothing more than a silver-wrapped treat in a paper bag. And if you want some hot, greasy tortilla chips to accompany it, you're gonna need another three bucks.
Moe's, on the other hand, is always more than happy to shower you with tortilla chips, in some cases giving you more for free than Chipotle does for $2.99. You can also dip said chips in a gallon of salsa if you've got the patience to fill that many containers, as the entire salsa bar is included with your purchase. Between bigger burritos and free chips, you'll rarely leave Moe's hungry.
Advantage: Moe's.
Who has the better burrito combo deal?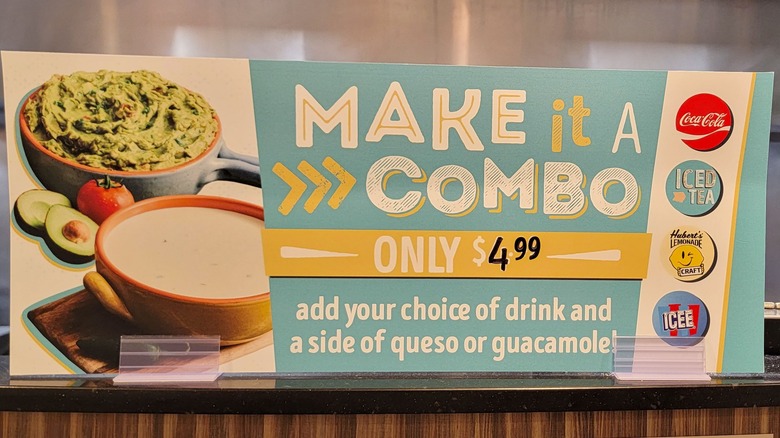 Matt Meltzer/Mashed
The only combo you'll find at Chipotle is the custom mix of ingredients you put on your burrito. Because nothing at Chipotle is included, bundled, or otherwise discounted, one might be surprised it doesn't charge you to select a seat in the dining room, too. It's like the Spirit Airlines of burrito shops, except people actually like it.
Moe's, on the other hand, harkens back to the days of mom and pop Mexican restaurants that filled you with basket upon basket of chips and salsa before bringing you a burrito the size of your head, which almost always came with rice, beans, cheese, and an inexplicable salad on the side. Moe's allows you to create a combination meal if you so desire, adding a drink and either guacamole or queso to your order for $4.99. This actually ends up being the exact same price as ordering them separately, so maybe it's not so much a value play as just saving the poor beleaguered cashier some button pressing. Still, the illusion of saving money is all that matters, and in that regard Moe's is a runaway winner.
Advantage: Moe's.
Who has the better quacamole upgrade?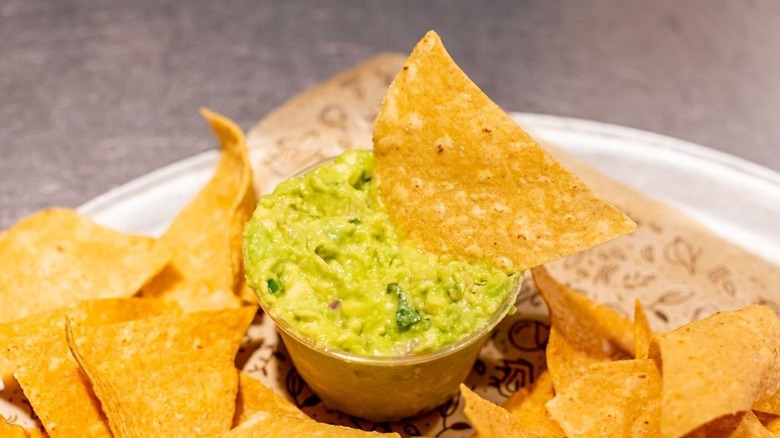 Laura Grier/Mashed
"Guac is extra" has almost become part of the American lexicon, thrown out in any situation when something we think should be included incurs an extra charge. Anecdotally, at least, we might assume this stems from Chipotle, whose avocado upcharge has become notorious in the quick-service food industry. Notorious, but not exclusive, as nearly every chain that serves guacamole that's not made from powder charges extra. Chipotle, for its part, charges $1.95 extra if you want guac in your burrito. For that, you get what amounts to a smashed avocado with a lot of salt thrown in. The guac is fine, but the flavors don't bring much to the burrito, and $1.95 seems like kind of a waste to give your burrito some creaminess.
Moe's undercuts a little bit, charging only $1.49 for its guacamole add-on. But Moe's guac is considerably better, strange considering the rest of its vegetable offerings leave a lot to be desired. It's got a strong, fresh avocado flavor with a little bit of garlic and pepper along with the requisite salt. For $1.49, it actually adds something to your burrito, and in the case of the Homewrecker, there's no extra charge at all.
Advantage: Moe's.
The prices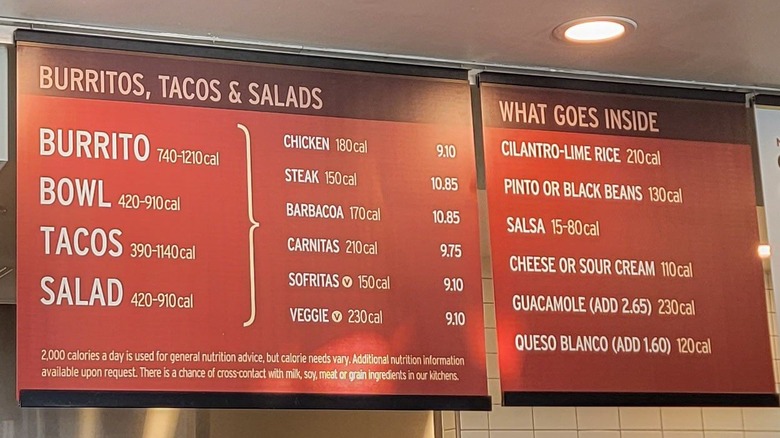 Laura Grier/Mashed
Nothing is really cheap anymore, and that certainly holds true in the world of fast-casual burrito chains. Where once upon a time you could stroll into a Moe's or Chipotle and leave with a burrito, chips, and soda for $10 or less, the burrito alone will run you more in 2022. Though prices vary by region, the Chipotle we went to in Los Angeles had burrito prices ranging from $9.10 for chicken, Sofritas, and veggie options, up to $10.85 for steak and barbacoa. Throw in some chips, guac, salsa, and a soda, and the bill was just under $20.
The Moe's we went to was in Doral, Florida, just outside Miami. Its prices were pretty comparable. A white meat chicken burrito was $8.99, steak was $11.25, and the Homewrecker ran about $1.50 more for both (not coincidentally, the same price as a guacamole upcharge). That said, those prices also included chips and salsa, and even with getting a side of guacamole, the bill came out to about $15 per person with sodas.
Advantage: Moe's.
Nutrition Information for Chipotle and Moe's burritos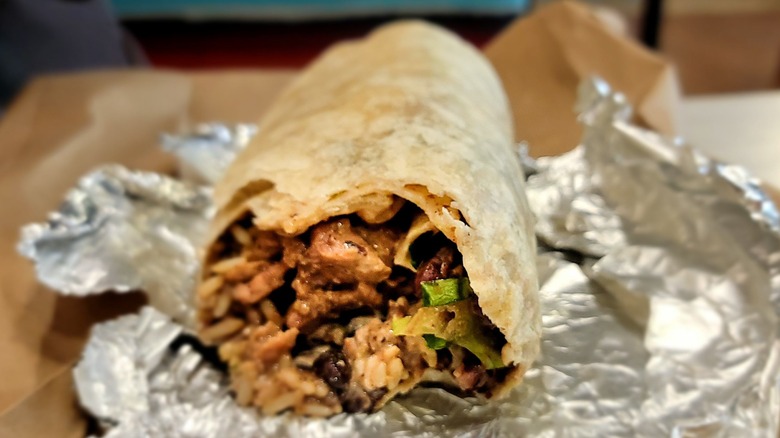 Matt Meltzer/Mashed
While you can find healthy options at both Chipotle and Moe's Southwest Grill, you can also find orange juice on Bourbon Street. So while we certainly wouldn't discourage anyone from trying to count calories, don't go expecting a life-boosting experience.
Chipotle proudly displays its calorie counts on the menu, so you can add up how many calories you're consuming much like can add up the price of your meal through the cost of perpetual add-ons. The board above the buffet line touts a range of calories from 741-1,210 per burrito, depending largely on whether you add stuff like cheese, sour cream, and guacamole.
Moe's doesn't advertise its calorie counts, but they are easily accessible on the restaurant's website. Doing some quick calculations, a regular burrito filled with steak, regular rice, black beans, pico de gallo, lettuce, and guacamole runs about 900 calories. That's slightly on the low end of what Chipotle's burritos offer. You can find information on sodium content, carbs, and fat on Moe's website as well. Budget 900-1,000 calories for your visit to either spot, assuming you want to finish your burrito and don't order chips.
Advantage: Moe's.
Vegan and vegetarian options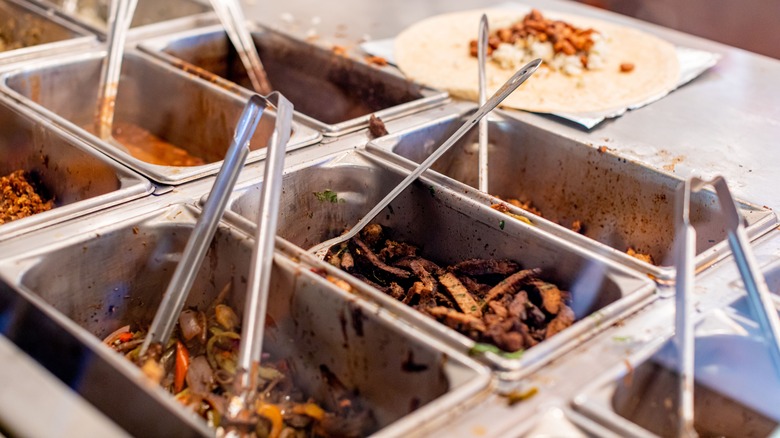 Laura Grier/Mashed
Like most restaurants around America, Moe's Southwest Grill and Chipotle have an abundance of options for vegans and vegetarians. Moe's has an organic tofu that tastes like tofu marinated in southwest spices. It reminds one of the vegetarian options restaurants tried to put out in the '80s when tofu was really the only way to put any kind of protein in something without adding meat. If you're going to Moe's and don't want meat, just fill your burrito with rice, stuff from the vegetable bar, and a lot of beans.
Chipotle's vegetarian offerings land squarely in the 21st century, boasting its name-brand Sofritas as a plant-based protein. Technically, it's also tofu, but the braising and spice mix that Chipotle uses makes it taste like a less-chemical, spiced Beyond Meat. It's not as good as real meat, but for vegans it makes for a tasty alternative. That said, the sautéed veggies are the best move for the meat-free. There's a reason they pack the most calories of any filler on the menu, as they're drenched in delicious oil and are often preferable to steak or chicken.
Advantage: Chipotle.
The verdict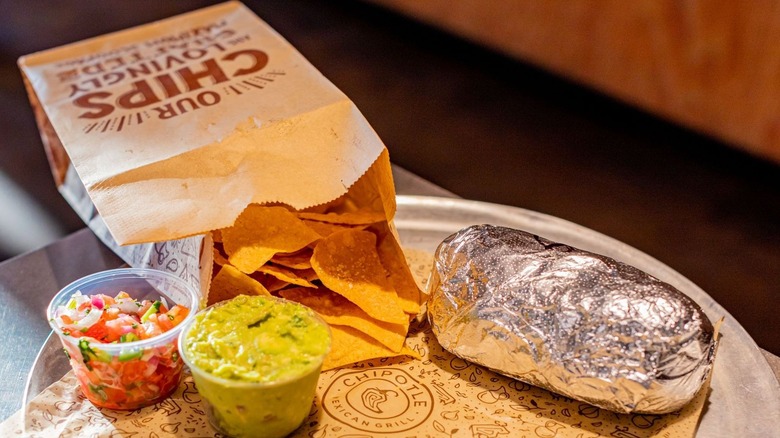 Laura Grier/Mashed
If we were just keeping score, this would seem like a runaway contest, as Moe's takes nine categories to Chipotle's five. But we've all watched that football game where one team leads in every statistical category except one: the final score. And, well, that's kind of what happens in the world of fast-casual burritos. Moe's is, far and away, the better value, offering bigger burritos, free chips, better and cheaper guacamole, and a combination menu. And for the money, it's definitely the better restaurant.
But Chipotle wins where it counts, putting out better and more-varied meats, better salsa, better rice, and fresher, more flavorful vegetables. And since we're not here to determine the better value, or the better experience, Chipotle wins. Its ingredients taste better, the flavors burst a little more, and even though it's often a messy, expensive experience, the final product is still a winner.
Advantage: Chipotle.