If You're Out Of Muffin Liners Use These Efficient Replacements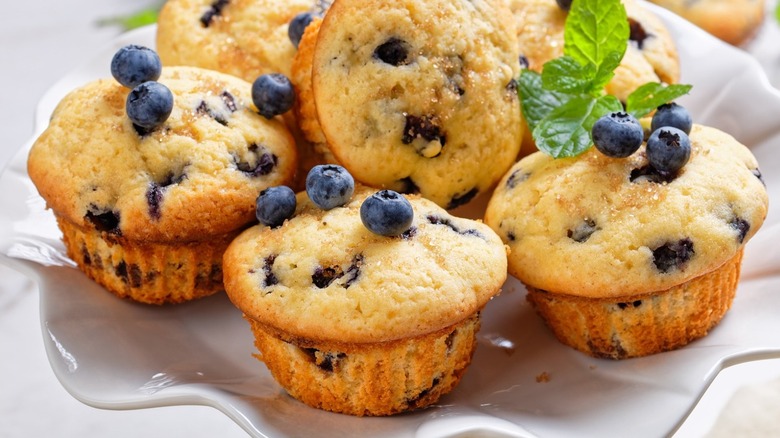 from my point of view/Shutterstock
Waking up to the smell of muffins baking in the kitchen is a luxury that only begins with our olfactory senses. Those plump, hand-held baked goods look delicious, signaling to our brain that we are about to break the fast. And the taste, tender and warm from the oven, this is the perfect way to start your day.
The word muffin is derived from 'muffen,' an old German word meaning small cake. American-style muffins, as opposed to English muffins, are quick breads, chemically leavened with baking powder, and baked in a special mold just like their frosting-covered cousin, the cupcake.  Although muffins can be made in countless flavors, with ingredients that appeal to every dietary concern, most are sweet, riveling the fat and calorie content found in a cupcake per Foodimentary.
A basic muffin recipe begins with flour, sugar, baking powder, salt, and eggs, but the muffin batter lends itself well to mix-ins like fruit, nuts, and spices, allowing bakers to get creative. Popular choices like apple cinnamon and blueberry muffins benefit from the freshness of added fruit. Meanwhile, muffins with chocolate chips or coffee cake streusel that teeter on dessert are well suited for mid-day snacks. Whether you prefer corn muffins, bran, or morning glory, the paper liners make the little cakes portable and keep your hands clean. If you're in the mood for muffins tomorrow morning, don't let running out of muffin liners keep you from a delicious start. We've got a simple replacement for muffin liners.
Parchment paper muffin liners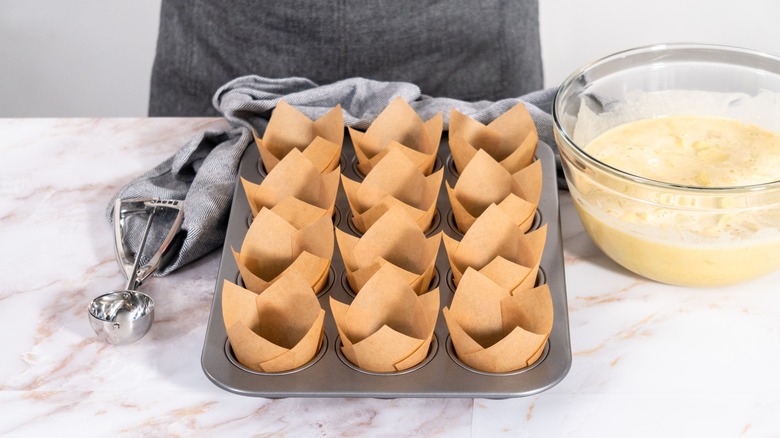 Arina P Habich/Shutterstock
Muffin tins come in several sizes, from the standard 12-cup to a 24-cup tin used for mini muffins and a 4-cup mega tin used for jumbo muffins. While there are coated and silicone versions, Healthy Cookware advises the use of paper liners whether or not the tin is non-stick.
Not only do paper liners add to the presentation of your cupcakes and muffins, coming in different shapes, sizes, materials, and colors, but muffin liners help keep your baked goods fresh longer once they are removed from the tin, especially ones made with low porosity, a greaseproof paper which keeps air away from your moist muffin. Paper liners make clean-up easier, allow muffins to release from the tin effortlessly, and keep your hands clean when you take these treats on the go.
In a pinch, a square of parchment paper can be used​​ when you don't have commercially made muffin liners. According to The Greatist, a 5-inch square of parchment paper works well in a standard 12-cup muffin tin, creating an attractive four-point collar around the muffin. Begin by spraying the tin, so the paper sticks well. Then press the parchment square into the cavity, fitting it to the bottom and folding the paper a few times to allow it to sit flat against the sides. Adjust the size of the parchment paper hack when using a mini or jumbo muffin tin.