The Brownie-Saving Parchment Paper Hack You Need To Know About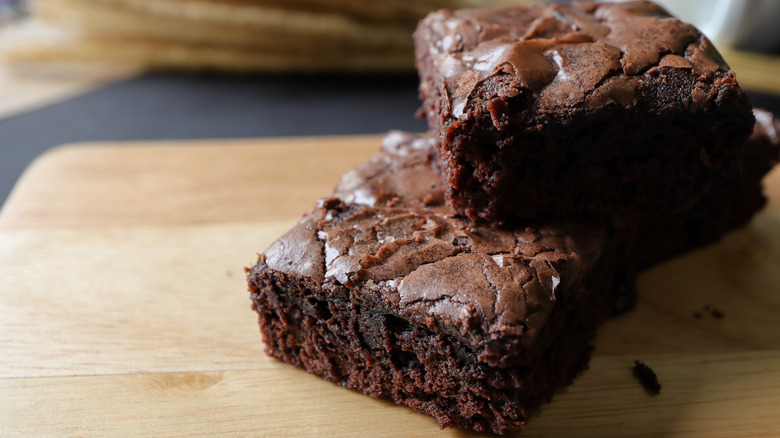 Pooh Yuphayao/Shutterstock
It's no secret that brownies are the perfect dessert. They're simple to make and can be dressed up or down, depending on your preferences. Maybe you're in the mood for a classic brownie recipe with a scoop of vanilla ice cream, or perhaps you want to get a little fancy and top your brownie with a chocolate ganache. Either way, the best homemade brownie recipes will have chocolate lovers swooning over it. 
You can even make healthier versions of brownies with ingredients like zucchini, allowing you to indulge in this delicious, chocolatey dessert without quite as much guilt. You can also add this unexpected ingredient to your brownies to sneak some veggies into your kids' favorite dessert.
However, anyone who has ever tried to cut a pan of brownies will know that they can be notoriously difficult to slice without making a huge mess. Fortunately, there's a little-known hack that will help you achieve perfectly clean-cut brownies every single time.
Prevent your brownies from sticking to the parchment paper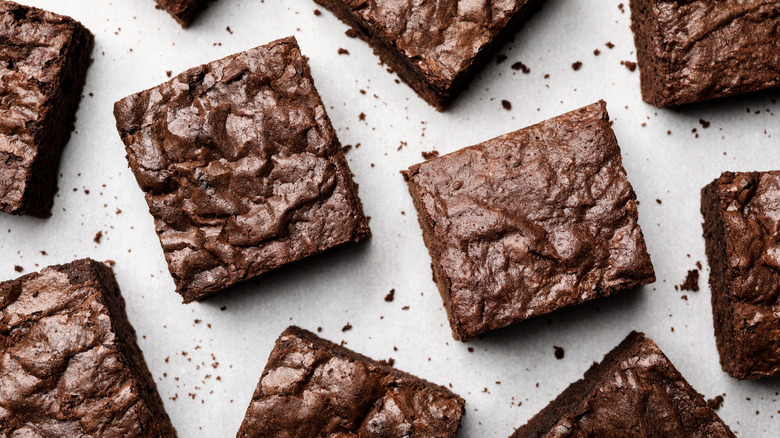 New Africa/Shutterstock
When it comes to baking brownies, parchment paper is your best friend. This is because parchment paper can prevent the brownies from sticking to the pan, making it much easier to pull them out of the pan, and get clean cuts for picture-perfect brownies.
Per Greatist, all you need is some parchment paper, oil, and a serrated knife. Start by greasing a baking pan and lining it with two strips of parchment paper. Once done, cross the strips across the middle so that they form a plus sign. You'll also want to brush the parchment paper with a neutral-tasting oil, such as avocado oil so that the brownies will not stick.
Make sure to let your brownies cool completely before cutting them into squares. Lifting them out of the pan with the parchment paper will make this process neater and easier. You should also consider using a serrated knife, which will give you clean cuts without any mess. By using this simple hack, you can enjoy clean-cut, perfectly portioned brownies that are easy to make and even easier to eat.