The Reason Professional Chefs Never Buy Cookware Sets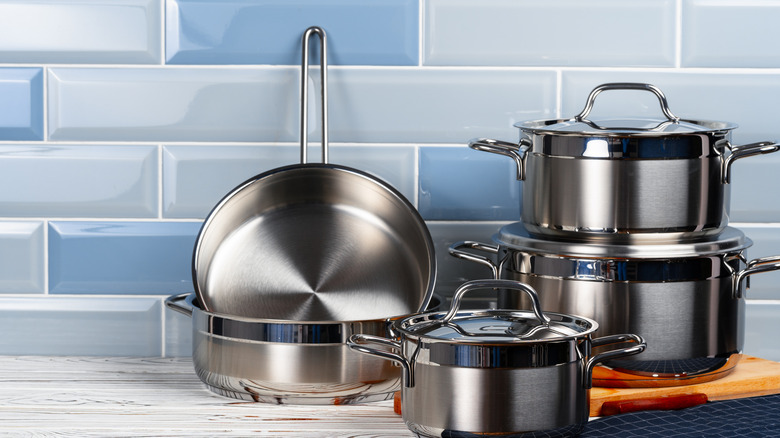 FabrikaSimf/Shutterstock
Chefs are truly artists, creating edible works of art where each bite looks as good as it tastes. Whether a chef is cooking in a hole-in-the-wall diner or a three-Michelin star fine dining restaurant, their masterpiece is showcased on the plate. While many chefs attend culinary school to sharpen their skills, other chefs get their experience from working on the line, prepping, and cooking dishes to learn their skills. No matter which way chefs learn, there is a major difference between the home cook and the restaurant chef. Restaurant chefs use a variety of tools that many home cooks simply don't keep in their kitchens.
According to the Escoffier School of Culinary Arts, chef essentials include a chef's knife, fish spatula, mandolin, and a meat thermometer. Mandolines help slice vegetables into perfectly thin slices, while a fish spatula is a long skinny spatula, perfect for flipping fish and keeping it intact (per The Better Fish). Tools that are in every chef's kitchen and also in every home cook's kitchen are pots and pans. Obviously, pots and pans are essential to cooking anything, but those used by home chefs and those used by restaurant chefs have one distinct difference.
Purchase pans one at a time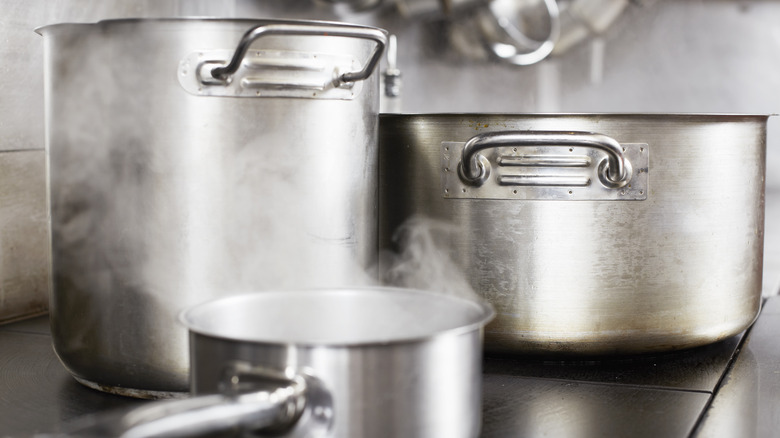 According to PureWow, you'll never find fancy cookware sets in a chef's kitchen. Chefs aren't interested in trendy-looking pots that fit a home's aesthetic. Take, for instance, the social media star pan, the Always Pan. For those who aren't clued in, the Always Pan is a ceramic non-stick pan that comes in a slew of trendy colors. At $100 per pot, it cost a pretty penny, though Aldi sells a dupe for only $30.
Professional chef Carrie Nahabedian feels that it's better and cheaper to purchase pots and pans separately over time until you have a unique collection. She notes that buying cookware sets may lead to you having unnecessary items that wind up collecting dust and not getting used. If you buy cookware as you need it, you're likely to find quality items for even less money. Pans like cast iron skillets only get better with age, making it a great and inexpensive find at thrift stores. If the pans are treated well, expect a lifespan of several decades. Quality seasoned cast iron skillets can be passed down for generations if taken care of properly (per OurState).