Dolly Parton Is Launching New Duncan Hines Goodies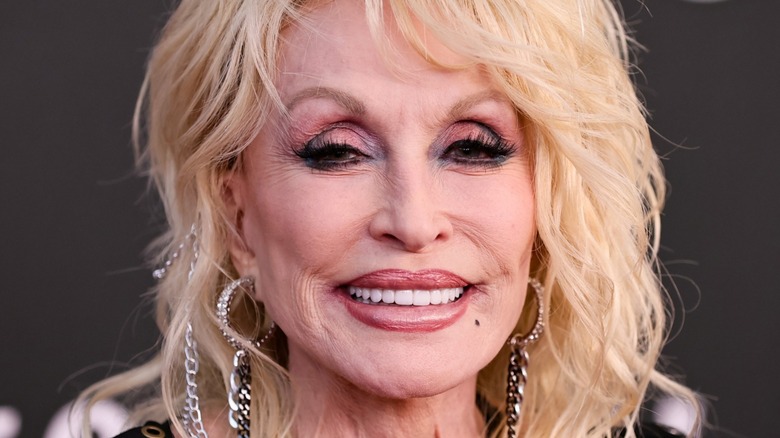 Theo Wargo/Getty
Duncan Hines' partnership with Dolly Parton is expanding, which means the release of new limited-edition products. The collaboration originally kicked off in January of 2022 with desserts inspired by Southern living. Featuring pink boxes with Parton's face plastered across the front, the lineup included Southern Style Coconut Flavored Cake Mix, Southern Style Banana Flavored Cake Mix, and original and chocolate buttercream frosting. Those who ordered a kit also received recipe cards, a tea towel, and a spatula.
Around that time, Parton spoke about her baking process with SheKnows. "Well, I do it in different ways, sometimes I turn on music for the day. Most times, I hum around and sing along, and I do sometimes listen to my own music," she said. When listening to her own catalog, she typically listens to her upcoming projects to see if anything needs to be adjusted. Other times though, she uses cooking as a time to relax. "And sometimes, I like to be quiet... and sometimes I like to be peaceful and think about good things."
Whether she's dancing or singing, critiquing or relaxing, Parton just announced a new slew of baking goods to fuel the time she and her fans spend in the kitchen (via PR Newswire).
The new lineup is more southern than the last
Revealed in a press release, Duncan Hines and Dolly Parton are back for another round of baking products. This time, the roster will include cornbread mix, biscuit mix, and two brownie mixes: Fabulously Fudgy and Caramel Turtle. If you order an exclusive $40 kit, you'll receive all these mixes plus a "What would Dolly do?" tea towel and spatula. Also present in the kit is recipe cards that directly correlate to some of Parton's favorite creations. According to Parton, these mixes are "steeped in [her] southern roots."
Parton announced the new mixes to Twitter fans on Tuesday. "I'm so excited to launch my new @realduncanhines' cornbread, biscuits, and brownie mixes. Sign-up for a chance to be the first to try them!" the post read. In a promo video, Parton is seen in a kitchen surrounded by boxes of her mix. She explains that these sweet treats will be hitting shelves soon, but those interested in early access can purchase a kit on the Duncan Hines website as soon as they're released.