The Unexpected Ingredient That Will Majorly Upgrade Your Alfredo Sauce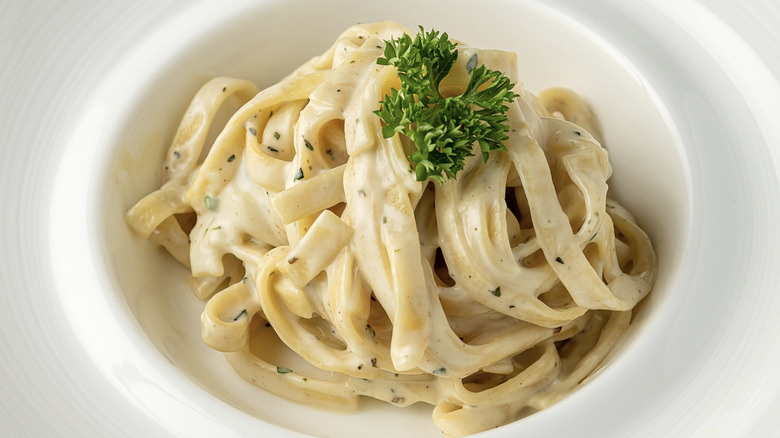 Yalcin Sonat/Shutterstock
When it comes to types of pasta sauces, there's a lot more than just marinara.  There are some lesser-known pasta sauce types like Colatura di Alici and Nero di Seppia. Some of the more commonly known sauces include pesto, carbonara, bolognese, and alfredo (per Sweety High). All of these sauces can be made from the comforts of home, many with ingredients you may have in your pantry. While an Italian grandmother may scoff at the idea of using a pre-made or jarred sauce instead of whipping up your own, there are tons of options for quicker sauces that won't have you standing over a stove for hours.
If you're in a rush to get a weeknight meal on the table, using a pre-made sauce can be a lifesaver. It's quick and all of the ingredients are included, saving you a last-minute trip to the grocery store. If you're heading to your local store, chances are there will be tons of brands of jarred pasta sauces. While one pasta brand is most beloved by customers wanting marinara, if you're making Alfredo, any jarred brand will do. Before serving Alfredo, you'll add a key ingredient that will have you and your guests tricked into thinking it's homemade.
Add acidity to your sauce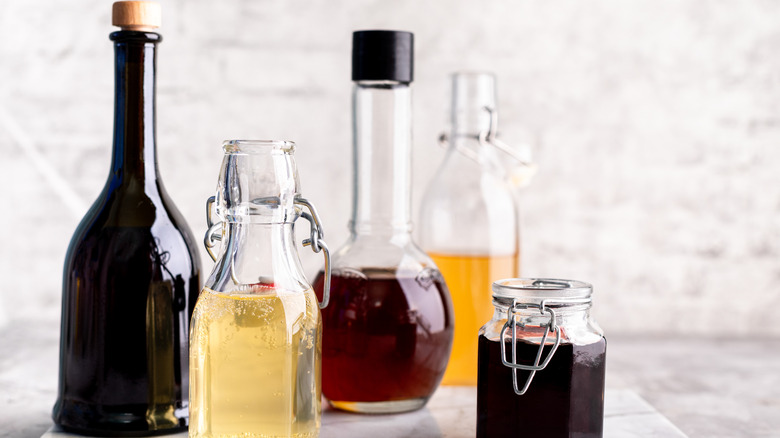 KarinaKlachuk/Shutterstock
Whether you're cooking with jarred alfredo sauce or homemade sauce, you may want to add something to amp up the flavor. Alfredo sauce is very rich and creamy, so adding in something with a bit of a bite or acid helps brighten up the sauce. Insider notes that the ingredient that is essential to add to Alfredo sauce is a drizzle of white balsamic. White balsamic is a type of vinegar that has a milder and lighter flavor than traditional balsamic (per Chatelaine). It's also lighter in color, meaning it won't taint the color of the white Alfredo sauce. If white balsamic isn't readily available to you, lemon juice or regular balsamic will work to add a note of acidity.
In addition to white balsamic, there are some other ingredients that can easily jazz up your sauce. You can toss in some fresh herbs like parsley or basil when the sauce is done simmering, or heartier herbs like oregano during the cooking process. If you want a heartier meal, feel free to add in some grilled chicken or mushrooms. For some extra veggies, you could toss in some greens like sautéed spinach.