What Makes Hawaiian Barbecue Unique?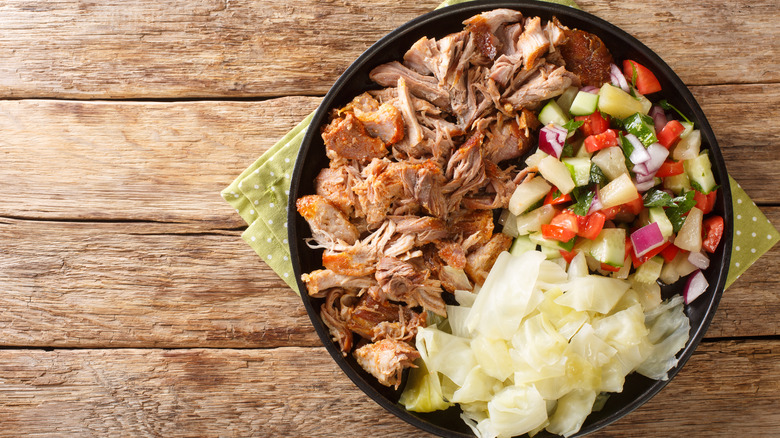 Sergii Koval/Shutterstock
You may not realize it, but Hawaii has its own highly distinctive cuisine. Bringing together the foods native to the island and the food culture of the native Hawaiians, as well as 19th century immigrants and the influence of post-World War II Americanization, Hawaii has an incredibly diverse food sphere (per Go Hawaii). Immigrants who brought their cuisine to the chain of islands include Chinese, Japanese, Portuguese, Puerto Rican, and Filipino, among others.
This means on a Hawaiian menu, you might find spam musubi made with sticky rice and nori, as easily as macaroni salad, manapua (similar to char siu bao buns), and saimin (a ramen-like cultural hybrid made using clear Japanese broth and Chinese noodles). Don't forget about poke, the Japanese-inspired Hawaiian dish that's taken the nation by storm (per Hawai'i Magazine). And of course, one of Hawaii's most famous dishes, kalua pork. You can find the latter, and likely a side of macaroni salad, at a good Hawaiian barbecue place, which is as unique as the cuisine it represents.
Distinctive Hawaiian barbecue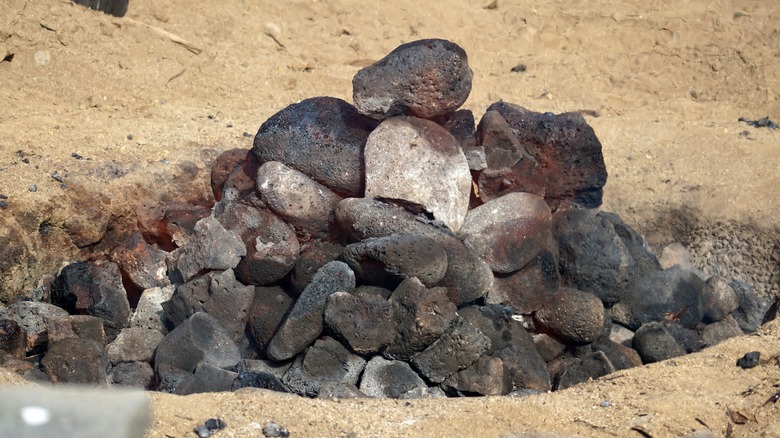 On The Run Photo/Shutterstock
Macaroni salad might seem like an ordinary barbecue side dish, but you may not typically find it next to chicken done teriyaki-style (per The Manual). Called huli huli chicken, this dish is a staple of Hawaiian barbecue. It's a whole chicken doused in a sweet and salty marinade of soy sauce, ginger, garlic, pineapple juice, and brown sugar. "Hawaiian BBQ to us is basically a pāʻina, or party," says Hawaiian BBQ restaurant owner and native Hawaiian Tryzen Patricio. "It's a time where everyone comes over, brings over food to share with everyone whether it's something to grill or even something you possibly bought and just grind!"
The classic way for the food to be served is as part of what's known as a "plate lunch," which Patricio says is meant to cover, "all the amazing needs for food in one plate." Plates are generally served with rice, macaroni salad, and a meat. He adds that it makes for a complete meal if you just add a Hawaiian Sun, canned tropical fruit drinks — not to be confused with Hawaiian Punch.
And the protein in question? While it's often luau staple kalua pork, chicken katsu is also popular, as well as lomi lomi salmon (per Hawaii Ocean Project and Onolicious Hawaii). So if you want to explore cooking this cuisine at home, you have a few choices at your fingertips.