Classic Spam Musubi Recipe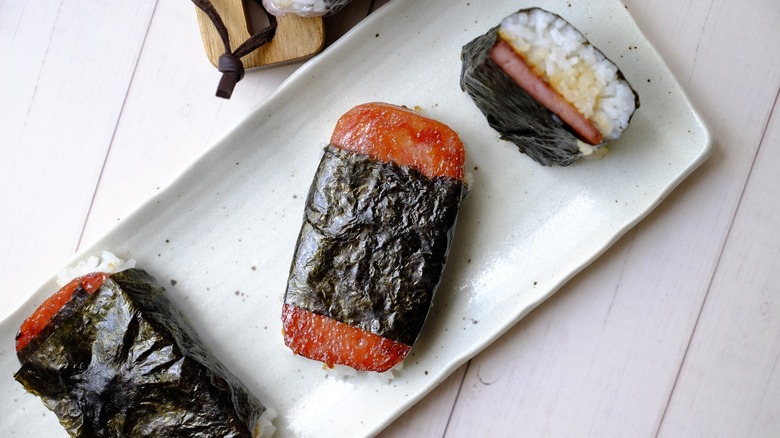 Eric Ngo/Mashed
What do you think of when you think of a snack? Maybe you picture a big bag of chips, a granola bar, or a container of beef jerky. The category of "snack" is practically all-encompassing — anything can be a snack if you decide it's a snack. In France, people might snack on crepes or eclairs, and in Morocco, you might see people enjoying a potato fritter called maakouda. Over in Hawaii, some of the most popular snacks include shave ice, salty-sweet rice crackers called arare, and Spam musubi. Savory, meaty, and simple, Spam musubi is a handheld dish similar to onigiri, or Japanese rice balls. Slices of Spam get crisped up in a pan, brushed with teriyaki sauce, and wrapped in a sheet of nori with white rice. "Spam musubi is often served as breakfast or as a snack," recipe developer Eric Ngo says.
You don't have to trek to the Big Island to enjoy Spam musubi; it's easy to make your own at home. Ngo's Spam musubi recipe is a classic one, relying on just a few ingredients and simple steps to create big flavor. Here's how to make it.
Gather your ingredients for classic Spam musuai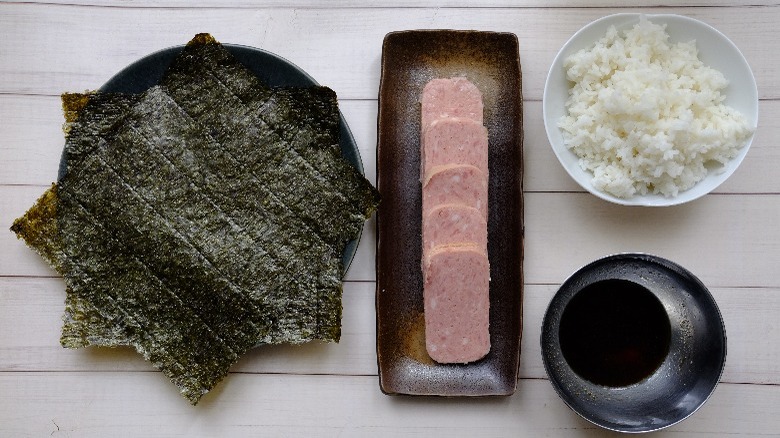 Eric Ngo/Mashed
Though this recipe is simple, it's still important to get everything assembled beforehand. You'll need a can of Spam, of course, plus teriyaki sauce, cooked white rice, and nori. "You should use rice that is cooked the same day," Ngo says. The nori you're using here is larger than what you'd get in your typical "seaweed snack" package — Ngo calls them "'full sheets' of nori" that measure about 7.5x8.5-inches.
Cook the Spam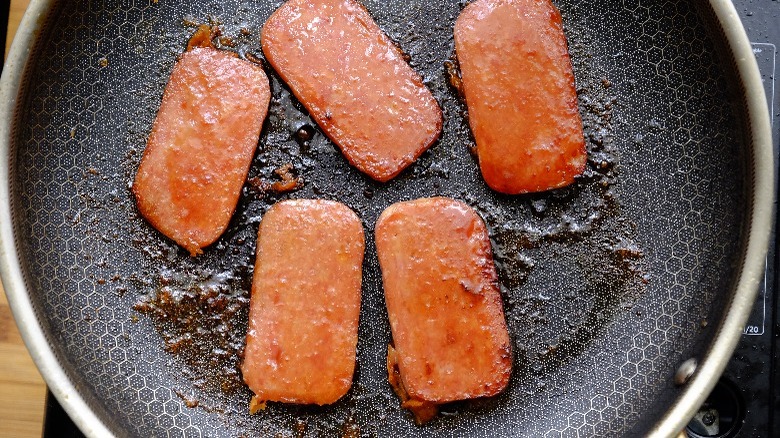 Eric Ngo/Mashed
Aside from making the rice in advance, this is the only step of this recipe that requires actual cooking. Slice the Spam into uniform pieces about ¼-inch thick, and heat some oil in a nonstick pan over medium heat. Place the sliced Spam in the pan and cook for a couple minutes on each side, then brush the top side of each slice with teriyaki sauce.
Roll it all up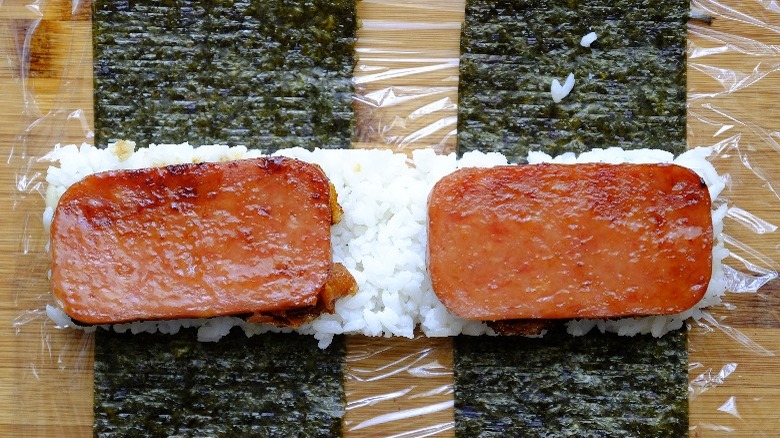 Eric Ngo/Mashed
All that's left is to assemble your Spam musubi! It's a simple process: Start by laying your nori sheets down, then place some rice in the center of the sheet. You can use a plastic container to help shape the rice, or just use your hands. Brush more teriyaki sauce on the rice, then add a slice of Spam on top. Roll the nori up and enjoy! 
"If you plan to take them to-go," Ngo says, "you should place a layer of plastic film [on top of your rolling surface] to wrap the Spam musubi directly." Even if you're not taking your Spam musubi to go, using plastic wrap does minimize mess and gives you a conveniently-packaged snack that's easy to store for later.
Your Spam musubi is done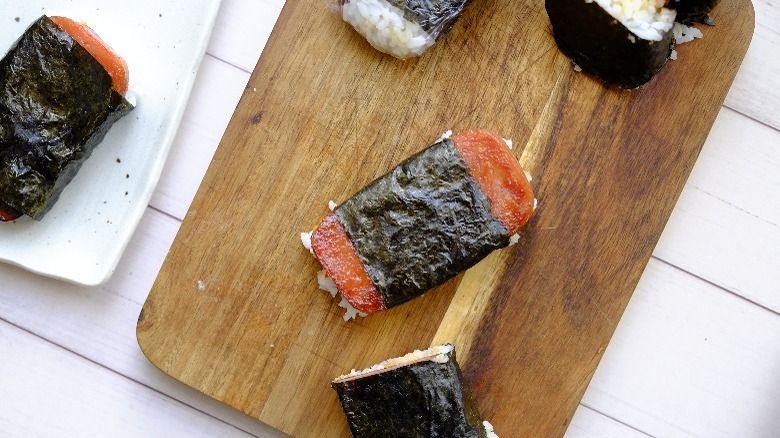 Eric Ngo/Mashed
After you've rolled up your Spam musubi, it's time to enjoy what you've created. Ngo says this Hawaiian snack "should be eaten within the day, but you can wrap them in a plastic wrap and reheat it with a microwave the next day." Whether you're starting your day with a savory breakfast of Spam musubi or digging into one after a long day of work, you certainly won't regret having this convenient, flavorful dish on hand.
Classic Spam Musubi Recipe
If you haven't been to Hawaii, you may not be familiar with classic Spam musuai. It's an easy and convenient way to enjoy a protein-packed breakfast or snack.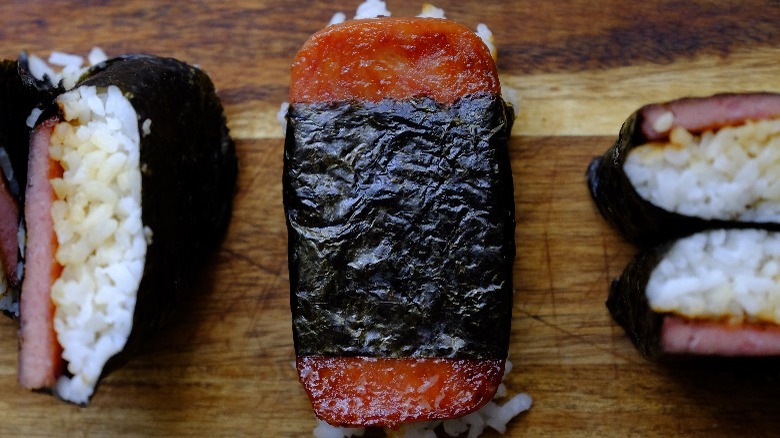 Ingredients
1 can lunch meat (Spam)
1 cup cooked round rice
3 tablespoons teriyaki sauce
2 large sheets nori
Directions
Cut the lunch meat into ¼-inch slices.
Heat a frying pan on medium heat with a tablespoon of oil.
Cook lunch meat for 2 minutes on each side.
Brush the teriyaki sauce on the top of the lunch meat.
Place a sheet of nori on cutting board and add a layer of rice on top of it.
Brush a layer of teriyaki sauce on the rice.
Add the lunch meat on top of thee rice and roll the nori.
Serve right away, or wrap it in plastic wrap and take it to go.
Nutrition
| | |
| --- | --- |
| Calories per Serving | 299 |
| Total Fat | 4.4 g |
| Saturated Fat | 1.8 g |
| Trans Fat | 0.2 g |
| Cholesterol | 53.6 mg |
| | |
| --- | --- |
| Total Carbohydrates | 41.0 g |
| Dietary Fiber | 0.0 g |
| Total Sugars | 1.9 g |
| Sodium | 585.9 mg |
| Protein | 22.5 g |