Reese's Collab With Animal Crackers Adds Sweet Layers To The Nostalgic Classic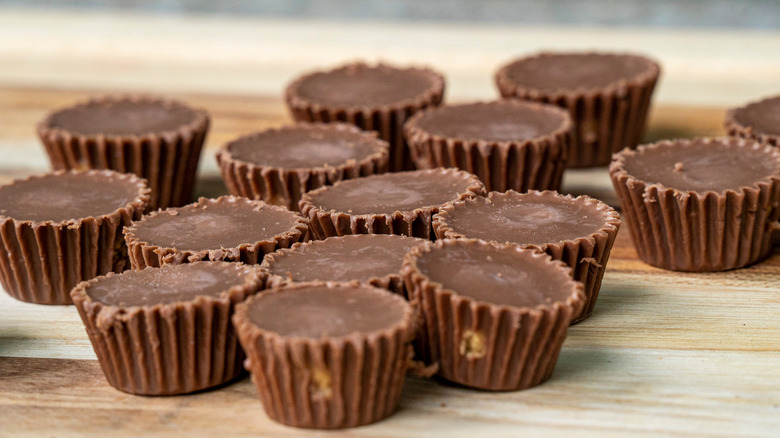 KristenLynnWolfePhoto/Shutterstock
It's always a win-win situation when the brands you love team up to create a collaboration that's even better than the original. Nowadays, candy companies do this often to offer a fresh take on the classics, which is a great way to ensure customers don't become burnt out from the same old product. In 2018, Hershey's combined two fan favorites into one bar, creating a half-milk-chocolate, half-Reese's-Pieces treat (via Brand Eating).
In 2020, Chips Ahoy! had a similar idea, also partnering with Hershey's and Reese's for a new blend of cookies (per Food Business News). When you consider the popularity of Reese's and Hershey's candy, it's not surprising that brands choose these treats to team up with. According to Snack History, Reese's Peanut Butter Cups are the second best-selling candy of all time, with Hershey's bars coming in seventh place. Now, Reese's is at it again, as it recently announced a new pairing that's sure to bring back memories from your childhood.
Reese's partners with Animal Crackers
Revealed in a press release, Reese's, which is under parent company Hershey's, is releasing its own spin on Animal Crackers. Its 13 animal-shaped cookies will be dipped in milk chocolate with a peanut butter coating to create a Reese's flavored take on the traditional childhood treat.
When Reddit got wind of the new collaboration in November, fans were yearning to get their hands on a pack. "Welp, gonna need to try the hell out of these!" one commenter wrote. One Reddit user was thrilled at the prospect of trying the treat out with a friend of theirs. "I can't wait to share these with my friend! We are both obsessed with Reese's," they wrote.
This isn't the only new release the brand has had up its sleeve as of late. Per a press release, Reese's began stuffing its iconic peanut-butter cups with its Reese's Puff's cereal in late 2022. In a statement, senior associate brand manager Henry Hancock noted that collaborations are the way to go to keep a product interesting. It's evident the brand is aware of this, as it's constantly rolling out new treats for fans to enjoy.