Taco Bell Is Bringing Wings Back To The Menu And We Tried Them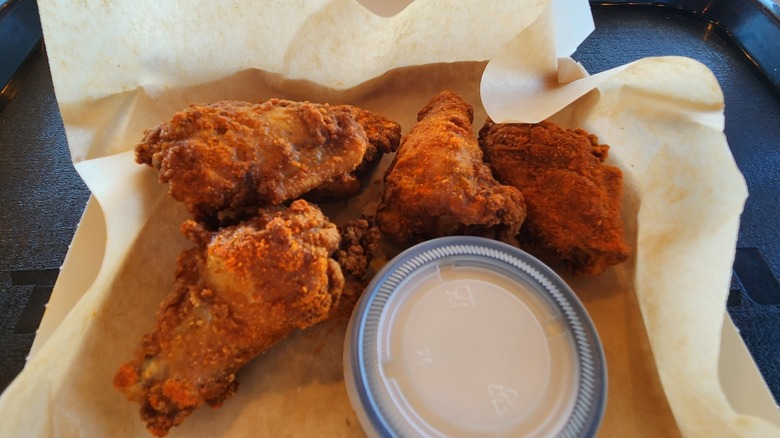 Amy Bell/Mashed
Taco Bell's crispy chicken wings are finally back on the menu. Yes, we know that Taco Bell has had wings before. The restaurant had its first successful yet relatively small test run with wings in 2021. But if you so much as blinked during the week they were on the menu nationwide in December 2021, then you probably missed them (via Today). Now, there's a chance for a re-do. That's because, on January 19th, the chain announced that it would be bringing back these flavorful wings for a limited time.
As we all know, Taco Bell has become a big tease when it comes to what it offers and for how long. Like a cruel magician, it brings back our faves only to take them away again with the wave of its magic menu-changing wand. Perhaps the idea is to make you rush in for a taste, so you don't miss the latest flavors available for just a week. 
For many, that strategy works. If you're reading this article, then you're already more likely to head out to your nearest Taco Bell to give the chain's latest wings a try in the next couple of weeks. If you're still feeling cautious, we took the plunge for you and tried the newest Taco Bell wings. Here's what we thought of them.
What comes with Taco Bell's wings?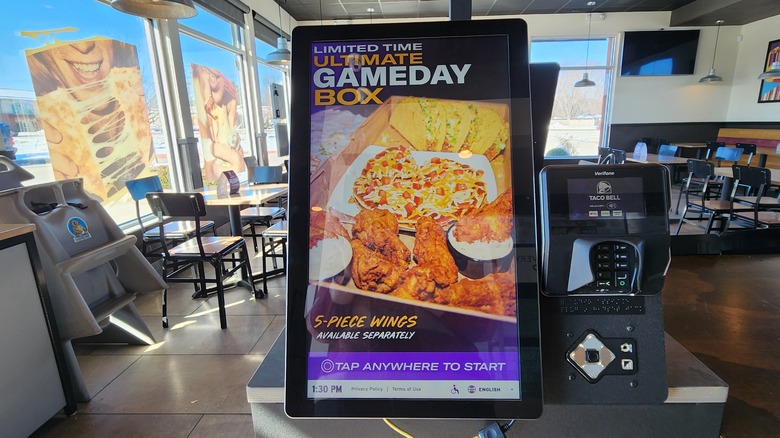 Amy Bell/Mashed
When you order Taco Bell's crispy chicken wings, you will get a total of five wings. Note that Taco Bell's bone-in chicken wings aren't the ooey-gooey kind that comes smothered in sauce. Instead, they're crispy fried chicken wings that look like they just came out of a deep fryer. To make them different from the wings you could get down the street at KFC, Taco Bell seasons its version with a dusting of orange "Mexican queso seasoning." Sorry, but you won't be getting any bleu cheese dressing or celery sticks with your bird here. Instead, for more Taco-Bell-style flair and heat, these wings come with a side of spicy ranch. You can also swap out the spicy ranch for other Taco Bell sauces like creamy chipotle, avocado ranch, or creamy jalapeño.
Taco Bell considers the wings to be a part of its "dream team of iconic menu items" that are featured in its Ultimate Game Day Box, which comes with eight pieces of chicken wings, two spicy ranch dips, a Mexican pizza, and four crunchy tacos. The wings are the only non-swappable item in the box, as you can opt for a veggie Mexican pizza instead of the carnivore version and switch out the crunchy tacos for soft tacos for no extra charge. For an additional fee, you can replace the crunchy tacos with crunchy taco supremes, soft taco supremes, nacho cheese Doritos locos tacos, or nacho cheese Doritos locos tacos supreme.
How much can you expect to pay for wings at Taco Bell?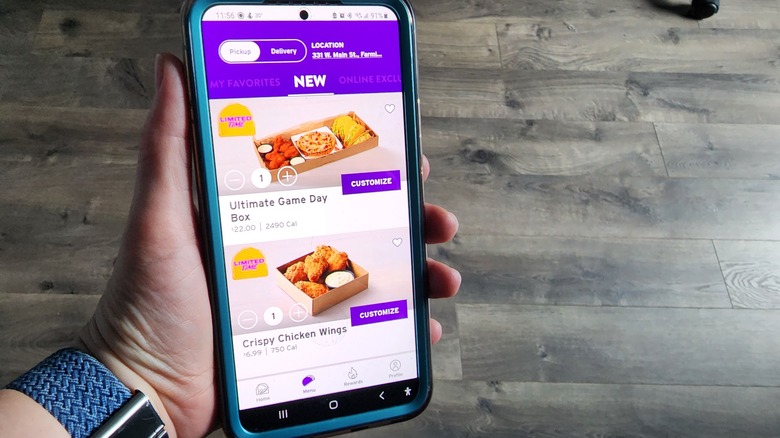 Amy Bell/Mashed
Gone are the days when you could get some of the most basic Taco Bell menu items for mere pennies. However, the majority of Taco Bell items still fall within the $2 to $4 range, making it one of the cheapest fast food places to eat. Even the Mexican pizza currently comes in at under $5 in most locations. 
Lately, Taco Bell has introduced premium menu items like its grilled cheese burritos, several of which cost over $7. As Yum! Brands said during its Q3 earnings call (via The Motley Fool), premium menu items with premium prices have been a large part of Taco Bell's recent financial successes. So, it's no surprise that Taco Bell is looking for more premium items to add to the menu — like wings.
Five Taco Bell crispy chicken wings cost $6.99. While that's still less than a double steak grilled cheese burrito, $6.99 for five wings and a dipping sauce falls in the premium price range compared to the chain's other menu items. However, it's still way cheaper than if you bought five wings a la carte at KFC, where you would pay $12.45.
If you buy wings as a part of the Ultimate Game Day Box, you will end up paying $22. However, that gets you quite a bit of food: eight wings, a Mexican pizza, two dipping sauces, and four tacos.
When and where will Taco Bell be selling wings?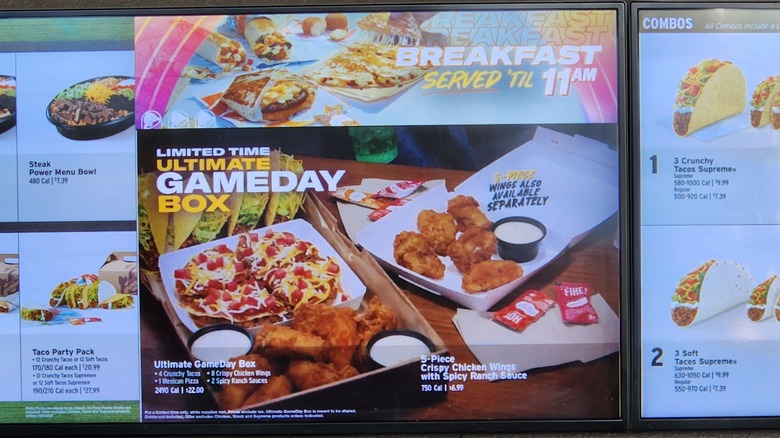 Amy Bell/Mashed
Taco Bell's wings will only be available for a limited time, in participating locations, and while supplies last. Taco Bell says that it has introduced a Wing Filter in its app to let you know when your nearest Taco Bell has wings. But, as far as we can tell, the "filter" only informs you whether or not wings are on the menu, not necessarily if they're still being served.
This time around, chicken wings will be on the Taco Bell menu for a grand total of 15 days from January 26 through February 9, 2023. That's a very small window to give them a try. It's even smaller for diners to eat enough of them and so convince Taco Bell to bring the wings back yet again.
Considering that the wings are part of the Ultimate Game Day Box, it's strange that they won't remain on the menu through to the 2023 Super Bowl on February 12. However, these wings will at least be around for the AFC and NFC Championship Games, the Pro Bowl, and any board game days you plan with your friends during those two weeks.
If that news has got you feeling down, Taco Bell says it will be revealing another big food innovation for Super Bowl Weekend, though currently, it's keeping the details secret (via Food Network).
What's the nutritional content of Taco Bell wings?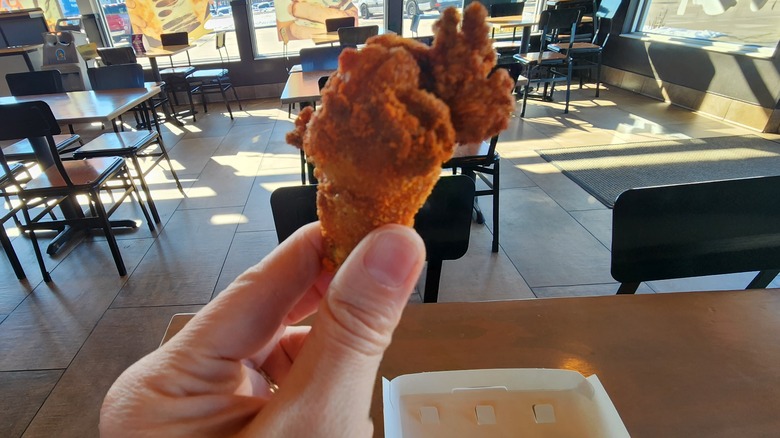 Amy Bell/Mashed
Eating five of Taco Bell's new crispy chicken wings will set you back 530 calories, sans dipping sauce. That comes out to about 106 calories per wing. Meanwhile, a KFC chicken wing is 70 to 170 calories, depending on the recipe you select. You'll come out slightly better calorie-wise at Taco Bell.
However, the calories can add up quickly with the spicy ranch dip served on the side. Each small tub of spicy ranch adds an extra 220 calories to your meal. And if you manage to pack away an entire Ultimate Game Day box, you'll consume a staggering 2,490 calories.
Assuming you eat all five wings and the whole tub of sauce, a significant portion of your 750 calories will come from the whopping 54 grams of fat this menu item contains (which amount to about 83% of your daily value of fat). Since it's fried food, you'll end up consuming 230 milligrams of cholesterol (77% DV). Moreover, all that seasoning salt will nearly put you at your sodium limit for the day with 1,970 milligrams, or an estimated 82% of your daily allotment. Taco Bell's wings also provide 40 grams of protein, about 80% of your daily value. Despite having a crispy coating, it only has 25 grams of carbohydrates that accounts for less than 9% of your DV (via Fast Food Nutrition). So, yeah, we must admit that these wings are absolute junk food, albeit tasty junk food.
How do the wings compare to other products from Taco Bell?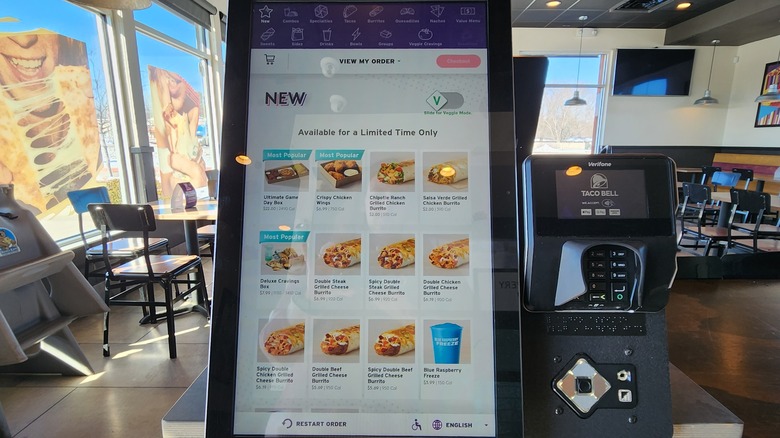 Amy Bell/Mashed
Taco Bell only has a handful of chicken items on the menu at any given time. Generally speaking, if you order an item with chicken at Taco Bell, you should expect grilled rather than fried chicken. That's not always the case. Once upon a time, Taco Bell had a crispy chicken sandwich taco, but it disappeared off the menu pretty quickly (perhaps because it wasn't very spicy). Taco Bell's crispy chicken wings aren't terribly spicy either, which may ultimately work against it.
Taco Bell didn't have to install fryers in its stores to be able to offer crispy chicken wings since it already uses them for other menu items, like the chain's nacho fries. Speaking of the nacho fries, we were expecting the seasoning salt on the crispy chicken wings to be somewhat similar to the seasoning on the fries. However, the flavor of the Mexican queso seasoning on the chicken wings is even more subtle than what Taco Bell uses for its fries.
There are only a few Taco Bell menu items with as many as or more calories than the 750 calories that arrive in the combined wing and ranch dip meal. Quesaritos are pretty close at 630 to 650 calories, and nachos BellGrande comes in at 710 to 730 calories. Only the double steak grilled burritos carry more at 944 calories.
How do the Taco Bell wings taste?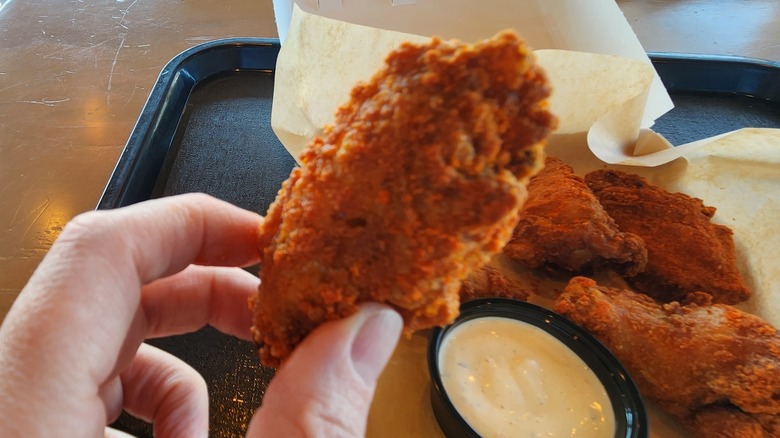 Amy Bell/Mashed
These wings fall on the saltier side of the Taco Bell spectrum. In fact, you have to try pretty hard to suss out any other flavors. If you concentrate, you may detect tangy cheese and a teeny bit of heat from the Mexican queso seasoning. Otherwise, the seasoning just seems to be there to color your fingers and lips orange. The chicken is bone-in with the skin still on and has a coating that fries up crispy in the oil. The spicy ranch approximates the taste of bleu cheese dip somewhat. Nevertheless, the wings are surprisingly good. If you're looking for tasty wings rather than seeking out true Mexican-inspired flavors, then they're golden.
An employee told us that the wings come frozen in a bag and are fried in hot oil before they are finally sprinkled with seasoning salt. This means that the wings are likely to be fresh and piping hot when you get them. However, they take about 10 minutes to make, so you'll probably have to pull over to wait if you decide to get them via the drive-thru.
You're not getting a single connected piece but separate little legs and wings. They also fall on the small side, with the average piece in our meal measuring about 2.5 inches long. Despite its calorie count and premium price, it has so little meat that it will likely leave you feeling like you've just consumed an appetizer.