Taco Bell Has A BOGO Deal To Aid A Super Bowl Hangover
February 12 is Super Bowl Sunday, and Taco Bell has made preparations to help you through the Monday after. No Super Bowl party is complete without alcohol; according to Hungry Fan, $1.3 billion is spent by Americans on average for beer during the big game, and 325 million gallons of beer are consumed on the day itself (these stats don't even include other types of alcohol). Because of the ensuing headache the next day brings, 36% of 1,039 Americans surveyed by GrubHub have admitted to missing work on what's appropriately named Super Sick Monday, via a press release sent to Mashed. To help recover the following day, 76% say a "hearty breakfast" would help.
They aren't wrong. Per Harvard Health Publishing, fueling the body and mind with carbohydrates may help replenish the blood sugar levels lost by drinking. Drinking fluids such as water, coffee, and tea could also be a solution, along with taking ibuprofen. Taco Bell can't help you make better decisions, but it can help you recover from the choices you've made on Super Bowl Sunday.
You don't even have to leave the house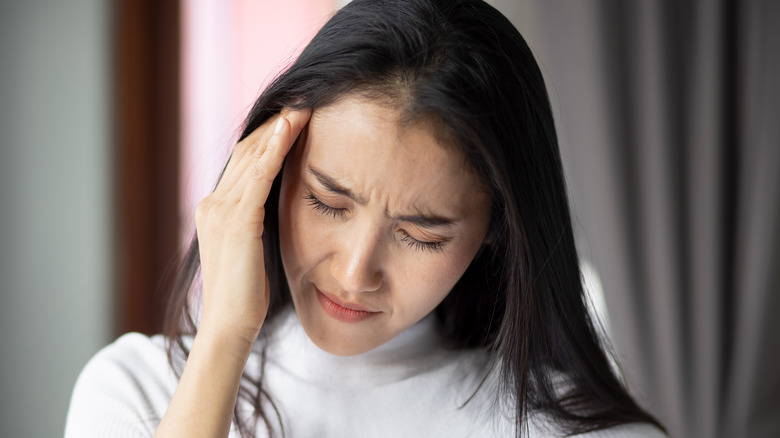 9nong/Shutterstock
If your Super Bowl Sunday plans include drinking, Taco Bell can help get you back on your feet — and if you're feeling especially down, there's no need to leave your house. According to a press release sent to Mashed, patrons who spend more than $15 on Taco Bell through GrubHub can add a Bell Breakfast Box for free. The star of the customizable box is the Grande Toasted Breakfast Burrito, and you'll get to choose what yours comes with: either sausage, steak, or bacon. Along with the burrito, the box comes with two Cinnabon Delights®, a coffee or beverage of your choice, and hash browns.
Per Ranker, Taco Bell is listed at number three on the best fast food for hangovers. In a Reddit thread, a hungover Taco Bell fan shared the creation that got them through their rough time: a "Nacho Party Pack w/extra jalapeños." Many fans had things to say about this "cure." "Question: do you have to have the hangover to have the cure or can you, ya know, skip the hangover part?" wrote somebody eager to check it out. "Bro, you may have just changed my life. THIS is the party pack? Oh boy. Dad bod is here to stay," another comment read.
This one-day-only promotion begins on Monday, February 13 at 7 a.m.