We Tried The Relaunch Of Pizza Hut's Big New Yorker To See How It Compares To The Real Thing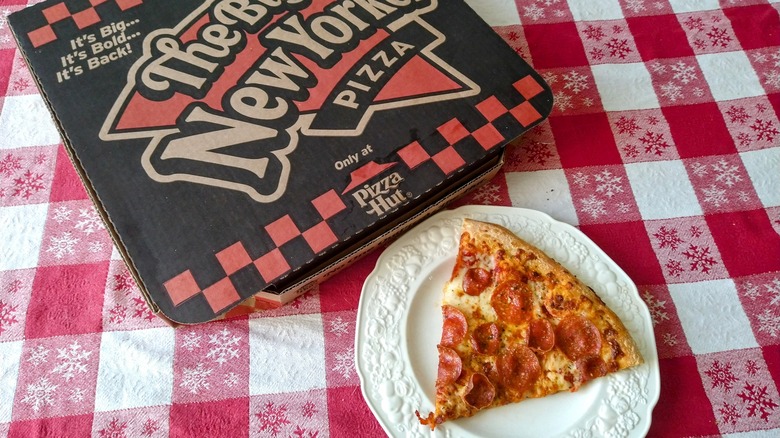 Jennifer Eager/Mashed
Everyone knows New York pizza is better than pizza made anywhere else. New York pies have a beautifully browned crust of just the right thickness (always eaten folded in half). The sauce balances sweet and spicy notes, and the cheese stretches gorgeously with every bite. Yes, you can buy pizza anywhere – but it's not the same. New Yorkers ignore debates about why their pizza rules; they don't think about whether it's the water, great ingredients, or how many pizzas New York pizzerias churn out daily. It's enough to appreciate its existence.
Pizza Hut's launch of The Big New Yorker in 1999 aimed to make the quintessential New York pizza available everywhere. Customers loved to fold the huge slices and reveled in the crisp crust, sweet sauce, and combinations of toppings. The Big New Yorker only lasted a few years but lived on with loyal fans. Redditors recalled commercials for The Big New Yorker and rallied a demand for its return. One fan even started a petition to permanently add it to the menu (via Change.org), which added signatures even after Pizza Hut announced its return.
Does The Big New Yorker rival authentic New York pizza, or is it a poor substitute? Will New Yorkers flock to Pizza Hut to try The Big New Yorker? While Pizza Hut is popular in the land of mom-and-pop pizzerias, some New Yorkers wouldn't consider it. We tried it, and here's the skinny on this piece of pie.
The Big New Yorker: what's on this pie?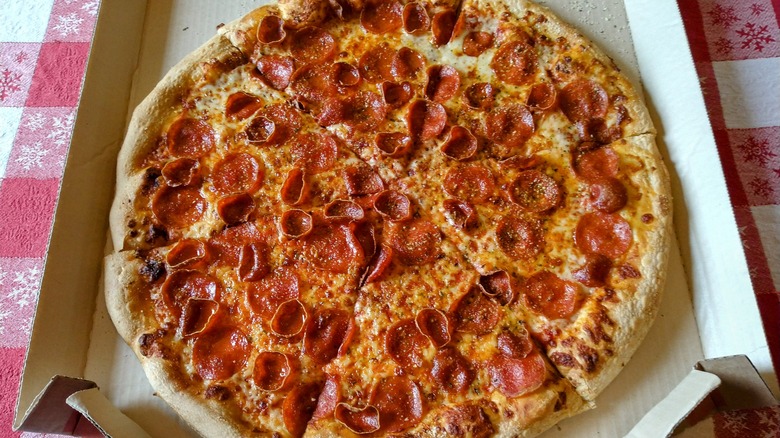 Jennifer Eager/Mashed
The Big New Yorker is a hand-tossed pizza with a thinner, foldable crust. It comes standard with double pepperoni, but you're free to substitute one topping for the same price or add more toppings for an extra charge. We like that Pizza Hut makes customizing your pizza easy because the double pepperoni on The Big New Yorker is a lot. Meat lovers will be in heaven, but it's nice to have options if you're watching salt, fat, or just plain like something other than pepperoni.
The sauce sets The Big New Yorker apart from Pizza Hut's other pizzas: it uses the thinner, sweet sauce typically used for breadsticks rather than the classic marinara Pizza Hut uses on other pies. The Big New Yorker pays homage to New York pizza with a sprinkling of oregano and Parmesan on top.
The Big New Yorker is an à la carte option, so you can't add it to any of the usual customizable deals, dinner boxes, or bundles. On the app, however, we found The Big New Yorker + 8 Boneless Wings Bundle for $19.99. Choosing that bundle allows you to customize the toppings on your pizza and your preferred wing sauce. Remember that The Big New Yorker has six slices instead of eight, so depending on how many people you're feeding, you could need extra pies.
Where and when is it available?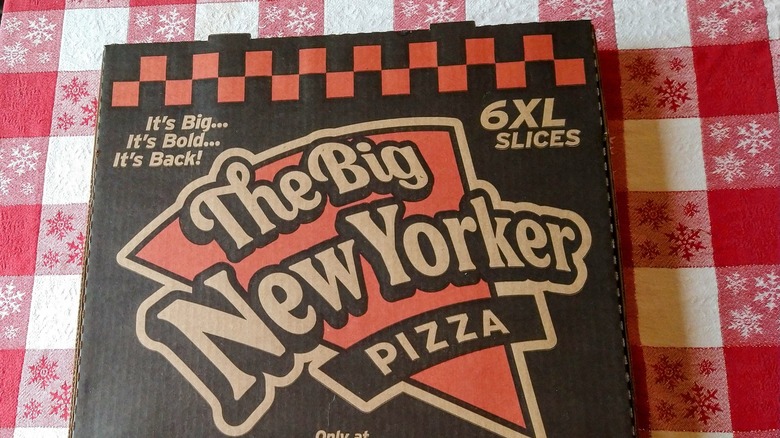 Jennifer Eager/Mashed
February 1 was the official release date of The Big New Yorker, although Hut Rewards members were able to get it on January 31. Pizza Hut timed the release so football fans could include it at their Superbowl parties, but it's sure to be a hit with pizza lovers everywhere. The Big New Yorker is available nationwide, but as always, check your local restaurant for availability, just in case.
Whether you've pined for the return of The Big New Yorker for 20 years or you're just excited to try it, get it while you can. Nobody quite knows how long it will be available. Employees from stores around the country weighed in on Reddit, and opinions varied wildly. Some claimed a month, while others chimed in with several months, the rest of the year, and even that it would be a permanent menu item with a price increase after the promotion period. That sounds like a reason to seize the slice while the seizing's good.
How much does it cost?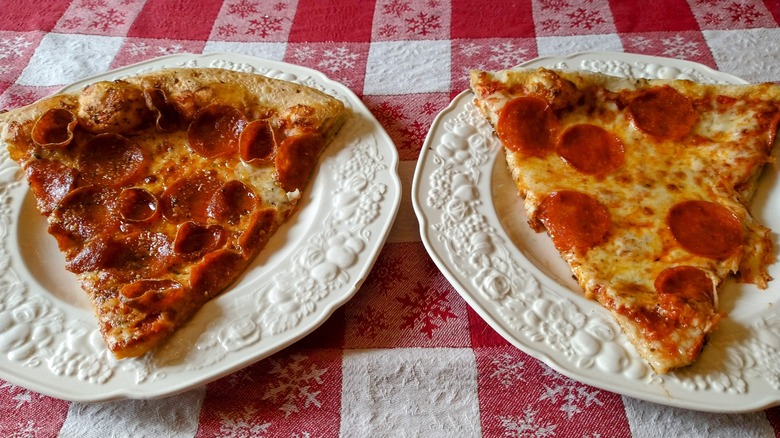 Jennifer Eager/Mashed
Pizza Hut is known for affordable pizza, and The Big New Yorker is a great example. Priced at $13.99 and truly generous with the pepperoni, Pizza Hut seems much more reasonably priced than most New York pizzerias. Although mom-and-pop restaurant prices vary and may offer discounts and specials depending on the day, the pepperoni pie we got at the neighborhood pizza joint was $22.00 and had less pepperoni on a larger pie.
Some chain restaurants have fluctuating prices depending on location. Our Pizza Hut was on Long Island, and The Big New Yorker was $13.99; playing around with GPS locations on the Pizza Hut app, we looked at big cities and small towns all over the country. For a while, it looked like every restaurant priced The Big New Yorker at $13.99, whether in a bustling metropolis or a sleepy town. Still, when we chose New England states, we found locations in Rhode Island and New Hampshire charging $15.99, although in Massachusetts, the price returned to $13.99. Two dollars isn't much difference, but it's easy to check your local restaurant's pricing.
Which pizza is better for you?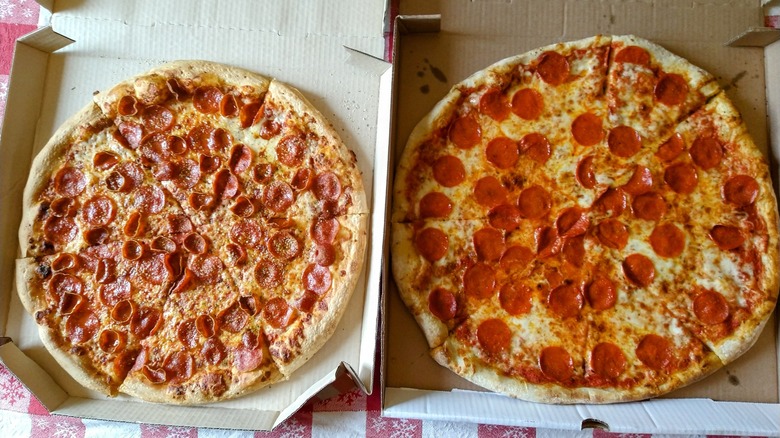 Jennifer Eager/Mashed
Nobody thinks pizza is a health food, but let's be honest – it's comforting and a quick, cheap restaurant meal. That said, some pizza is healthier than others, so let's see how The Big New Yorker compares to New York pizza.
The Big New Yorker standard pie, which includes double pepperoni and regular (not extra) cheese, clocks in at about 450 calories per slice, with 22 grams of fat, but the amount of sodium in one piece is striking: 760 milligrams. Given that the American Heart Association advises 1500 – 2500 mg of sodium per day, one piece of The Big New Yorker takes a massive bite of your daily nutritional budget, and stopping at one slice could be considered superhuman.
Our local pizzeria didn't have nutrition information available, and looking on calorie-counting sites gave conflicting information. Numbers ranged from a low count of 240 up to 450 calories per slice. Still, this isn't surprising since neighborhood pizzerias use different recipes and probably don't strictly measure the cheese and pepperoni they use on each pizza.
For an average, we used Nutritionix as our guide (Pizza Hut also uses their counts) and found that a slice of pepperoni comes in at 313 calories, with 13 grams of fat, substantially lower than the Pizza Hut slice. The sodium count, surprisingly, was the same at 760 mg. Whichever slice you're eating, drinking extra water and getting in a workout could help offset the sodium intake.
How does The Big New Yorker stack up to other Pizza Hut pizzas?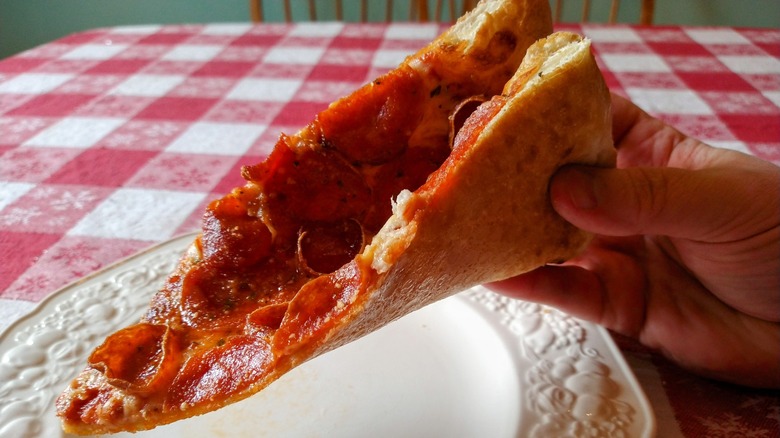 Jennifer Eager/Mashed
There are a ton of options at Pizza Hut, starting with choosing a crust for your pie. The pan pizzas have the thickest crust and, in the old days, used to sizzle in a layer of oil, creating a super-crispy crust. The Hut redesigned their pan pizza in 2019, and the pan crust is less buttery crisp now, but it's still thick. The hand-tossed pizzas come in Classic and Thin & Crispy varieties; the Classic hand-tossed is considered closest to New York pizza, and The Big New Yorker comes closest to the Classic crust.
That said, The Big New Yorker is larger by design (16-inch diameter rather than 14-inch; still smaller than the typical New York pizza of 18 inches). At Pizza Hut, most pies – indeed, almost every pizza – have eight slices, but The Big New Yorker only has six. The Big New Yorker's crust is slightly thinner than the Classic because the dough gets stretched to fit the larger pan, making it closer to an authentic New York crust.
The sauce is different from other pizzas at the Hut. It's considered sweeter, so personal preference should be your guide. Toppings, everyone's favorite, aren't barriers. The Big New Yorker comes standard with double pepperoni or your choice of one topping, but you can customize it to please any palate.
Is The Big New Yorker a fair sub for New York pizza?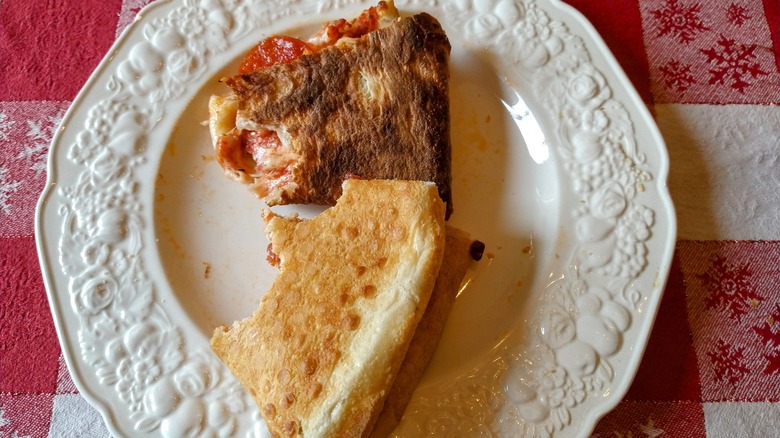 Jennifer Eager/Mashed
This might not be a fair question since only some live near a New York pizza joint. Those in other regions might not realize (or agree with) why New York pizza is the best. If you have to plan a vacation for authentic NY pizza, The Big New Yorker is a credible slice.
To New Yorkers, however, there's no danger of Pizza Hut eliminating neighborhood pizzerias. Whichever side you take on the question of what makes New York pizza so delicious, it always combines flavors distinctly. The char on the crust works with the spices in the sauce, and the cheese balances with the toppings for the perfect savory bite. Each layer works with the rest, and every flavor is recognizable.
The Big New Yorker boasts an astounding number of pepperonis, but unfortunately, the pepperoni overrides the flavor of the cheese. The crust is too sweet and airy to be true NY pizza, and rather than the dark spots New Yorkers know and love, it has a uniform golden color that doesn't ring true. The oregano and Parmesan sprinkled over the top added a nice flavor, but not enough to make up for the bland sauce.
Bottom line: if you can't get New York pizza, The Big New Yorker is okay (but you might want to visit the Big Apple or learn how to make pizza at home). New Yorkers: support your neighborhood pizzeria.