Guy Fieri Dropped His Game-Winning Super Bowl Menu Tips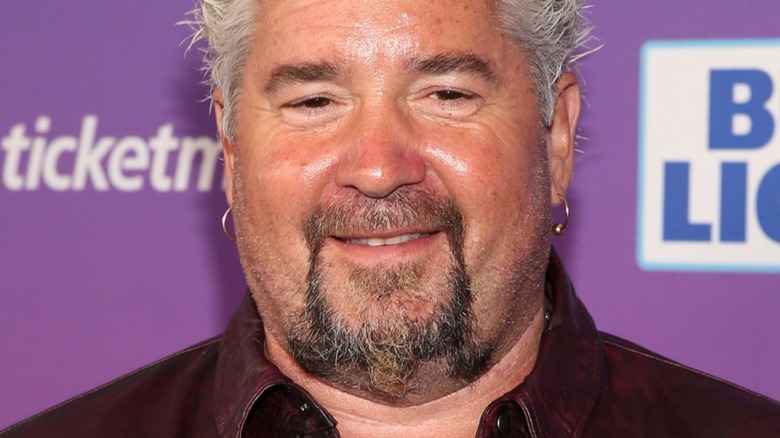 Jesse Grant/Getty
On February 12, 2023, the Philadelphia Eagles will take on the Kansas City Chiefs at the State Farm Arena in Glendale, Arizona (via CBS Sports). But, you can be sure that here at Mashed, we've already planned the menu for our Super Bowl par-tay. Looking forward to both the game and the food, celebrity chef and self-proclaimed football fanatic Guy Fieri has some tips.
A die-hard Raiders fan, Fieri grew up in Northern California in the era of football greats Jack Tatum, Kenny Stabler, and Bo Jackson. "It was nothing but Raider Nation," the longtime Food Network host of "Diners, Drive-Ins and Dives," "Guy's Grocery Games," and "Guy's Big Bite" told NFL Network's Kyle Brandt (via Las Vegas Raiders). The Super Bowl brings up mixed feelings though, Fieri told the Food and Wine. While he is happy to be eating good food while watching the game with friends, he is sad to see his favorite season come to an end.
If you haven't been invited to Fieri's house for the Super Bowl, no worries. You can still put out a meat- and carb-laden spread — woo-hoo, Super Bowl only comes once a year — worthy of the Mayor of Flavortown. In 2021, Fieri entered into a partnership with King's Hawaiian bread, so don't expect him to serve salads, chicken wings, or macaroni and cheese. That's the old Guy, circa 2020. The new Guy wants you to include King's bread in every Super Bowl dish from BBQ chicken sliders and bacon spinach dip to Hawaiian pull-apart sammies.
Save time with Guy's tips
Want to host and watch the game? Before the first Super Bowl commercials air on Fox, and just in time to watch Baby Face, Chris Stapleton, and Sheryl Lee Ralph belt out their pre-game anthems, you'll be finished prepping in the kitchen — if you follow the tips Fieri shared with Food & Wine. While Rihanna performs at halftime, you and your guests will be enjoying a festive spread
Enlist the help of your friends. Ask everyone to bring a dish and give guests a task. You want to host a Super Bowl party, but you also want to enjoy the game. For ease, make a slider party. Fieri is a fan of serving cute and compact sandwiches with a variety of fillings — meatloaf, pulled pork, beer-braised bratwurst — on bitty bread. The choice of stuffing is endless. Introduce an underutilized ingredient at your party, Fieri told The Daily Meal. One of his favorites is Chorizo sausage cured, uncured, sweet, or spicy — even soy.
Fieri introduced a spinoff of his Trash Can Nachos for King's Hawaiian: Nacho Average Torta Sliders. Both are a mix of similar ingredients, but the latter incorporates King's Hawaiian bread instead of nachos. Despite his reputation as a meat-lover, Fieri actually grew up eating vegetables and, in fact, could even have been considered vegetarian, according to Insider. He complained about it as a child, so his mother challenged him to make dinner. When he took her up on it, he discovered a passion for cooking.