The Chick-Fil-A Cauliflower Sandwich Took 4 Years To Make. Here's Why - Exclusive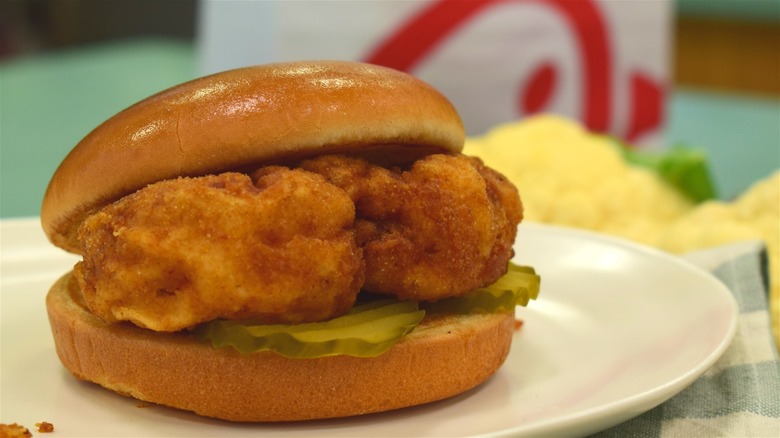 Louis Labovitch/Mashed
By now, you've probably heard all the buzz surrounding Chick-fil-A. The company that wants us to "Eat Mor Chikin" announced that it's debuting a new cauliflower sandwich to potentially add to its menus nationwide. You're not alone if you never thought you'd see the day that everyone's favorite chicken chain featured a vegetable as the star of the show. But Chick-fil-A says this new sandwich is based directly on customer feedback, and it spent more than four years crafting this sandwich from the ground up — literally, down to growing the cauliflower.
Mashed recently visited the Chick-fil-A test kitchen at the company's headquarters in Atlanta, Georgia, to be one of the first to try out the new cauliflower sandwich. While we were there, we had the chance to speak exclusively with the Lead Culinary Developer, Chef Stuart Tracy, as well as the Director of Menu and Packaging, Leslie Neslage, for some insight into exactly how this sandwich came to life and why it took so long to get it right. While we can tell you firsthand that it's simply delicious, developing this new menu item was anything but simple.
Chick-fil-A's cauliflower sandwich was a new concept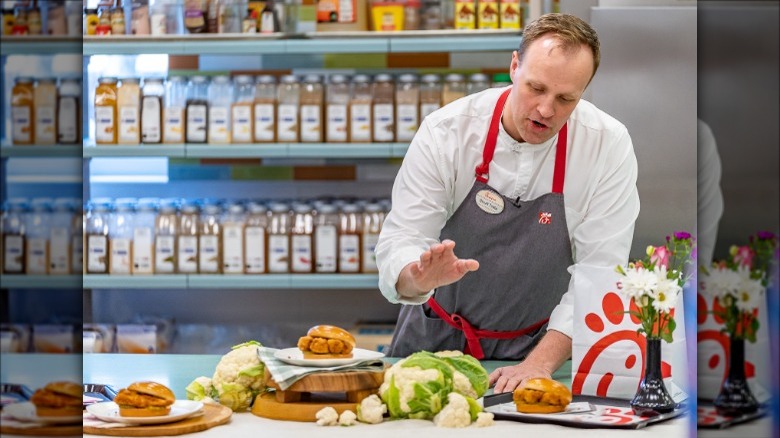 Chick-fil-A
Chick-fil-A has rolled out many new, seasonal, and limited-time menu items in recent years. But most of them didn't take nearly as long to go from idea to reality as the new cauliflower sandwich. The biggest reason for that, according to Chick-fil-A's Director of Menu and Packaging, Leslie Neslage, is because the cauliflower sandwich "is a brand-new category for us, something totally different in our restaurants that we've never seen before ... Some categories — like our desserts and our beverages, where we have a known platform — we know how to execute everything within our restaurants. We can innovate and test very quickly and roll out very quickly. But this is a newer space."
Because Chick-fil-A was creating something that didn't exist yet, Lead Culinary Developer Stuart Tracy said that every step of the process took extra time and effort: "The trick was getting suppliers to understand what we needed from them." Once Chick-fil-A had the raw materials and the perfect recipe to create the cauliflower sandwich, they had to ensure it could actually be executed. Tracy said a big focus was on "ensuring that it arrived to the restaurants in a way that an operator can easily understand and easily train their team on how you make it."
On top of it all, COVID-19 was bound to interrupt the timeline for development. "Throw a global pandemic in there where we intentionally paused some things, and it's taken a little bit longer," Neslage added.
The cauliflower sandwich was almost too good to be true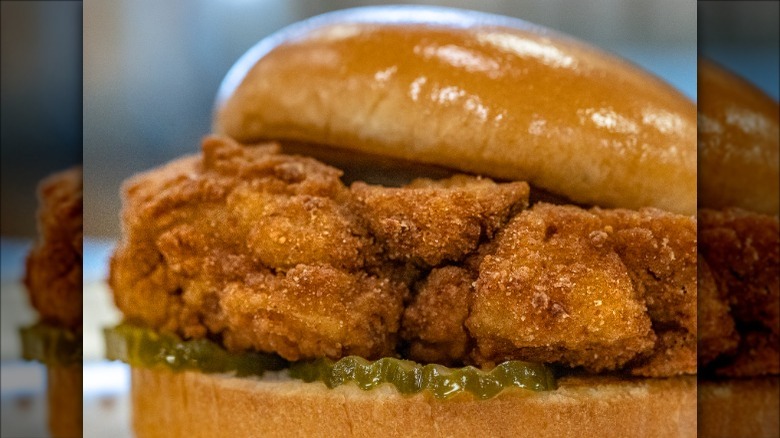 Chick-fil-A
Chick-fil-A has earned a reputation for consistently serving great-tasting, high-quality food, so it's safe to say they aren't going to add anything to the menu that hasn't been thoroughly tweaked and tested until it lives up to the Chick-fil-A flavor and efficiency standards.
As Stuart Tracy put it, while the cauliflower sandwich almost seemed too good to be true in the beginning, it still had to go through every taste and stress test to make sure it wasn't a fluke. "It's weird to say we had success with it early, which is not typical. Usually, you start with a block of ice and you chip away and refine," he explained. But for the cauliflower sandwich, "We landed on — more or less — this recipe probably the fourth or fifth time we made it." 
But their breakthroughs had them looking at everything extra carefully. "If you have success early, you're almost suspicious of it," Stuart said — so months and years were spent testing and retesting every possible way you could make a cauliflower menu item. "It was one of those things we kept revisiting."
Chick-fil-A's new cauliflower sandwich is available starting February 13 at select locations in Colorado, North Carolina, and South Carolina.