Chick-Fil-A Is Debuting A Brand New Plant-Based Sandwich And We Tried It First - Exclusive
Hold on to your waffle fries — something brand new is debuting at Chick-fil-A. The home of the original chicken sandwich just announced that it's rolling out a never-before-seen menu item, and believe it or not, it's got nothing to do with chicken.
Let us be the first to introduce you to the Chick-fil-A cauliflower sandwich. Yep, you read that right. This is the chain's first totally plant-based sandwich, and it's based directly on feedback from loyal customers who were seeking "whole vegetables ... with the taste, look, and feel of Chick-fil-A," says Director of Menu and Packaging Leslie Neslage. For now, the cauliflower sandwich will only be available at locations in Denver, Colorado, Charleston, South Carolina, and North Carolina's Greensboro-Triad area. If the new menu item is a hit (which we fully expect it to be), then the chain will bring it to menus nationwide.
While it's pretty safe to assume that anything you can find on the Chick-fil-A menu is going to be craveworthy, we can tell you firsthand that the cauliflower sandwich is bound to be a crowd-pleaser, even for the most dedicated of chicken fans. Chick-fil-A invited Mashed out to their test kitchen in Atlanta, Georgia, to be one of the first to taste this sandwich before it hits the market. We showed up hungry, lined up our favorite dipping sauces, and took the job very seriously. We're here to give you the inside scoop on the new cauliflower sandwich and our honest review of what's soon to be the newest star of the Chick-fil-A menu.
The cauliflower sandwich is scratch-made from whole veggies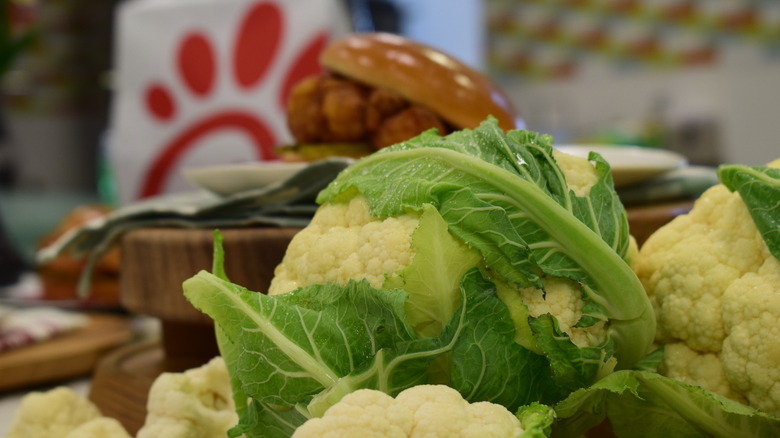 Louis Labovitch/Mashed
Cauliflower is all the rage right now, whether you're vegetarian, super health-conscious, or just trying to add more veggies to your diet. You'll find it in everything from pizza crusts, to rice, to gnocchi – and you're missing out if you've never subbed out your game day chicken wings with Buffalo cauliflower. Now, you can get it in sandwich form, freshly made from Chick-fil-A.
The chain uses slices of whole cauliflower for the sandwich, so you get hearty bites of stalk and florets in every mouthful. The slices are pressure-cooked, soaked in a secret Chick-fil-A marinade, and then finished by hand at each location in the same method as their chicken sandwiches. That means they are dipped in a milk and egg mixture and then heavily coated in CFA's proprietary seasoned breading mixture. 
When we say heavily, we mean it, with cooks using their whole body weight to press the breading into the cauliflower on each side making sure that each piece has a thick layer of flavor before it hits the fryer. The sandwich is finished off in true Chick-fil-A style with two dill pickle chips and a buttery, toasted bun.
It's worth noting that while this sandwich is entirely plant-based, it is made in the same cooking space as Chick-fil-A's chicken sandwiches, so the company is not calling this a totally vegetarian or vegan option.
It will not disappoint fans of Chick-fil-A's chicken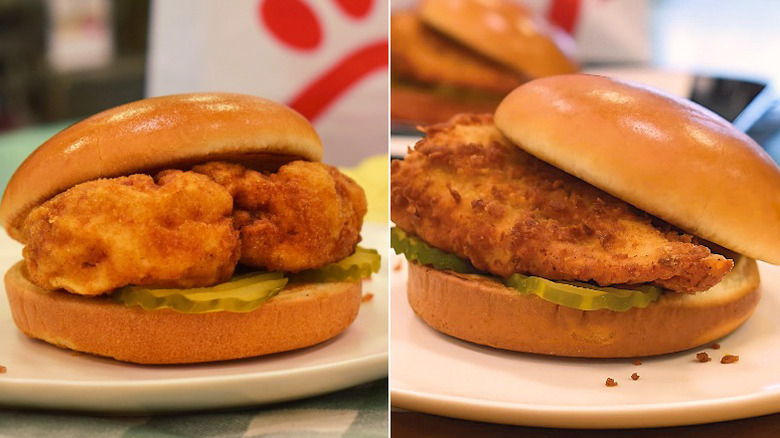 Louis Labovitch/Mashed
Upon first glance, this sandwich looks a lot like Chick-fil-A's original chicken sandwich. In fact, we had to double-take for a closer look to even tell the difference between the two. And while it would make sense that the chicken chain would have designed the plant-based offering this way on purpose to entice customers, the culinary mastermind behind the new creation, chef Stuart Tracy, insists this is entirely by accident -– albeit a happy one.
Regardless, we were hooked from the first bite. The breaded cauliflower is full of spicy, savory flavor that's reminiscent of their signature chicken, but with a subtly sweeter taste that comes naturally from the vegetable. The texture is what really knocks this sandwich out of the park, though. It's the perfect balance of tender but with a little bit of a bite, and it's surprisingly juicy for a vegetable that's been cooked twice.
Furthermore, the cauliflower is perfect at soaking up whatever dipping sauce you decide to jazz up your sandwich with. Chick-fil-A's Zesty Buffalo sauce offered the perfect salty tang to complement the cauliflower's flavor; on the other hand, the Garden Herb Ranch made for the perfect creamy foil to the spicy notes in the breaded veggie. Our only word of caution: To all those who swear by Chick-fil-A Sauce, we found the sweetness of the sauce (and in the barbecue sauce and honey mustard sauces, for that matter) to be a bit too sweet to balance out the flavor of the cauliflower.
The new sandwich has been in development for nearly five years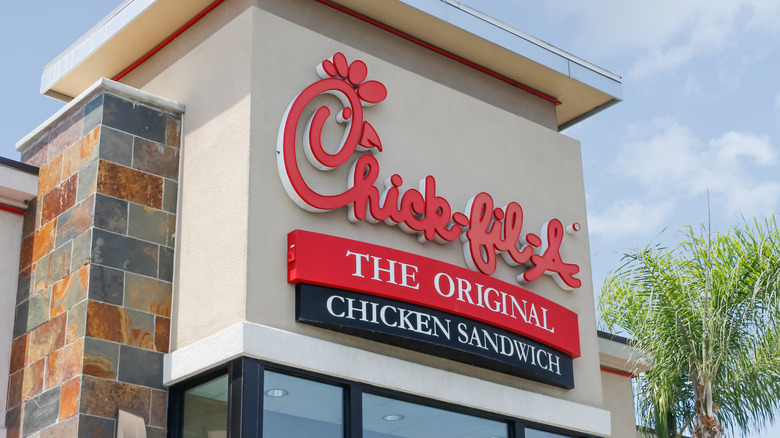 The Image Party/Shutterstock
It's no surprise that Chick-fil-A nailed it with their newest offering. The company has spent nearly five years crafting and developing the cauliflower sandwich, trying hundreds of samples and endlessly toying with the recipe and cooking method until it landed on the perfect product. Once the ultimate cauliflower sandwich had been created, Chick-fil-A had to make sure it was possible to execute it across its thousands of kitchens around the country while still being able to deliver the quality customers expect — and keep that drive-thru line moving, of course.
Now, it's time for customers to get creative. Try the cauliflower sandwich with every sauce your heart desires to find the combo that works for you, but don't stop there. Chef Tracy says there are so many ways to customize the cauliflower sandwich and make your ultimate plant-based Chick-fil-A meal: "You can add cheese, lettuce, and tomato. You can even have a cauliflower filet cut and put on top of your salad." We'd also suggest ordering it in a lettuce wrap for a low-carb option. Any way you get it, you're probably going to love it.
Chick-fil-A's new cauliflower sandwich is available starting February 13 at select locations in Colorado, North Carolina, and South Carolina.