Mixed Mushroom Gravy Recipe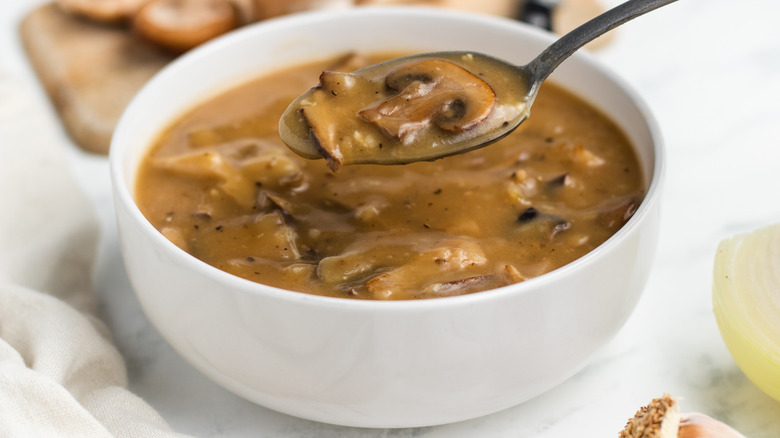 Catherine Brookes/Mashed
Gravy is usually made from the drippings left behind from roasting a large piece of meat, but there might come a time when you want this sauce without having to go through the hassle of making a roast. Whether you want a topping for Salisbury steak or mashed potatoes, this brown mushroom gravy will work.
As recipe developer Catherine Brookes tells us, "This gravy is so hearty, wholesome, and pairs beautifully with so many foods." If you make it with different types of mushrooms — here, she's using cremini, oyster and shiitake ones — she says you will get "a variety of textures and flavors." If it's easier, though, she says you can simply make it with just 1 type of mushrooms, and still wind up with a tasty gravy. As Brookes assures us, the gravy is "super easy to prep, and can be made in advance" so you can make a batch to keep in the freezer, then simply reheat it whenever a poutine craving strikes.
Assemble the ingredients for the mixed mushroom gravy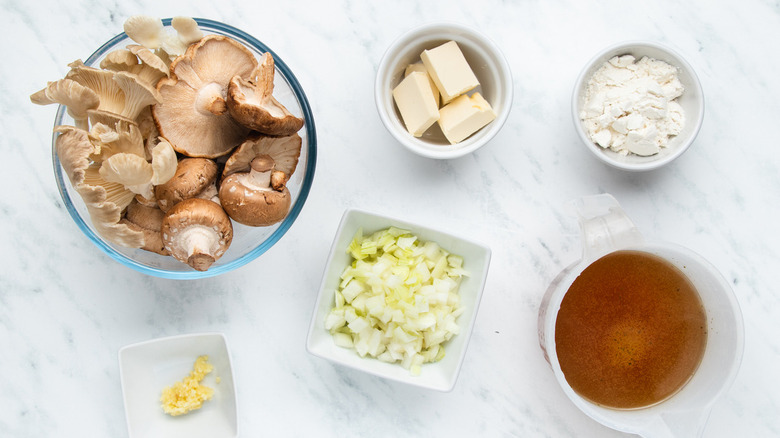 Catherine Brookes/Mashed
You will, of course, need mushrooms to make this mushroom gravy, along with garlic and a yellow onion. You'll also need some butter, beef broth, and flour, with Brookes noting that gluten-free flour can be substituted for the all-purpose kind if necessary. With a little salt and pepper to season it, your gravy should be good to go.
Prepare the produce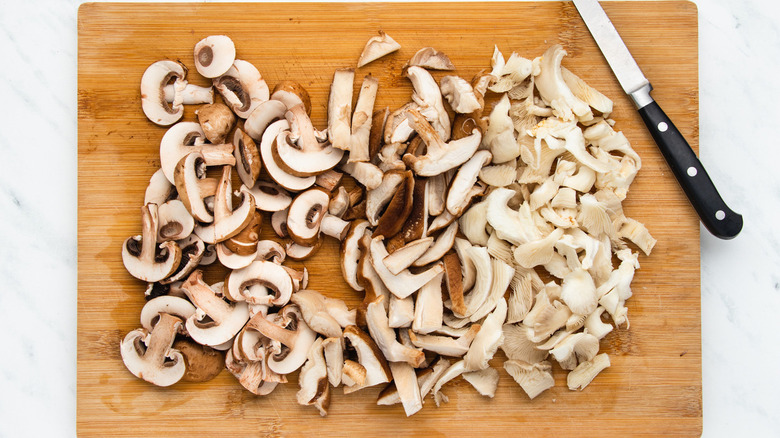 Catherine Brookes/Mashed
Before you can start cooking, peel and chop the onion and garlic, then slice the mushrooms. Prior to chopping the mushrooms, you may want to wipe, brush, or even rinse them off (turns out you can break that no-water and mushrooms rule, after all) in order to make sure they're not dirty.
Sautée the vegetables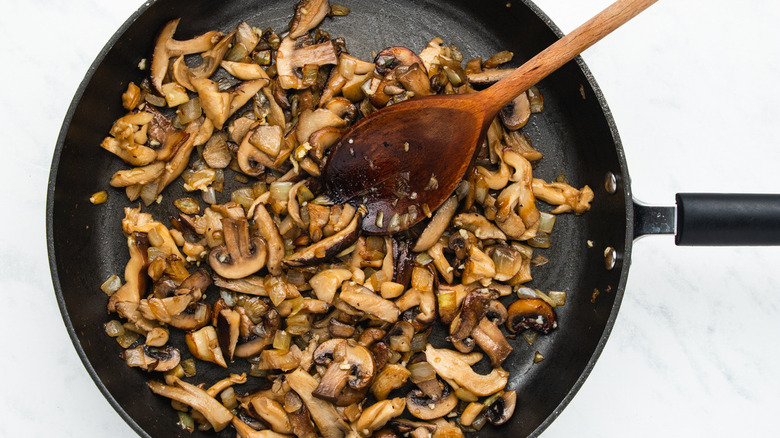 Catherine Brookes/Mashed
Melt the butter over medium-high heat, then sautée the onion and mushrooms until the vegetables are soft and brown, about 8 to 10 minutes. Add the garlic and cook, stirring for about 1 minute. Be careful not to overcook it to the point where it becomes brown and bitter.
Sprinkle the flour over the vegetables in the pan, then and cook the mixture for about 2 minutes. The reason for cooking the flour for a few minutes, Brookes tells us, is "so you don't end up with a floury taste at the end."
Add the broth to make the gravy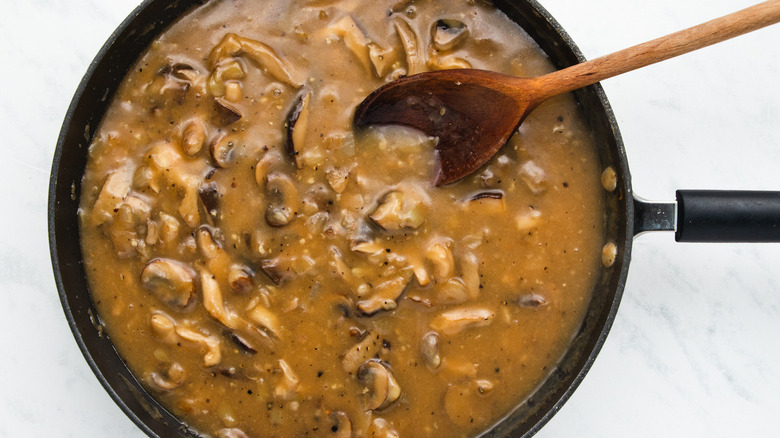 Catherine Brookes/Mashed
Slowly add the broth into the vegetables, stirring all the while to prevent the gravy from getting too lumpy. Once the broth is incorporated, simmer the gravy for 5 minutes, stirring frequently. Once it has thickened to a sufficiently gravy-like consistency, remove it from the heat, and season with salt and pepper to taste. If you won't be eating the gravy right away, refrigerate it or freeze it for later use.
Mixed Mushroom Gravy Recipe
This vegetarian mushroom gravy recipe is delicious on anything, from a roast, to mashed potatoes and vegetables.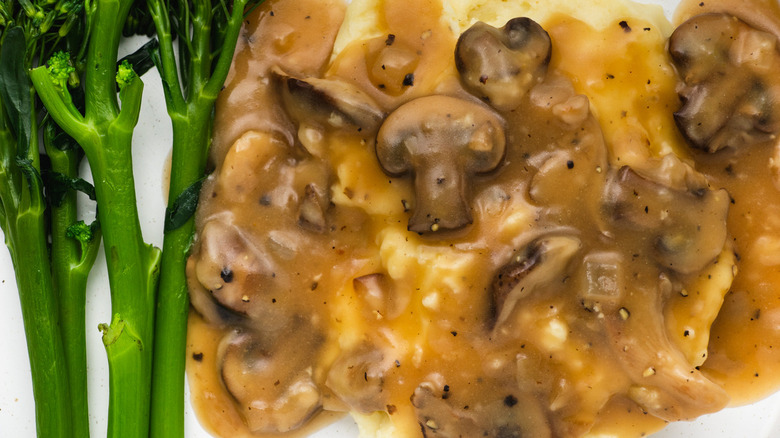 Ingredients
3 tablespoons butter
½ onion, finely chopped
10 ounces mixed mushrooms, diced
2 cloves garlic, minced
4 tablespoons all-purpose flour
3 cups beef broth
Salt and pepper, to taste
Directions
Melt the butter over medium-high heat. Cook the onion and mushrooms for about 8 to 10 minutes, or until browned.
Stir the garlic into the mushroom-onion mixture, and cook for another minute, stirring constantly.
Sprinkle the flour over the vegetables and stir to combine. Cook for about 2 minutes.
Gradually add the broth, stirring constantly to prevent any lumps from forming.
Simmer the gravy for 5 minutes, stirring frequently until it thickens up slightly. Season the gravy with salt and pepper.
Nutrition
| | |
| --- | --- |
| Calories per Serving | 77 |
| Total Fat | 4.6 g |
| Saturated Fat | 2.8 g |
| Trans Fat | 0.2 g |
| Cholesterol | 11.4 mg |
| | |
| --- | --- |
| Total Carbohydrates | 6.5 g |
| Dietary Fiber | 0.7 g |
| Total Sugars | 1.5 g |
| Sodium | 334.1 mg |
| Protein | 3.5 g |