Baskin-Robbins Is Launching Chick'n & Waffles Flavor For A Limited Time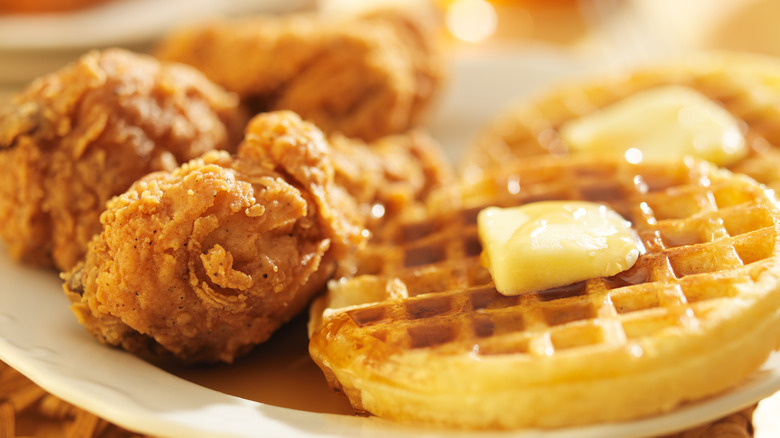 Rez-art/Getty Images
You'd be hard-pressed to name an ice cream chain more iconic than Baskin-Robbins. While the chain of course serves up classic flavors like chocolate, vanilla, and sherbet, Baskin-Robbins' more popular flavors include sweetly creative fare such as Snickerdoodle Chai, Oreo N' Cold Brew, and Strawberry Cheesecake.
That being said, like every other ice cream brand out there, Baskin-Robbins also serves up its fair share of, well, stranger flavors. For instance, one of its scary hot ice creams incorporated white chocolate, dark chocolate, and ghost peppers. Another flavor, available only in Korea, is Cheese Forest, which is a mix of cheese and green tea ice creams, cheesecake chunks, and pretzels.
Bringing it back to the U.S., Baskin-Robbins is launching yet another ice cream flavor, and although it's a popular flavor in and of itself, when it comes to ice cream, we aren't so sure. Yes, we're talking about chicken and waffles. In the form of ice cream.
Everyone's screaming over this new Baskin-Robbins ice cream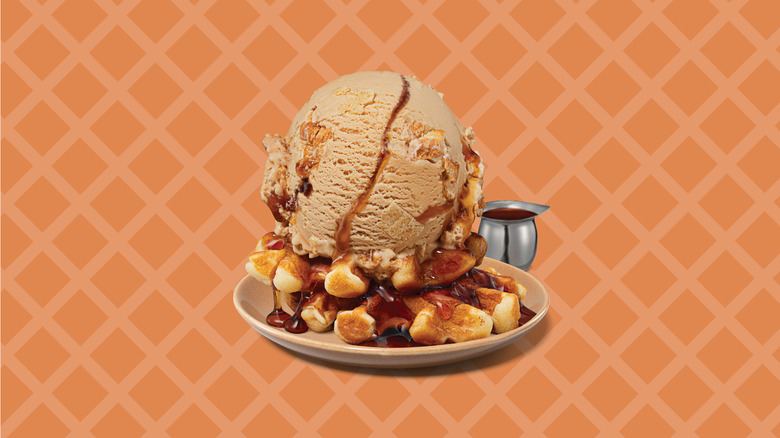 Baskin-Robbins
If you've ever dreamed of enjoying chicken and waffles in the form of ice cream, you're in luck. On March 1, Baskin-Robbins will be launching its Chick'n & Waffles ice cream, a sweet and savory flavor that's well-suited for breakfast, lunch, and dinner alike.
According to a press release, this ice cream does not in fact include chicken, so vegetarians needn't worry. Instead, each bite offers waffle-flavored ice cream, chunks of waffle and faux-chicken, and bourbon maple syrup. Intriguing, right? Granted, chicken and waffles is already one of the least healthy things you can eat, even before you add ice cream to the mix, but it is what it is.
Baskin-Robbins fans who happen to be near New York City on March 7 can stop by the chain's Bottomless Brunch to sample the limited-time Chick'n & Waffles ice cream for free. While it doesn't sound like the brunch will include regular chicken and waffles, this classic dish will be there in spirit.