Why Chicken And Waffles Is One Of The Least Healthy Things You Can Eat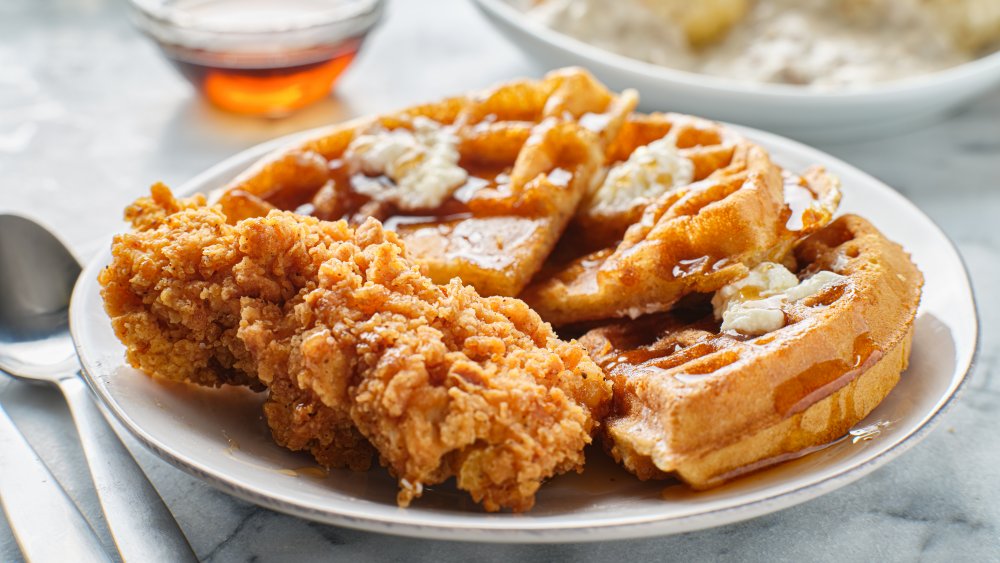 Shutterstock
Chicken and waffles is one of the best savory-and-sweet comfort food combos around. While the origins of the dish are a bit muddled, most agree that chicken and waffles began at Harlem's Wells Supper Club in the 1930s. Now, every state in the US offers its own take on chicken and waffles (via Travel Noire). But is this really a dish we should be eating for brunch – or for any meal?
Some food combinations are terrible for your health simply because of the calories, fat, and carbs contained within one serving. A plate of chicken and waffles from IHOP contains 1,050 calories, 101 grams of carbohydrates, 51 grams of fat (21 g. saturated fat), 45 grams of protein, and 17 grams of sugar (via Eat This Much). Eating that meal on a regular basis would be bad enough. If you normally pour syrup over chicken and waffles, the added sugar could raise your chances of suffering high blood pressure, heart disease, a stroke, and obesity, according to The Iowa Clinic. 
Outside of the protein, there's minimal nutritional value. In fact, a study was conducted to track how fried foods affected health over time, and fried chicken and fish were the worst culprits. Those who reported eating fried chicken or fish daily were eight percent more likely to die early, according to Time. So, is there a way to enjoy chicken and waffles minus the negative health effects?
How to enjoy a healthier version of chicken and waffles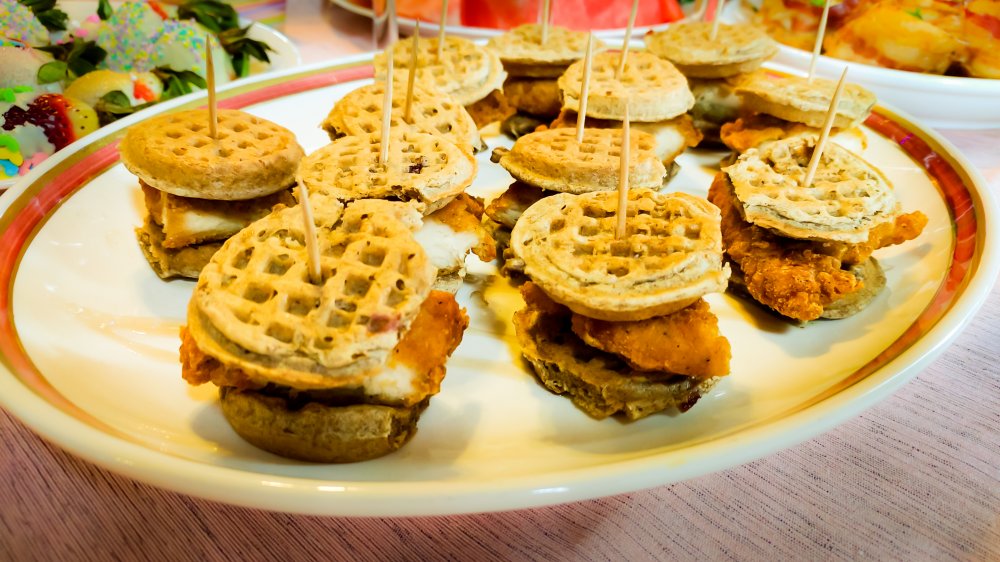 Shutterstock
Sometimes, nothing compares to the real thing. So if you're in a restaurant that serves traditional chicken and waffles with all the bells and whistles, you might not want to deny yourself entirely. If you want to feel mildly healthier about it, split the dish with your dining companion, ask the server to package half to go, get the syrup on the side, and/or swap out the fried chicken for grilled chicken.
Making chicken and waffles at home might be your healthiest option. You can grill or air-fry skinless chicken, put it on a whole wheat waffle, and lightly drizzle the syrup of your choice. On a special diet? According to Fit to Serve, you can make Keto chicken and "chaffles," using Keto-friendly swaps. There's even a vegan alternative: coat tofu with oats and combine them with oat waffles (via Emilie Eats). No matter how you choose to enjoy chicken and waffles, enjoy it sparingly if you're watching your waistline or your blood pressure.