Underrated Fast Food Sauces You'll Wish You Tried Sooner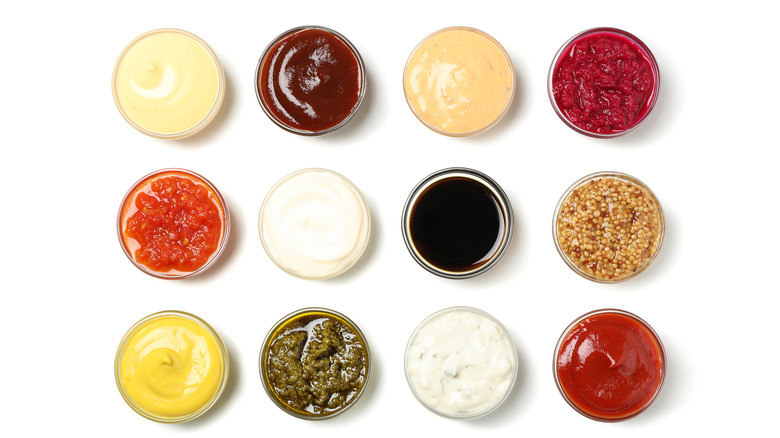 AtlasStudio/Shutterstock
Do you consider yourself a boss of all sauce? A condiment connoisseur who goes out of their way to get their hands on unique dipping accompaniments that crank your meal into overdrive? Well, join the club. A great sauce can really elevate whatever food you're eating, and anyone who frequently ventures down the aioli avenue will certainly agree. Many people are familiar with your standard sauces: ketchup, mustard, and mayonnaise. But if you ever find yourself perusing the condiment aisle of a supermarket, you know there's a whole realm of sauces just eagerly waiting to jump onto your next meal and take it to tasty town.
If you do love sending your food into a sauce jacuzzi before each bite, then fast food restaurants always have you covered. Each one offers a decent variety of flavors that pair well with most things on the menu. While some sauces are widely praised, there are also definitely some underrated sauces available that deserve more respect than they're given. So, if you find yourself standing in line at one of the fast food joints on this list, make sure you check out some of these sauces so you can proudly declare that you, in fact, are the boss of sauce.
McDonald's Spicy Buffalo Sauce
Chicken nuggets are hands down one of the most dunkable foods on the planet. They're bite-sized, crispy on the outside, and moist on the inside, and they pair well with just about any condiment you send them swimming in. You're likely familiar with most of the flavors McDonald's offers, such as barbecue sauce, honey mustard, and sweet and sour sauce. Those three flavors pair awesomely with not just the nuggets, but even the sandwiches too. However, if you're looking to add a little bit of heat to every bite, you should check out the Spicy Buffalo Sauce.
If you're someone who likes to wake your palate up a bit, then adding something with even a little bit of heat is a great move. That's why you'd be making a huge mistake not ordering this sauce with your meal. The three ingredients in this sauce that join forces to hit your palate where it counts are cayenne pepper, vinegar, and butter flavoring. The cayenne pepper lends some heat that isn't too intense but still satisfies anyone who craves a bit of a burn and the vinegar has a nice bite that helps offset the richness of the butter flavor. Treat your taste buds right the next time you're at the golden arches and snag some of this sauce.
Taco Bell's Diablo Sauce
Anytime the word "diablo" creeps its way into the name of anything edible, you know exactly the kind of experience your mouth is about to have. The word implies that after you ingest the food, your mouth immediately erupts into flames. What ensues is a conflagration of flavors that can only be extinguished with a pint of ice cream and anything else cold you have handy. Fans of Taco Bell who also love when Lucifer himself drops in to say hello during a meal should grab themselves a handful of Taco Bell's Diablo Sauce to slather their meal in.
If you've never had Diablo Sauce before, or if you're someone who's hesitant to try spicy foods because of the negative after-effects, you can rest easy knowing this sauce isn't going to ruin your day. As far as Scoville Heat Units (SHU) are concerned, Diablo Sauce rates at about 350,000. While that sounds like an absolute nightmare of an experience, the truth is that the chili peppers in the sauce create a flavor that definitely strikes the palate with heat, but not overwhelmingly so. However, it's still a tasty sauce with a zing that brings great flavor to whatever Taco Bell item you're enjoying.
Arby's Horsey Sauce
People who live their lives sampling one tasty condiment after the next know there's never time to horse around with subpar sauces. You must get straight to the gold or else suffer the consequence of a meal that never reaches that ultimate satisfaction level you strive for. That's why when you're planning on making an Arby's run to settle that growling beast that lurks in the darkest corners of your belly, don't pick other sauces when you can head straight for the Horsey Sauce.
Arby's is known for its roast beef sandwiches, an item that few other fast food spots ever include on their menus. If you're going to have a unique protein like that on the menu, then you better have a unique sauce to pair with it. The pizzazz in the sauce comes directly from the hefty amount of horseradish in it. Horseradish lends a huge zesty tang that does a great job of cutting through the meat's richness, and Arby's roast beef sandwiches aren't the same without it. And if you love the sauce so much you want to bring a bucket of it home, you can actually make it at home with ease using mayonnaise, creamed horseradish, sugar, and a pinch of salt.
Jollibee's gravy
One of the best parts of a Thanksgiving dinner is when you drench everything on your plate — from the turkey to the mashed potatoes — with a borderline obscene amount of rich gravy. The gravy marries everything on your plate together in a salty, umami-packed blanket that has your taste buds singing praises and your salivary glands set to full throttle. But, sadly, gravy is one of those amazing sauces that rarely come into play outside of Thanksgiving dinner. However, the Filipino fast food chain Jollibee changes all that. You can snag a side of hot gravy to pour on anything you order, and it is well worth your time.
The gravy at Jollibee is served as a dipping sauce for the fried chicken (called Chickenjoy). The silky texture plays perfectly against the crispness of the chicken, soaking into the golden batter to create a moist-but-still-slightly-crunchy bite. In fact, the gravy is so delicious that a food blogger who goes by the name Pinoy Food Boy actually went viral for figuring out how to make the stuff at home. So long as you have access to unsalted butter, flour, chicken stock, whole milk, soy sauce, salt, and pepper, you can bask in the glory of Jollibee every day without ever having to step foot in the place.
Raising Cane's Sauce
You know a sauce is worth trying when a ton of websites have copycat recipes so you don't ever have to schlep out to the actual establishment to enjoy the flavors. Sometimes it can take time to perfect a particular sauce, but any enthusiast will tell you it's worth the blood, sweat, and tears and finally emerge with a dipping doppelganger. One fast food spot that's known for chicken tenders — and the sauce that comes with them — is Raising Cane's. Raising Cane's knows that a dry tender is an unhappy one, and that's why it concocted Raising Cane's Sauce.
This sauce has a lot going on in it, which is the reason why so many people find it nearly impossible to resist. The Recipe Critic's recreation of the sauce uses a whole slew of great ingredients like mayonnaise, ketchup, garlic powder, Worcestershire sauce, and liquid smoke to create a dipping nirvana that hits your mouth with a barrage of smoky, tangy, and sweet flavors with a wonderfully creamy texture. A food reporter from Insider visited Raising Cane's for the first time and wrote about the experience. She raved about the sauce, writing, "The Cane's sauce had a slight kick to it, was super creamy, and surprisingly tangy. It paired perfectly with the chicken and was unlike any other sauce I've ever tried."
Culver's Wisconsin Cheddar Cheese Sauce
There's only one thing better than a pile of freshly shredded cheese, and that's a cup of that same cheese melted to a rich, silky liquid. Any cheese enthusiast knows that hot gooey queso just has that special leg up on the firm stuff. Anyone looking score themselves a dippable cheese would find themselves beaming with joy at Culver's. Culver's offers customers a Wisconsin Cheddar Cheese Sauce for those of us that have a craving for gooey queso at all hours of the day.
The blend of Wisconsin sharp cheddar and fresh dairy make for the perfect accompaniment for several of the chain's menu items. Pour some of the warm cheese onto an order of mashed potatoes and gravy (you can opt out of the gravy if you don't want to mix) for some dangerously cheesy potatoes. An order of the pretzel bites just wouldn't be the same without some melted cheese on hand. Or, drizzle a hefty amount of that cheddary nectar over a butter burger or pot roast sandwich for an additional layer of tangy richness that you never even realized you've been missing for so long.
KFC Sauce
Fans of KFC likely got their hands on the restaurant's classic Finger Lickin' Good sauce and slathered it all over a fresh batch of crispy tenders. But, as in life, all good things must come to an end, and that was what happened at the chain. KFC discontinued its iconic sauce that everyone loved and replaced it with a new one, KFC Sauce. Sure, the name certainly doesn't have the same ring to it, but this new creation is sweet, tangy, and smoky. These three delicious horsemen of all things sauce are ready to gallop their way onto your palate and leave your taste buds begging for more.
Andrea Zahumensky, the chief marketing officer at KFC, spoke about the process, saying, "When we set out to create a new signature dipping sauce, we went right to the experts — our customers — to find out what made a sauce best-in-class for dipping. We went through 50 iterations, and their response to this recipe was overwhelming!" You know what they say: When it comes to perfecting the greatest tasting sauce possible, occasionally the fiftieth time is the charm.
Wingstop Bleu Cheese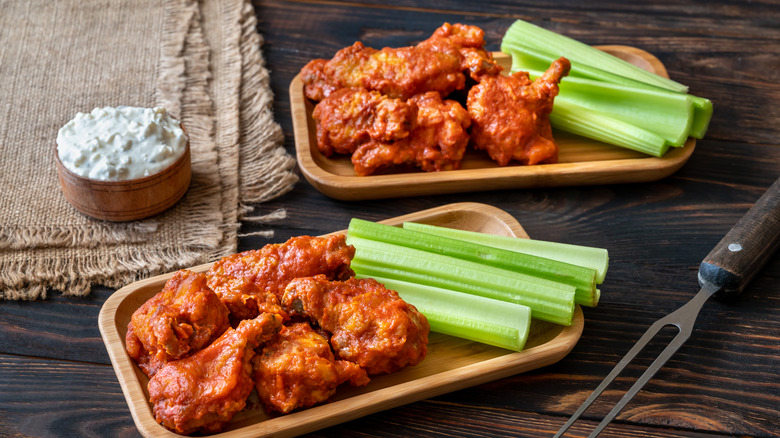 Alexander Prokopenko/Shutterstock
Anyone who loves to celebrate game day with a big ol' tub of buffalo wings knows that a glistening array of fried chicken just wouldn't be the same without a hefty amount of creamy bleu cheese for dunking. Chicken wings on their own dance along your palate with ease, but when you add the tangy punch of bleu cheese to cut through the richness of the wing, things really become magnificent. Wingstop is a super popular spot to grab buffalo wings, and it's a huge disappointment to arrive home just to realize there's no bleu cheese to accompany your chicken.
The bleu cheese that Wingstop serves is so delicious that there are several copycat recipes all over the Internet so you don't have to plan a trip to your nearest location to get your hands on some. Concocting the dipping sauce is quite simple so long as you have bleu cheese, mayonnaise, sour cream, buttermilk, lemon juice, salt, and pepper. Within minutes your palate is whisked away to Wingstop and you can now sit back and watch your favorite team with an extra-wide smile slapped on your face. Just make sure you make enough because finding yourself with a few leftover wings undressed is a huge foul.
Popeyes Louisiana Hot Sauce
If you're frantically searching for a new great hot sauce to slather your favorite foods in, the state of Louisiana is a great place to start, and end, the search. Louisiana is known for its delicious Southern comfort food, and many offthose items are more than deserving of a hearty drizzle of the hot stuff. Popeyes is a fast food chain known for its Louisiana cooking, serving fried chicken, biscuits, and mashed potatoes and gravy, to name just a few. And, obviously, Popeyes just couldn't serve all that food without an appropriate hot sauce to pair with it, which is why customers can grab themselves the appropriately named Louisiana Hot Sauce to pour all over their orders. 
The real wake-up to your palate when it comes to this sauce is the addition of vinegar. The sauce is comprised of three main ingredients: aged hot peppers, vinegar, and salt. Obviously, the hot peppers sound the fire alarm on your tongue, but the vinegar gives everything a zesty kick that reinforces the pepper flavor. The vinegar also is the perfect ingredient to cut through much of the richness that goes hand in hand with the heavy, fried stuff Popeyes sells. A mouthful of oily batter on its own can become overwhelming quickly, but when that vinegar taste arrives it mellows everything out for one delicious mouthful of Southern goodness. 
Little Caesars Crazy Sauce
When you hear the word "pizza" spoken two times in a row, it's tough not to immediately think of the Little Caesars mascot. That toga-sporting fella reminds everyone that Little Caesars is still cranking out lots of pizza at an affordable price, so why not venture to one the next time you're in need of a hot pie? Little Caesars isn't only a pizza joint, either. You can also order a variety of wings and breadsticks, and those orders come with a choice of dipping sauce. When it comes to wings, most people navigate their appetites towards something creamy, and if you're snagging yourself an order of breadsticks, marinara sauce is a pretty common option. But if you're looking to make the most out of your Little Caesars order, you have to grab some of the Crazy Sauce.
Crazy Sauce is just a tomato-based dip that's jam-packed with spices and herbs to set it far apart from your standard marinara. The spice mixture in the sauce is comprised of sugar, salt, onion, and garlic. It's not a complicated recipe by any means, but it really kicks the tomato flavor several notches up. The garlic and onion are very pronounced, and long after you take a bite you can still taste them lingering on your palate (in the best way possible). Incorporating the sugar makes for a sweet-and-salty combo that's almost irresistible. 
Chick-fil-A Polynesian Sauce
When you pair them correctly, contrasting flavors can do wonders for a meal. Take sweet and salty, for example. Have you ever dunked a salted pretzel into a tub of ice cream? It's amazing. The salt bits on the pretzel and the sugary flavor the ice cream offset each other perfectly and keep you going back for more. Chick-fil-A, the chicken-centric fast food chain, offers customers a whole bunch of dipping options to pour over their sandwiches and plunge the tenders into. You have your basic stuff like honey mustard, ranch, and barbecue, but the chain also offers Polynesian Sauce, and this is where your meal takes on an especially unique flavor. The sauce has a deep purple color and delivers sweet flavors with quite a tangy element. 
The Polynesian Sauce is made with sugar, corn syrup, garlic powder, ground mustard, beet juice, and vinegar. The beet juice is what gives the sauce its vibrant color. The sugar and corn syrup pack a super sweet punch, but when the ground mustard, garlic powder, and vinegar are added the sweetness is prevented from becoming too overwhelming. There are copycat recipes for this sauce all over the Internet, and some have their own spin, but the end result is always a delicious sweet and sour sensation that really launches a rich filet of fried chicken off the charts.  
Zaxby's Zax Sauce
If you're the kind of person who looks at a golden fried chicken tender and your eyes widen as your stomach starts screaming chants of joy, then you need to get yourself to Zaxby's. Zaxby's offers customers a whole bunch of chicken fingers, salads, and sides, and one thing it certainly knows how to do is create a slew of awesome condiments to pair with your meal. The sauce selection has its own spot on the menu, so you know Zaxby's takes dunking and drizzling seriously. With twelve different options available it can be tough to decide on one. But, if you do find yourself in this predicament, you absolutely cannot go wrong with the signature Zax Sauce. 
Zax Sauce is basically what many would refer to as fry" sauce, meaning it's comprised mostly of ketchup and mayonnaise. Both of these condiments on their own are delicious dunking sauces, so combining them only enhances the enjoyment. Although the actual recipe is a secret, the copycat recipe adds garlic powder, black pepper, white vinegar, and a splash of Worcestershire. The creamy sweetness of the mayo and ketchup is terrifically balanced with vinegar. But, the Worcestershire sauce, although not added in abundance, dances throughout the rest of the ingredients to marry them all together in an umami-packed punch of sweet and sour flavor with a little bit of spice. Zax Sauce is the condiment your chicken never knew it needed.