Jet Tila Talks Asian Night Market And Pickleball At South Beach Wine And Food Festival - Exclusive Interview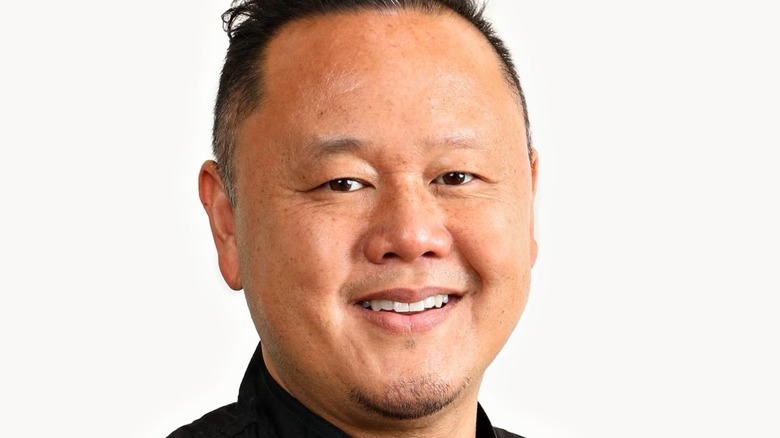 Jet Tila
Jet Tila leads a busy life. Besides being a popular guest judge on various Food Network programs, Tila released a cookbook last year, became a partner in the popular fast casual dining restaurant Pei Wei — where he is revamping the menu — and is now competing for the fourth time in Food Network's "Tournament of Champions." Somehow, between all of that, Tila still has time for events. While at the South Beach Wine and Food Festival, Tila hosted the Asian Night Market along with Aarti Sequeira. Additionally, he competed with Alex Guarnaschelli, who was honored at the event, in a Food Network pickleball tournament.
Mashed recently caught up with Tila at the South Beach Wine and Food Festival for an exclusive interview. We got the chance to ask him about his recent projects and get the inside scoop on some upcoming projects and tips for making some of his famous dishes.
Food and pickleball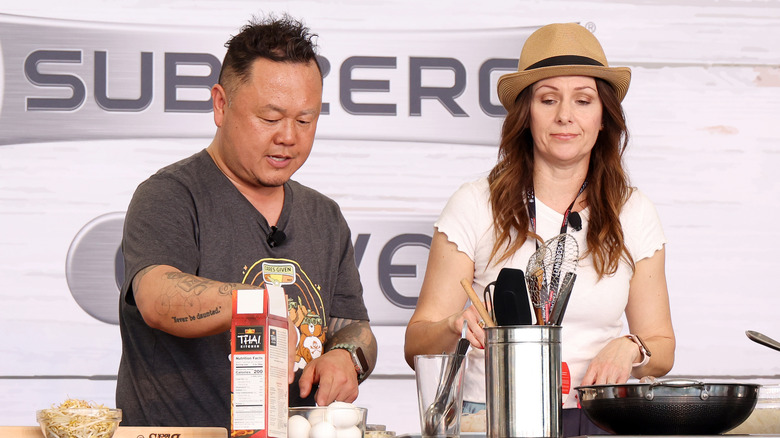 Alexander Tamargo/Getty Images
What event are you most looking forward to at the South Beach Food and Wine Festival?
I've got to say Asian Night Market. Because it's the second year, it means we've proven the concept. [Festival founder] Lee [Schrager] had this vision of Asian food being so hot. I was like, "Let's do it, man. Let's get the best Asian concepts, and not even Asian chefs, but people who want to cook Asian food." But I got to say pickleball. After Asian Night Market, we're going to have a pickleball tournament full of Food Network people. How crazy cool is that?
That is amazing.
I'm paired up with — actually, we paired up intentionally — Alex Guarnaschelli and I are going to go out and try to destroy everyone else.
I would bet on you.
Yeah. We've got a lot of chutzpah.
How do you handle the chaos of the festival?
Being a true introvert, but being grateful for all that fan interaction, I look at all our guests as friends, and I don't take for granted all the attention and energy people put into watching. I got in a very grateful mindset. Everyone I meet is someone who takes the time to watch us [and spent] a lot of money to be there. That's how I handle it. My mission for South Beach is to get to know as many fans as possible, and it becomes easy when I know they care and I care as well.
Changes in the kitchen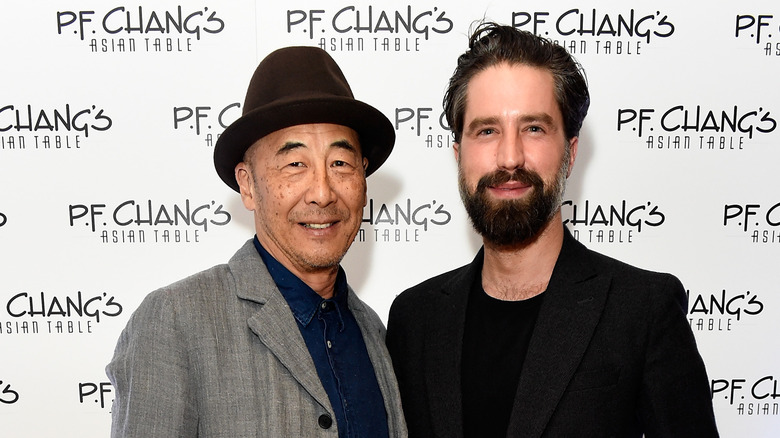 Dave M. Benett/Getty Images
You've taken over the kitchen and the menu at Pei Wei. What has your main goal been for the changes you're making to the menu?
I don't think a lot of people know: Before television, I was actually a corporate chef running lots of restaurants. It's really a passion project. I'm super grateful for television, but being a short, round Asian guy, I never put my money on it. I always put a lot of my energy in building businesses, and I love doing that.
Pei Wei is a legacy brand. I knew the original Philip Chiang from P.F. Chang's, who was Pei Wei. It was bought and sold a few times. Our regime, our ownership, buys it with honor, and now we're going to modernize it. It's built up so much equity over the years, and I'm going to create more pan-Asian flavors. You're going to see more Thai food, more Korean food, some Vietnamese food, and it's such an exciting opportunity for us. Look for it to be hip, cool, delicious, [and] nutritious, but you can basically get all your favorite Asian dishes in one place. That is the mission of Pei Wei.
Jet Tila's famous drunken noodles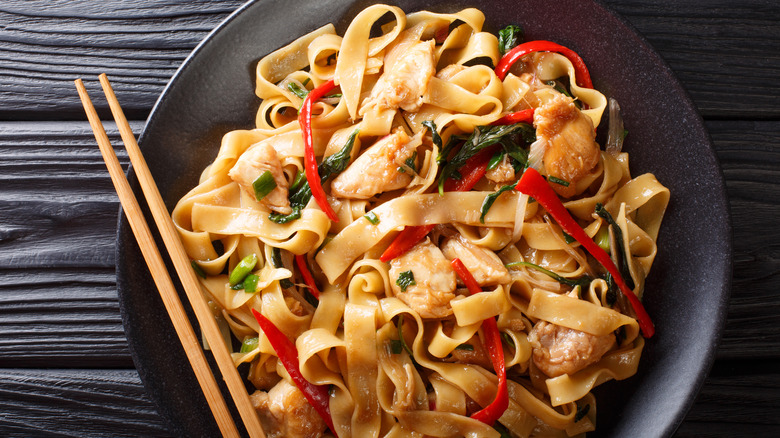 Sergii Koval/Shutterstock
I saw one of the new menu items is drunken noodles, which I'm super excited about.
I built my career on drunken noodles, and when we got Pei Wei, that's the first dish we wanted to put on there ... Everyone that watches us on Food Network knows about the legacy of my family bringing Thai food, and we wanted that to be front and center.
Giada De Laurentiis has stated that she's a huge fan and has said your drunken noodles are one of the best she's ever had. In your world, what makes the ideal drunken noodle? What is the secret?
Drunken noodle is a beautiful mashup of Thai and Chinese food. You get the comfort from the rice noodles — it's chewy and warm — but you get that spicy basil, hot, sour, salty, sweet hit of Thai food. The perfect drunken noodle must be savory, must be sweet, must be spicy, and have a beautiful basil flavor over the top. It's not an easy dish to make, and it's one of the hardest things to scale over 140 stores, but we figured it out.
What kinds of changes did you have to make from your famous noodles to the ones that you're going to have at Pei Wei?
Looking for the right noodles to scale across the country was probably the toughest part, but ... we found a great product, and we forced our distributors to carry it. We're a heck of a team based out of Texas, and I've got some phenomenal chefs behind me. I've got a team of chefs — they're called the Pinon Brothers. There's two Pinon Brothers. They were actually with Philip Chiang with the original Pei Weis decades ago. When they heard my team took over, they wanted to come back. It's my recipes, my ideation ... I cook with the brothers, and as a team, we make sure that all the restaurants are consistent across the country.
Cooking on screen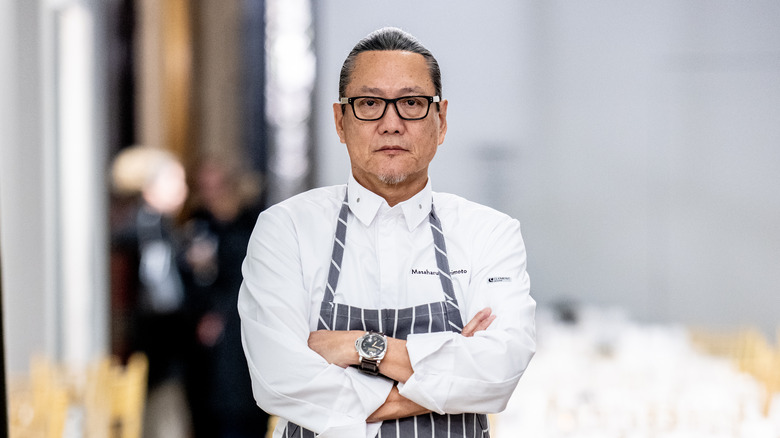 Roy Rochlin/Getty Images
You've been a part of several cooking competition shows on both ends of the cooking line. Do you have a favorite experience or one that brings back a particularly good memory?
"Tournament of Champions" is the toughest cooking competition that exists or that has existed in cooking. But a good memory I have is I was Executive Chef of Encore in Vegas a decade ago, and when they asked me to battle Iron Chef Morimoto on "Iron Chef America," that'll never leave me. Being in Kitchen Stadium, standing across from my competitor — nemesis, but idol — and fighting through that and almost winning ... He beat me by two points. It was like 50 to 48 or something, so close, and that'll never leave me. That springboarded my career at Food Network.
For "Tournament of Champions," you're back for Season 4. What can we look forward to for this season?
This is the toughest season so far. If you look at the competitors, we've got two Iron Chefs, we've got MasterChef Legends. [I'm] not being sensational — I don't think there's ever been a cast this difficult to cook through. One thing to guarantee is every week, there's going to be fantastic cooks, and there's no way to predict what's going to happen because there's so much talent. Beyond that, we've got the Randomizer. Beyond that, we've got a new Wild Card section, so there's no scarier show than walking into "Tournament of Champions."
Is there one chef, in particular, you're hoping you get matched up with?
I have two quick stories. There's five Asian chefs. I love the representation, and also, one of us is going to prove who's the best between us all. The second answer is my nemesis, who's kept me from going beyond the final four the last few years, is not there. Brooke Williamson is not there, and she's been my roadblock. Anything can happen this year.
Is this the year you take home the championship?
Wouldn't that be amazing? We're going to guarantee you eight weeks of bonkers, amazing cooking.
Inspiration from many sources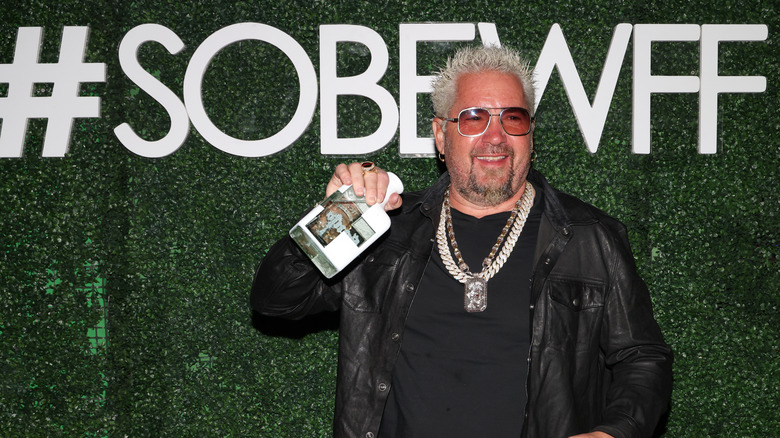 Alexander Tamargo/Getty Images
Who's one of your significant food influences?
In the business, I don't think a lot of people know that Bobby [Flay], Alton [Brown], and Guy [Fieri] — outside of television — have taken me under their wing over the years, and they actually offer personal one-on-one mentorship. I'll actually spend time with them, and over the last decade, one-on-one. They talk about the board and what's going on — so [they're] not just culinary mentors but also career and business mentors. Those three men have taken a lot of time to give me some one-on-one mentoring.
How did growing up in the grocery industry impact your decision to become a chef, either positively or negatively?
We had grocery stores, but we also had restaurants since before I was born. Growing up in restaurants and markets gave me an incredibly early start in food. I believe in the 10,000-hour rule — to become an expert in something, one must dedicate at least 10,000 hours, which is roughly 8 to 10 years of their life at 8 to 10 hours a day. I got my 10,000 hours out by the time I was 12 years old for my first career. I did 10,000 hours in restaurants, I did 10,000 hours in grocery stores, but cumulatively, I could not have had a better immersion in all Southeast Asian food.
That's what gave me my edge to where I am today. I'm not just a chef, but I'm also an ingredient person. I also understand ... I also was on the farms. I also have been in the factories of every ingredient. I've also worked on fishing boats and I've also harvested meat. I have a 360[-degree-view] understanding of where a lot of food comes from, and I appreciate it.
Rising new chefs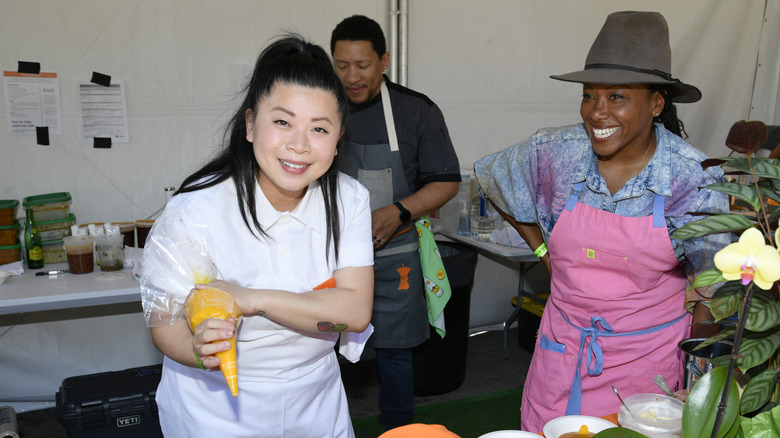 Michael Tullberg/Getty Images
What chefs are exciting you in the food world right now?
Oh, man. This young crop of chefs, specifically ... I'll get in trouble if I don't mention people, but these chefs are exciting to me. Shota Nakajima is really exciting. Again, I'm only speaking in the context of what I do, watching the next generation come up. Viet Pham from Utah, who's got a Vietnamese and a fine dining French background; Mei Lin — same thing. She's an Asian with a lot of French background. Watching these three — I call them kids, but ... That's exciting. I look to them to be the evolution of what happens to Asian food in the next 10, 20 years.
What piece of advice do you have for someone who's hoping to make it in the food world?
YouTube is not going to make you a culinarian, number one. You cannot replace hard work [and] education. If you're doing it for fame, you're going to have a really hard road. If you're doing it because it drives you — and there's not just cooking, but there's entrepreneurship and there's front of house and there's journalism — then you're never working a day in your life. They're long days, and they're hard, and you're going to have your ups and downs, but you'll be very fulfilled.
Going big in the kitchen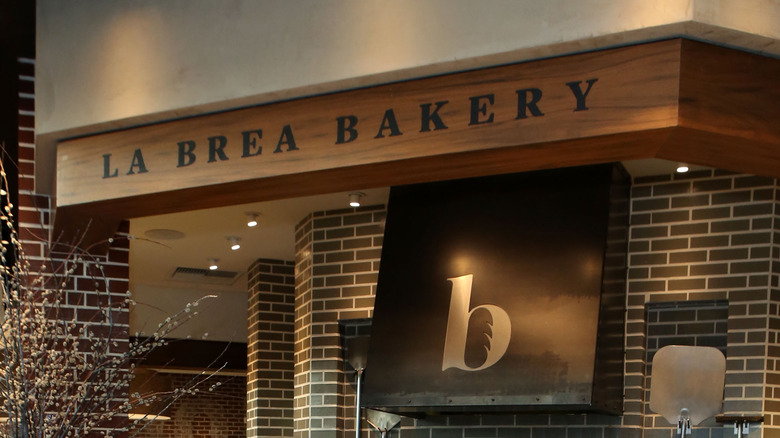 Ari Perilstein/Getty Images
As of right now, you have several world records in various food challenges. Do you have any upcoming world record attempts?
I've got five or six world records now. There's a rumor — it's nothing serious like my other records. My other records were like California roll and stir-fry and stuff like that. We're cooking up a world record that has to do with ice cream. That's a good tease — maybe for the next year ...
You've had a lot of success in the kitchen. Can you tell us about a time things didn't go according to plan?
Yes, of course ... I was a culinary student. I was coming out of culinary school, and one of my mentors, Russ Parsons, who was the editor of the LA Times, wrote me a letter of recommendation to go work for Mark Peel and Nancy Silverton [at] what used to be La Brea Bakery here in LA. I interviewed, and I was a little too big for my britches, thinking, "Hey, I'm a big shot. I've been in cooking." I didn't get the job. It was called Campanile at the time. It was one of the hottest restaurants in LA. I'll always wonder what my trajectory [would have been] if I got to work with Nancy Silverton and Mark Peel at that time. This is back 20 years now.
Wow.
Yeah — I got rejected there, believe it or not.
That's hard to think now — you're you.
Maybe it was meant to be. Who knows?
Perfecting dishes at home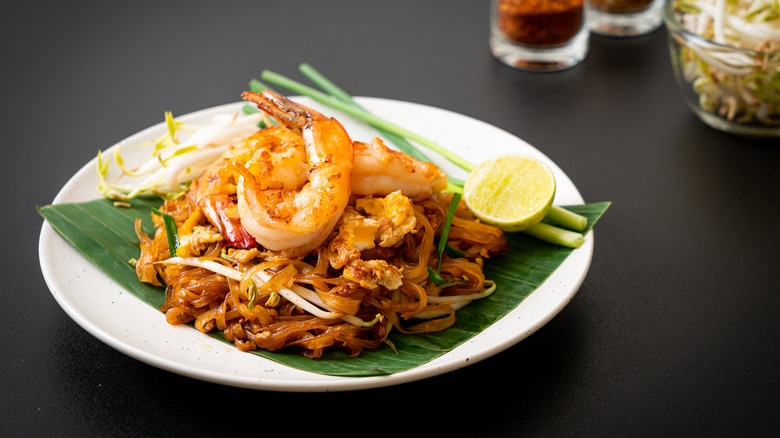 gowithstock/Shutterstock
Your cookbook, "101 Thai Dishes You Need to Cook Before You Die" — If you had to pick three top dishes, what would they be?
Panang Curry. It ties into the love story between my wife and myself, and [it's] also a fundamental dish people need to cook before they die. Pad Thai is a dish that tells the story of Thai people in America in the last 60 years. I'm going to go with the coconut chicken soup as well — one of my wife's favorite dishes. These three dishes, if you can understand and you cook through them, it's an unlock to cooking Thai food.
On your Instagram, you have tips that help people plate food like a pro. What is your number one hack for plating dishes to look professional?
My number one hack — again, I give all credit here to Alex Guarnaschelli, who helped me unlock this ... Get a [small] plate or a plate that has a little coup in the middle, like a little bowl. Using a small vessel forces you to put all your courses close together, which gives you height [and] symmetry. Food that's tighter together looks more fancy on the mind versus things that are just thrown about. That's a fast way to plate nice. You can make something super simple like chili, like barbecue — any dish can look fancier when you plate it tightly.
I like that. What is the food you're most looking forward to eating at the festival?
I'm looking forward to Asian Night Market. I'm looking forward to eating the modern interpretations of Asian food because we've got such young hotshot chefs. That's when I learn the most, is in Asian Night Market.
Do you have any other upcoming projects that we should know about?
There's always a lot on the board ... We're opening a ton more Pei Weis right now, and I'm going to be out there personally. A lot of people are like, "Where are you going to be? When can we hang out with you?" I'd definitely hang out on our social media to find out. And I don't know what your lead time is, but [at] the Masters Tournament at Indian Wells, the BNP Paribas Tennis Tournament, I'll be the featured chef there in March.
The South Beach Wine and Food Festival takes place annually in South Beach, Florida.
This interview has been edited for clarity.