Doritos And Cottage Cheese Is A Cursed And Executive Chef-Approved Combo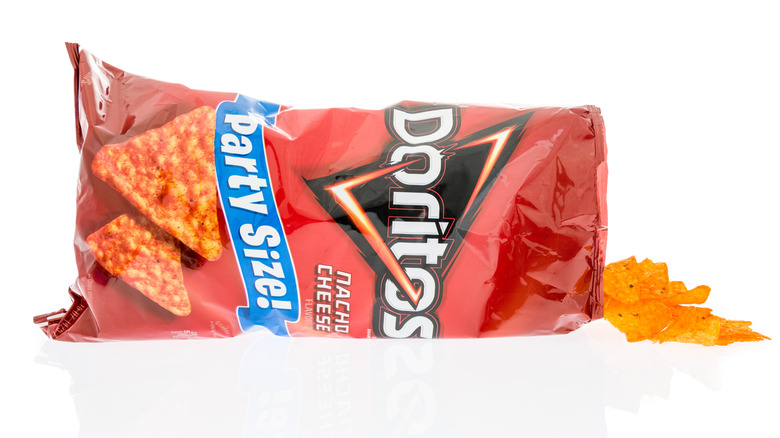 Keith Homan/Shutterstock
Dan Van Rite is the co-owner and executive chef of two of Milwaukee's most innovative restaurants. The main one, called DanDan, combines his name with that of his partner Dan Jacobs and specializes in contemporary Chinese dishes including, yes, some pretty amazing dan dan noodles. The other, EsterEv, is named after the partners' great-grandmothers Esther and Evelyn. It's open on weekends by reservation only and offers an eight-course prix-fixe meal with optional wine pairings that ranges all over the map from caviar tater tots and foie gras eclairs to Laotian-style laab and roast duck with red cabbage.
With Van Rite's stellar culinary credentials, you'd expect the chef to have some pretty highfalutin' staples in his pantry, or perhaps an eclectic selection of global goodies. Well, for all we know, he does have the best-stocked cupboards in Milwaukee, and yet he admits that some of his go-to grocery items are pretty plebeian. His supermarket stash, he says, usually includes cottage cheese and Doritos and the weirdest part is: He eats them both together!
Cottage cheese as a chip dip could be worth a try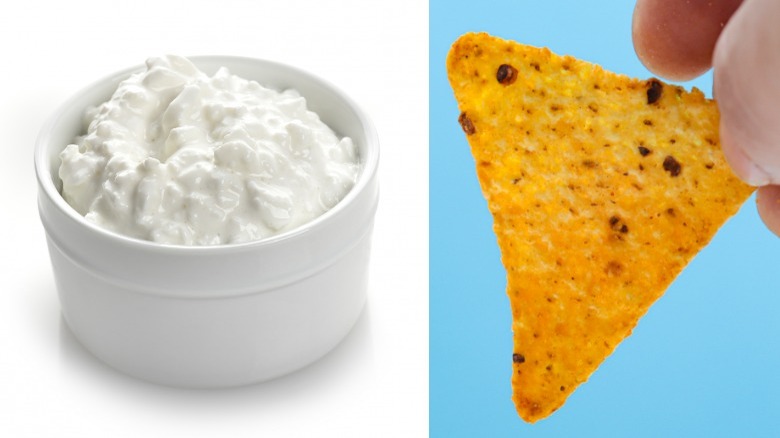 Saddako/Getty Images, Phalexaviles/Shutterstock
Van Rite is a true son of the Dairy State. He hails from Green Bay, Wisconsin, so of course you'd expect him to be a cheese eater (and very possibly a cheesehead, as well). Cottage cheese, however, is perhaps not the most popular of cheeses these days. It's got kind of a retro vibe to it now, although it was huge back in the 20th century when Marilyn Monroe ate it for lunch and Richard Nixon named it as one of his favorite breakfast foods. Nixon, oddly enough, covered his cottage cheese with ketchup, but Van Rite may have an even more unusual way of eating his curds and whey.
As Van Rite told Food & Wine, "I grew up eating cottage cheese and then, one day, I discovered Doritos go really well with cottage cheese." Not just any Doritos, either — his favorite cottage cheese dippers, he says, are the nacho cheese-flavored ones. Well, that certainly sounds ... interesting. Still, though, an endorsement from one of Milwaukee's best chefs is not to be taken lightly, so who knows, perhaps tangy, creamy curds with crunchy, cheesy chips really is the snack combo we've all been waiting for.