The Simple Trick To Add Caffeine To Your Brownies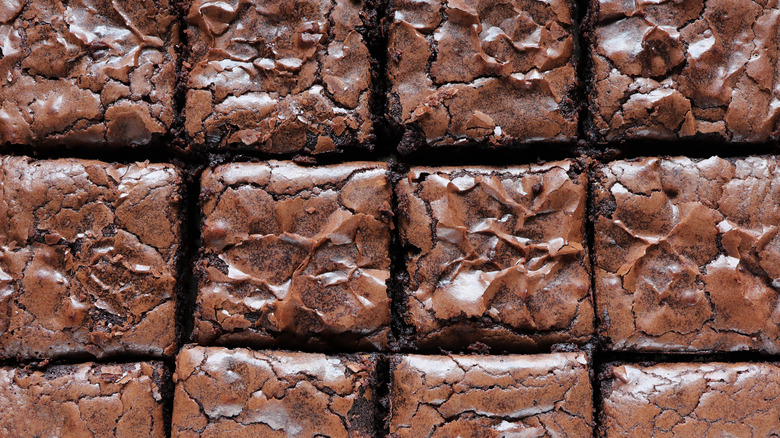 Yuphayao Phankhamkerd/Getty Images
Nothing screams love like a plate of gooey brownies in all their indulgent flavors and textures, from rich and fudgy to cakey and chewy. Whether you like yours plain or with nuts, frosted or unfrosted, or with double or triple the chocolate, there's always a brownie recipe waiting for you to enjoy. 
When playing brownie expert at home, though, you need a little know-how to succeed. For example, using the best ingredients (such as high-quality cocoa and chocolate powder) makes all the difference in flavor, while properly beating the eggs and sugar — then baking just until set — ensures brownies that are soft, decadent, and ethereal every time. You may have your own special trick for your signature brownies; some swear that the secret ingredient you should be using in your brownies is sour cream for tang and richness, while others like to add extra chocolate for meltiness, shredded zucchini for moisture, or even cheddar cheese for saltiness and an unexpected texture. But did you know you can add caffeine to your bake, too?
The trick is to use coffee instead of water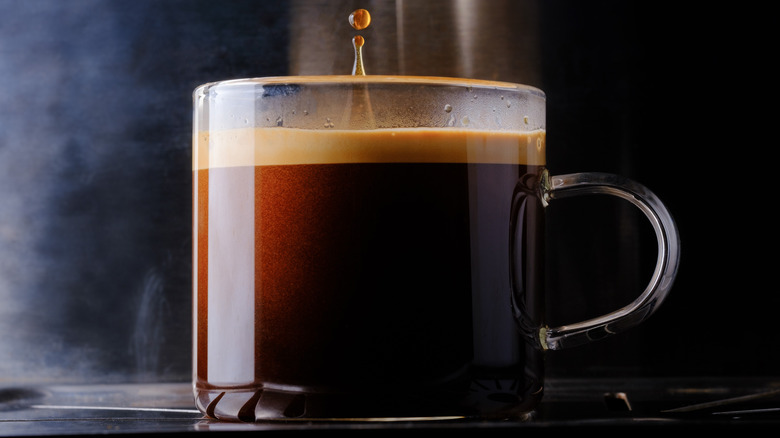 Lamyai/Getty Images
Thanks to one social media user on TikTok, we now have a simple trick to add caffeine to boxed-mix or homemade brownies. Following the usual directions for making brownies from a package, @katedavidsun shared an interesting swap for one key ingredient: Instead of using water, she uses coffee. She explained that this doesn't make the brownies taste like coffee, but makes them taste richer overall. This was seconded by viewers, such as one who said, "You're right. It tastes like the will to live again." Another brownie baker in the know explained the technique behind the coffee trick: "Espresso/coffee brings out the chocolate flavor! Adding a tablespoon of Greek yogurt makes it super moist too."
Excited about the hack, plenty of people threw in their own favorite boxed brownie swaps, namely for the fat in the recipe. "Always replace oil with butter in every cake/brownie recipe. infinitely better," one comment reads, while another says, "Applesauce instead of oil is my favorite go to!" 
While some people pointed out that people have been adding coffee to chocolate desserts "for generations" — Remember Ina Garten's instant coffee brownies? — others have a burning question about the hack: "Does anyone know if this will make the brownies caffeinated?" Indeed, it will. While alcohol "burns off" when cooked, caffeine stays intact when it's heated. Though a coffee-spiked brownie may not replace your morning joe, it could just put an extra boost in your afternoon.